Add a condition report to an invoice
A condition report (set of photos)may be required prior to work starting or after work has been completed and currently may only be image files. Condition reports are useful to prove if work has been physically done by the technician and may form part of the legal proof required for payment disputes.
To add a condition report to an invoice:
Select $ Invoices from the left hand main menu column.
Find the invoice by either selecting all invoices and searching for the invoice number, or search by technician name.
Open the invoice andselect on the right hand side of the invoice Add Photos.
A before or after tag can be applied, with a field available for comments.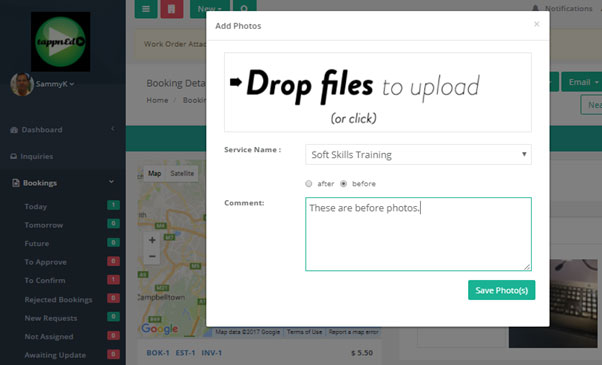 Photos will then be saved to the invoice and will have several additional pieces of information about the image on the lower left hand corner of the display including date uploaded, before/after tags, comments and #service type.