Add custom field values
If an attribute field has a number of options available to the user, for example, a dropdown box or multi-select, you need to add the values that are available as options to the user. To do this:
Go to Settings
Select Service Settings
Click Custom fields
Click Edit under the selected custom field 
Click on Add a new selection
Add all the options and their values

Custom field setup example:
A massage business charges for their services depending on the duration of the massage, which can be set up as fixed costs on the service level, e.g. as 30 minutes, 60 minutes, and 90 minutes. However, the business also offers additional services that can be added, e.g. a manicure, and a pedicure.
This can be added by creating a custom field called "Additional services" and tick yes for "Affects service price", and to add the options, click on the plus sign next to 'Add a new selection'. One by one, add all the options and their values, e.g.:
Title: Manicure
Additional time: 15 minutes
Additional cost: $20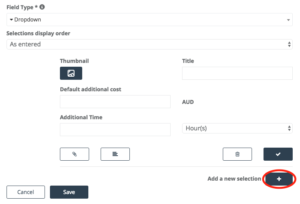 Remeber to assign the custom field to service(s)