What's new in OctopusPro

We're continuously working on exciting new features and improvements to make your job even easier! Below is a list with links to further resources helping you know exactly how to get the most out of OctopusPro.
Empower your Fieldworkers with full control over their bookings
Transform your operational flow by giving your fieldworkers the freedom to modify their booking details whenever needed. This innovative feature works like a switch – turn it on, and your fieldworkers gain the ability to edit their bookings at their convenience. But, what if you need to maintain a tighter grip? Switch it off, and all changes require your admin's approval.
Control Fieldworker access to customer contact details
Streamline your customer service with this feature, ensuring your fieldworkers have immediate access to vital customer contact information. Enable a simple flag, and your fieldworkers are equipped with the customer contact details they need for their assigned bookings. From mobile numbers to phone numbers and email addresses, we're enabling seamless communication, enhancing your customer service experience. However, we understand and respect your need for privacy and discretion in managing your customer's contact information. While our system is designed to enable efficient communication between your fieldworkers and customers, we acknowledge that there may be instances where you prefer to limit this access.
Allow Fieldworkers to make changes without office approval
Unleash the full potential of your fieldworkers with our unique feature that allows them to manage and modify bookings without the need for office approval. This flag is the key to a smoother, quicker workflow, saving precious time for both fieldworkers and administrative staff. And rest assured, with the flag switched off, all fieldworker changes await your authorized approval, giving you the reins of control. It's time to redefine productivity and streamline your operations today.
Provide Complete Booking Address Visibility to Fieldworkers
Our innovative feature, when switched on, gives your fieldworkers unrestricted access to the full booking address at all times. However, disabling this feature hides the full address until the day of the booking, requiring fieldworkers to press the "ON THE WAY" button to view the complete address. This button appears a few hours before the booking start time, ensuring that full addresses are accessible only on the booking day. Partial address information, such as the suburb or locality, is visible, but the exact street name and number remain hidden until the button is pressed.
This feature does more than just control address visibility – it prompts fieldworkers to hit the "On the Way" button, instantly notifying the office and customer of their estimated arrival time. This unique functionality fosters open communication and boosts operational efficiency. See the impact on your workflow firsthand – test out this feature today.
Allow your fieldworkers to have sub-profiles
Unlock the potential of your team organization with our unique feature that allows fieldworkers to create sub-profiles. By enabling this flag, an employee section emerges within the fieldworker's profile, empowering both fieldworkers and admins to craft detailed sub-profiles for team members operating under a fieldworker.
From team members to assistants and juniors, these sub-profiles become a storage hub for crucial information. Enable this feature today and experience a more organized and efficient way of handling your team's information.
Keep payments pending until reconciled by an authorized user
Elevate your financial control with our feature that holds payments submitted by fieldworkers in pending status until approved by an authorized user. When deactivated, fieldworker-entered payments are instantly applied without the need for additional verification.
This feature is a game-changer for businesses juggling multiple fieldworkers or high transaction volumes, ensuring pinpoint payment recording and accounting accuracy. By holding payments pending until verified, you can illuminate error rates and fraud risks, while securing an enhanced overview and control of your financial landscape. Experience this new level of financial certainty today.
Give Fieldworkers access to view booking billing amounts
Our system empowers your fieldworkers by default, giving them visibility of the quoted amount for bookings. This means they know what your customers are being billed, promoting operational transparency.
If you prefer to maintain billing discretion, simply disable this feature. It will conceal any information related to billing and invoicing from your fieldworkers. Despite this, your fieldworkers can still identify whether a booking has been paid, even without seeing the payment amount.
Opt for this feature today and experience the power of choice in managing your billing information visibility.
Allow Fieldworkers to view their earnings for bookings
Activate our feature and empower your fieldworkers to see a comprehensive breakdown of their earnings for each booking, inclusive of any added bonuses or incentives. This functionality enables fieldworkers to monitor their progress toward goals and comprehend the effect of changes in their work patterns or performance.
If you choose to keep these details private, simply switch off this flag.
Notify customers by SMS when fieldworkers are on the way to their bookings
Keep your customers in the loop with our seamless SMS automation. OctopusPro enables your fieldworkers to alert the office when they're en route to a booking. By Enabling this flag, your customers also receive an SMS, updating them on the fieldworker's ETA and offering real-time GPS tracking. This level of communication not only improves transparency but also enhances customer satisfaction, fostering a stronger sense of loyalty. Should you decide that SMS notifications aren't necessary, you can easily disable this feature.
Authorize Fieldworkers to accept and decline booking requests
Provide your fieldworkers with the option to accept or reject new booking requests received via the app, facilitating flexibility and enhancing their autonomy. However, if your business necessitates a more streamlined and rigid approach, you have the power to deactivate this feature. In the deactivated mode, the system automatically accepts all incoming booking requests sent to your fieldworkers, eliminating their option to decline any assigned bookings.
Try our Booking Request Management feature today – an efficient tool that elegantly balances fieldworker flexibility with your business requirements.
Setting business areas and locations available using travel radius
OctopusPro allows you to use radius in order to determine the areas in which you are happy to accept booking requests, this is done by setting a distance radius around your main location to determine how far you are willing to travel for bookings. This helps prevent booking requests from locations outside of your service coverage area, this is especially helpful when the booking request is being placed by the customer through the customer portal. You can also set a distance radius for each fieldworker and allow booking requests within the radius area of all available active fieldworkers that provide the services requested.

Restricting fieldworkers from communicating with customers before booking start time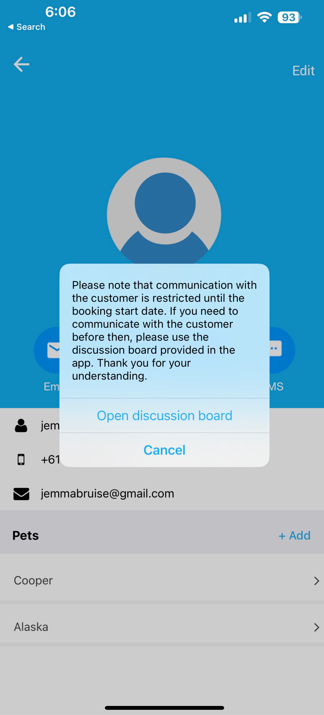 This feature is designed to help companies better manage communication, reduce the risk of misunderstandings, and improve the overall customer experience.
By restricting communication between fieldworkers and customers before the booking start time, you can ensure that all customer communications are handled in a timely and consistent manner and that fieldworkers can focus on completing their tasks efficiently and effectively. This can help improve customer satisfaction and loyalty, reduce the risk of miscommunications or misunderstandings, and enhance your company's professional image.
Optimize Communication Workflows, Enhance Professionalism, Consistency, Safety, and Liability with Fieldworker Communication Restrictions Prior to Booking Start Time today.
Setting up your booking settings
OctopusPro allows you to set up your booking settings by Converting booking status to awaiting an update after its scheduled start time has passed.

Forcing fieldworkers to update their job attendance

Activating the booking tracking process

Activating the running late alarm for fieldworkers

Activating auto checkout for fieldworkers

Activating previous day booking confirmation alarm

Sending PDF attachments with all automated emails

Asking whether to email booking requests to assigned fieldworkers when saving or editing any booking

Displaying scheduled application in customer booking PDF

Default follow-up period

Decline booking request form

Images types

Property types
Integrate your account with Checkout.com as a payment method
Checkout.com is an API-based platform providing online payment solutions that improve the user's checkout experience.
Checkout.com provides fintech companies with a cross-border payment solution for digital commerce. The business offers direct access to domestic acquiring across payment methods and geographies, including all major credit and debit cards, online banking, PayPal, Apple Pay, and other eWallets. This is achieved through a unified integrated platform that also provides fraud management tools, analytics, and comprehensive reporting features.
Checkout.com supports 150+ currencies and is available in 50+ countries including
Austria, Belgium, Bulgaria, Croatia, Cyprus, Czech Republic, Denmark, Estonia, Finland, France, Germany, Greece, Hungary, Iceland, Ireland, Italy, Latvia, Liechtenstein, Lithuania, Luxembourg, Malta, Netherlands, Norway, Poland, Portugal, Romania, Slovakia, Slovenia, Spain, Sweden, Switzerland, Turkey, United Kingdom, United States, Australia, China, Hong Kong, Japan, Malaysia, New Zealand, Singapore, Bahrain, Egypt, Kuwait, Oman, Qatar, Saudi Arabia, United Arab Emirates and other countries in North America, Latin America, Europe, Asia Pacific, Middle East & North Africa.
Setting up your digital phone system for a better communication
OctopusPro enables you to customize all communication settings. You can modify all the settings related to calls and SMS. The admins will be able to activate or deactivate sending SMS notifications. You can provide your fieldworkers and customers with the ability to communicate with each other using the company Twilio number or not.
OctopusPro offers you the choice to buy a Twilio number so that all your fieldworkers and customers can communicate using your Twilio company number. All your fieldworkers can use this number to communicate with your customers instead of using their own. All your customers can use this number to communicate easily with any of your staff members.
By getting a Twilio number, all communication buttons will be activated in your company account in OctopusPro and in the OctopusPro apps as well. Through your company account in OctopusPro, you will be able to send SMS to your fieldworkers and customers. In addition, fieldworkers can communicate with customers and vice versa, either through the app or their accounts on the web.
Admins can customize all communication settings related to their fieldworkers and customers either through the app or the web. You can decide whether you want to grant them the ability to communicate using your company Twilio number or not.
Integrate your account with an external mailing list providers
Mailchimp is a platform that provides different services to its customers. One of the services of Mailchimp is to create your email list and grow it through multiple methods so the marketing emails and the correspondences with the customers can be sent easily and efficiently.
Using the same email list in both your OctopusPro account and Mailchimp account will make you able to proceed with your communications and your marketing email campaigns seamlessly by contacting all your customers and partners.
Integrating your mailing list in your OctopusPro account and Mailchimp account saves your time as you don't have to create a new email list for each platform.
You can share your business updates with your customers, send any important information and keep in touch with all your contacts.
Provide your customers with an option to buy a gift voucher
OctopusPro allows you to provide your customers with an option to buy a gift voucher to book a service and email it as a gift to a loved one.
Gift vouchers are a great way to acquire new customers while retaining the loyal ones, it helps increase brand awareness and improve sales. Recipients of gift vouchers usually end up browsing all products & services and making more purchases.
Easily import your customer properties
Customer properties are a number of customized fields that are set up to gather information about the customers' possessions and/or dependents. They are usually used by businesses that provide services for dependents or items belonging to the customers. For example, if your business provides services for children, pets, or vehicles, you will need to gather information about those properties of the customer. You can use this feature to create profiles for anything your customers make bookings for. This helps you have a full database of your customers.
OctopusPro allows you to easily import your customer properties' data to the system using one file with a few simple steps by downloading a template that is easily customized from the settings, to learn more about customer properties click here.
Know why your customers unsubscribe from your mailing lists
A customer may want to unsubscribe from emails sent to them from your business. It is important to receive feedback from customers who wish to unsubscribe as it helps you to understand what you can do to improve your service and reduce the number of customers unsubscribing in the future.
Improve the effectiveness of your email notifications and reminders by allowing customers to select the reason why they decided to unsubscribe. When you know why people opt to not receive more emails, you'll have a better understanding of what to do differently in order to keep your customers interested.
OctopusPro allows you to add custom unsubscribe reasons for your customers to select from, so you can easily personalize them from the communications settings to make it as relevant as possible for your customer and avoid future unsubscribed.
Receive feedback and ratings from your customers
OctopusPro has a built-in feedback and rating system designed to help your business collect reviews and ratings from clients regarding the services provided. This is done through an automated background process that can be activated from within your account settings. When activated, rating emails will be automatically sent to your customers after their booking has been completed inviting them to rate and review the service provided. The standard template for the feedback email contains links to the OctopusPro review and rating system which can be customized with the criteria and questions that relate to your business and services, and fully white-labeled with your business branding and URL.
Customer feedback provides you with insights that help you make better business decisions. Further, collecting customer feedback is crucial in managing customer satisfaction, customer retention, and loyalty, improving products and services, and improving fieldworker performance. If you do not attempt to find out what your clients think about your service, you will never be able to give them the best customer experience. Their opinions about the experience they had with your brand are helpful information that you can use to improve your business.
Adding your payment terms
If you allow your customers to place booking requests online through your customer portal, you can set the payment terms required for them to be able to place their booking requests. You can also set different payment requirements for different services from within your services settings if required.
OctopusPro allows you to control payments easily by selecting your preferred payment term for each service whether you want them to pay full payment or deposit in advance or pay after the service is done. 
If there's no payment term selected for a specific service, it will be set to the default payment terms.
Adding/Removing services to a fieldworker's profile 
Add and remove services to a fieldworker profile, so you can determine the services that each fieldworker can perform.
Save your time by selecting the services each fieldworker can do. This way you don't have to search for a suitable fieldworker for each booking created or booked by the customer from the customer portal, as the fieldworkers will appear when selecting them automatically depending on whether the service is added to their profile or not.
OctopusPro allows you to determine the services each fieldworker can do, and enable certain custom fields on the fieldworker's profile. Moreover, the system gives you the option to assign all services by default when creating a new fieldworker.
Automate sending reminders and confirmations to your customers and fieldworkers 
Save time and resources, and decrease the repetitive work required by automating your business processes. With automated procedures, you are able to send out emails, SMS and WhatsApp messages to the right people without having to manually check on statuses and spend time sending them out one by one.
Examples of available automation:
Sending invoice reminders to customers who have overdue invoices (email, SMS, WhatsApp).

Sending booking reminders to your customers and fieldworkers.

Sending reminders to fieldworkers for expired documents like licenses and insurances.

Sending follow-up reminders to customers who have received quotes from your business.

Request ratings from customers who have recently received services from your business.
OctopusPro comes with a variety of default email and SMS templates, and automated procedures, some of which are linked to the templates. You can activate/deactivate the automations your business requires, edit the times and frequency at which each procedure is scheduled to run in the background and edit the templates linked to the automations you activate.
Send a booking confirmation to your customer and/or fieldworker
When a new booking is created, the system will prompt the user to send a booking confirmation to the customer. However, users can also send a booking confirmation to a customer and/or fieldworker via SMS or email at any time.
Create new quotes  for your services
When a customer makes an inquiry, staff should respond by creating a quote, quoting the price of the service they require to send it to them.
Adding tax rates to your services 
It's a compulsory financial charge that is deducted from the incomes of persons or businesses to be paid to the government as tax. The types of taxes are basically: personal income taxes, property taxes, sales taxes, and excise taxes. 
Adding frequently asked questions to your services
The frequently asked questions are a method that companies use to provide answers to the typical questions that customers might ask about their business.
The FAQs can include important information that is related to the services and the process of the execution. This can be considered a reminder to the customers to guarantee that the services are provided successfully. For example, a beauty salon can add the question "Should I avoid any chemical products before the hair treatment?" so by answering this common inquiry, you will guide the customers to get the best results.

Using the related FAQs ensures that the customers are aware of the instructions before or after their scheduled appointments. For example, a reminder to pack all the items in boxes for removalists to pack the boxes, or a reminder to clear the area from all the furniture for carpet steam cleaning, and also generic questions about payment terms, opening hours, refund policy, cancellation policy, etc

)

.

When you add the questions that your company frequently receives, your new customers will be more satisfied because they can have all the information that might be in their minds.

Also, the FAQs make the mission much easier for your customer support employees. Because this reduces the manual communications with customers inquiring about common issues as the FAQs provide the customers with the initial and basic details of the company, and contacting the company will almost be for the complicated and urgent requests only.
Managing your fieldworkers' subworkers
In some cases, some of your fieldworkers may be running a team of employees or workers that works under their authority. For example, a floor installer who works for your business as a fieldworker might hire a couple of other floor installers that perform the same duty or cooperate to perform the service required under the management and supervision of your fieldworker, who is their direct employer. 
Allows your fieldworkers to add their team members and create profiles for them in your account, enabling you to know exactly who is presenting your business, regardless of how they are paid.

Allows your fieldworkers to better manage and organize their team. 

Keeps subworkers under your supervision and control. 
Setting due dates for invoices
The invoice due date is the latest date payment can be made on an invoice before it's considered overdue. The due date is usually written in the invoice that customers get so they are aware of the latest date they can make their payments before they are considered overdue and subject to other consequences. 
The main reason to state a due date on an invoice is to encourage your customers to pay you within a certain period. While it is possible to agree on a later payment date, a customer should pay you within 30 days or upon the completion of service. In certain industries, it is also acceptable to request a deposit to be paid against the invoice before starting the job. 

The invoice is the official financial document used to request payment, so including the due date makes it clear to your customers when exactly the payment is expected and avoids any potential for denial of knowledge of the payment date.

Organize your invoices, so you can always check the due date invoices you are expecting to get from your customers and also the overdue invoices that haven't been paid yet. 
Adding custom fields to your customers
Custom fields can be added to your customer profiles to record any information that is not included in the standard customer profile. For example, you can create a custom field to record your customer's date of birth, gender, hobbies, interests, height, or any other helpful information specific to your industry. You can set the fields to display pre-entered values to select from.
These new fields will display in your customer profile and can be edited by your team and by your customers when logged in to their accounts. Private information can be hidden using the visibility flag. Customer reports using this information can be generated for your sales or marketing teams.
Adding deposits to your bookings
Setting up a deposit has benefits for both the business owner and the customer. When customers buy products or book services, there may be an option to pay a deposit. Customer will then pay the balance whenever the service is completed. Paying a deposit assures both the business owner and the customer, it shows that the customer is serious about purchasing the product or booking the service.
The deposit amount and other terms are agreed upon between the admin and the customer. For instance, if you run a beauty care business that provides specific services, the admin has the opportunity to add a deposit for each service. In this case, customers should pay the deposit for this service.
Generating the customer invoice statement of your Customer account
The customer statement is a document that accurately provides significant information about the current status of the invoice. It informs the customers of all outstanding payments or partially paid bills, during a specified time period. 
Encouraging your customers to pay on time, customer statements serve as a record of sales for a company and its customers. It establishes a client's responsibility to pay you for services rendered.

Provide clients a document outlining the payment conditions and the statement due date with an itemized summary of the services delivered.

The customer statement serves as a record of the amount a customer agreed to pay you for your services.

Customer statements assist you in determining the typical amount of time it takes you to get paid by your customers, which can aid in cash flow management.
Adding/Editing your fieldworker profile
OctopusPro allows you to create profiles for your fieldworkers on the system. It also enables you to edit the profiles that have been already created. The fieldworker profile can include data related to their working hours, labels, logs, social media, discussion board, etc.
Adding improvements to your scheduling and dispatching feature to your calendar/ calendar general overview
The OctopusPro calendar speeds up the booking process by allowing you to view and manage the availability of your fieldworkers using integrated live calendars. You can easily schedule or reassign jobs to your fieldworkers by simply dragging and dropping between timelines on your calendar overview, so you are able to thoroughly manage your calendar and scheduling with ease. 
With OctopusPro, you are also able to personalize your calendar with filters to quickly view what's important and relevant when filtering bookings by state, city, fieldworker, booking status, customer labels, and more.                 
When a booking is made on the system, it will automatically appear in the calendar to let admin users know that the fieldworker is unavailable for other bookings at this time, bookings are due to go ahead each day so that you can keep track of your upcoming bookings and easily access them and even directly reschedule bookings from your calendar if there's an issue on the day. 
You can also link your personal calendar with your OctopusPro calendar and manage both calendars together faster and easier to schedule events without having to jump between different calendars.
Create a new booking manually, convert an inquiry or a quote into a booking
OctopusPro enables you to:
Create bookings manually in the system e.g. if a booking is made over the phone.

Convert inquiries and quotes into bookings.

If you have a branded customer-facing app or have set up your Customer Portal, customers can make bookings directly through, which admins can confirm in the system.
After setting up your account, and before creating your first booking, make sure you have:
Added your services. To learn more about how to add a new service

click here

.

Added your fieldworkers. To learn more about how to add a new fieldworker

click here

.
Adding a new booking from the calendar
When users create a new booking, it is automatically added to the calendar, however, users can also add a booking directly to the calendar from the calendar page. 
On your calendar overview, click on the date you want to schedule a booking on.
A popup window will appear, click on
+ Add Booking.
You will be redirected to the create a new booking page, to enter your booking details and schedule a booking appointment.
Filter your calendar to view bookings placed on a specific status
Users can filter the calendar by booking status to only view bookings which are placed on a specific status. To do this:
Go to your

Calendar

 

On the top right side of the page, click on

Filters
A popup window will appear, select the booking status from the dropdown list. For example, if you want to display on your calendar only bookings that are completed, select the booking status COMPLETED. Then click Filter.
Filter your calendar to view specific fieldworkers
Users can filter the calendar to only view upcoming bookings for a particular fieldworker. Follow the below steps to do this:
Go to your Calendar

On the top right side of the page, click on Filters
A popup window will appear, you can select one or more fieldworkers from the dropdown list. The calendar will only display upcoming bookings which are assigned to the fieldworker/fieldworkers you have selected. Then, click on Filter. 
Filter your upcoming bookings by specific locations displayed on your calendar
Users can filter the calendar to only view upcoming bookings in a particular area. To do that:
Go to your

Calendar

 

On the top right side of the page click on

Filters
A popup window will appear, select the State/Region and Town/City, to filter the displayed bookings on your calendar to bookings that only take place at the selected location. 
So for example, if you want to limit the displayed bookings with locations set in Sydney, select it from the drop-down list. You can pick more than one state or more than one city. Then click Filter.
Create a new field that can be added to your system
After clicking on +Create new field, you will find a field with a textbox next to it where you can add the field name in (e.g.: Date/Time > Date & Time picker or Description > Text box (multi-line)… etc.)
Next, select from the field types that are: date picker, time picker, text box (multi-lines), text field (one line), (+/-) button, toggle, dropdown, radio button, button group, list & checkbox.
Capture the source of leads for your bookings and inquiries
Lead Sources allow you to provide the communication channel that your admin user used to create a new booking, create a new quote, or create a new inquiry. The lead source helps you categorize the various communications you have with the customers according to the channel of communication the customer used. The system lists several lead sources that you can select from. Moreover, you can create new lead sources that are not listed in the available channels.
A lead source is only visible to admin users; it is not visible to your customers on your website's inquiry form. There are several choices that you can select from. Also, you can create a new lead source that is not listed in the available channels. Lead sources could include Website, Referral, Facebook, Twitter, Instagram, YouTube, Google, Angie's list.
For example, if you run a beauty care business, as an admin you want to know from where your customers know about your business. For example, if your customer selects Facebook as their channel of communication, it will be shown as the source lead on the booking and quotes details. So, the lead source helps you to identify which channel of communication your customers follow.
Displaying your week view calendar
The system automatically filters the local calendar to show all upcoming bookings for the current month. However, users can choose to filter the calendar to view weekly upcoming bookings, and manage their calendar on a weekly basis, where they will be able to:
Reschedule bookings to different days or hours by simply dragging and dropping on the calendar week view.

Create a new booking from the calendar week view.

Create an unavailable event directly from the calendar week view.
Displaying your day view calendar
The system automatically filters the local calendar to show all upcoming bookings for the current month. However, users can choose to filter the calendar to view daily upcoming bookings, and manage their calendar on a day to day basis, where they will be able to:
Change assigned fieldworker using drag and drop

Reschedule bookings by simply dragging and dropping on the calendar day view

Create a new booking from the calendar day view

Create an unavailable event directly from the calendar day view
Display your month view calendar
The system automatically filters the local calendar to show all upcoming bookings for the month. So, you can have a monthly overview of your upcoming and attended bookings during each month, where you can manage your calendar and view, add, or reschedule bookings directly from, and even mark days or hours of a day as unavailable for work, and much more.
The monthly view will be the default view on your calendar, it displays all the bookings scheduled during the month, and it is a more general view. Use the arrows on the top left of the page, to go forward a month or back a month.
Automate your job assignment for available fieldworkers
OctopusPro gives you the flexibility to select how you want to manage your job assignment methods, to suit your needs and fit your business model. You can manually control and manage your job assignment methods, to have full control and supervision over your working force, or have everything done automatically by the system to save time and effort yet still ensure efficient management.
Finance – Customize your invoice PDF attachments
For more brand consistency, you can control the style, design and information displayed on your invoice PDF attachments, and customize them to your preference in order to meet your requirements and suit your business branding. Through this invoice settings page, you are able to customize your invoice PDF attachments.
You can customize the size, style, and color of the font used on your invoices. You can also insert your default business logo and align the logo as you see fit. You can add additional information in your invoice header and footer and set or insert your own payment terms and regulations displayed on your invoices.
Calendar – Syncing Google Calendar with OctopusPro
OctopusPro allows you to manage both your Google Calendar and OctopusPro Calendar in one place by using the sync feature provided in OctopusPro. Google Calendar sync allows you to synchronize events between Google Calendar and your OctopusPro account, from where you can add, edit and delete events in Google Calendar.
Once connected, your Google Calendar events will appear in your OctopusPro account, and your OctopusPro appointments will appear in your Google Calendar. Each one of your fieldworkers may also sync their OctopusPro account with their own Google Calendar.
Bookings – Find availability or Schedule Assistant for booking
OctopusPro empowers the users to efficiently and easily view active fieldworkers for their bookings, with the Schedule Assistant feature.
When scheduling a booking, the Schedule Assistant popup will list all active fieldworkers that match the requested services, selected custom fields, and the location of the booking. It also lists the distance between the fieldworkers' home locations and the booking location, as well as their calendar for the selected date so you can view their availability. You can view the matching fieldworkers by day by selecting a date from the date field at the top of the popup. You can also send requests to matching fieldworkers and assign them to the booking directly by pressing the Send Request button.
The Schedule Assistant can help make better scheduling decisions for individual requirements. It makes the response to the booking request faster, hence improving the customer experience. It also helps users easily find available replacements when changing the assigned fieldworker for the scheduled service.
View your nearby fieldworkers' locations
OctopusPro empowers the users to easily view and select which Fieldworkers are doing jobs close to where the location of a booking is, with the Nearby Bookings feature. It will view bookings that have been made in the same areas so that users can assign jobs to fieldworkers who will already be in the area. This ensures efficiency and reduces travel time for fieldworkers.
The Nearby bookings feature is available for your admin users and fieldworkers, and is also available through the fieldworker app. Using the Nearby bookings, you can view which fieldworkers have bookings near the location of the booking they are scheduling. It displays all nearby bookings on a map, so you can see all nearby bookings visually. You can click on the location pinpoint for each booking to view more information regarding that booking. You can also switch to the list view which lists all bookings scheduled nearby, their distance from the booking you are scheduling, their assigned fieldworkers, and the date and time they are scheduled, and other relative information.
The nearby bookings feature helps minimize the travel times required, by helping you schedule bookings near other existing bookings. It helps you reach nearby fieldworkers easily, and respond efficiently to emergency calls and last-minute bookings, to improve the booking experience. It also helps you communicate with customers more effectively by allowing you to give faster and more accurate time-range windows for arrival.
Edit your Date and time preference
The Date and Time properties tool allows the user to change the system date and time, configuring the time zone used by the system, to synchronize the system clock with a time server.

OctopusPro allows you to set a date and time for your business, to control the timezone within your company, between your admin users, fieldworkers, and customers. You can edit your date and time, and select the format that best suits your preference which will appear on your system, emails..etc

Your timezone options to select from will depend on the country you have selected when setting up your OctopusPro account, which can easily be edited on your company details setting page.
Add custom fields to your fieldworkers' profiles
Custom fields can be added to your fieldworker profiles to record any information not included in the standard fieldworker profile. For example, you can create a custom field to record your fieldworker's work experience, education, hobbies, interests, date of birth, gender, height, or any other helpful information specific to your industry. You can also set the fields to display pre-entered values to select from.
These new fields will show in your fieldworker's profile and can be edited by your office users and by your fieldworkers when logged in to their accounts. If your fieldworker profiles are available to customers the fields will be visible by default. Private information for each field can be made available for private or office use using the visibility flag.
Customize your industry label for your fieldworkers
The industry label helps you customize the term used to describe your fieldworkers depending on the nature of their work and the industry your business operates in. So instead of having a category with the name "Fieldworkers" on the left side menu, the category will be holding the new name you've entered. For example, Drivers, Painters, Technicians, or Babysitters. So, "Drivers" can be the name of the fieldworkers' category for a car-hailing business and so on.
Create a new product
Adding products to your services helps you manage your product-related costs and quality control, as you know which products were used as part of each service.
You can determine whether you want to enable admins to add products to the booking beforehand when creating a new booking manually, and/or whether you want to enable field workers to be able to add products used once completing a job. The products added will affect the service price according to the cost and markup set for each product.
If your business sells products as a part of their services, you can allow your users to add products to the selected services when creating a new booking. You can also make your products visible to your customers in your emails and attachments, as well as in your Branded App.
Edit canned responses to be sent to your customers and fieldworkers
Canned responses are pre-written emails and SMS messages you can send to customers and fieldworkers. Unlike the email/SMS templates, the canned responses are not automated, and after setting them up, they can be edited and personalized. Using canned responses increases efficiency and promotes a consistent and professional brand.
Canned responses help improve your customer satisfaction because they are an excellent technique to reduce response time.

To provide your customers and fieldworkers with accurate and specific information that meets their inquiries.

Using the pre-written responses will save much time because you will avoid repetitive typing during the communication process.

You can keep your fieldworkers updated all the time with any changes or new announcements.
Integrate your Facebook account
OctopusPro allows you to integrate your Facebook account with your OctopusPro account using API through an easy process as explained next. This gives your customers the option to sign up/login to the customer portal using their Facebook accounts.
To connect your Facebook account with your OctopusPro account, follow the below steps:
Set-up a Firebase account.

Set-up a Facebook developer account.

Connect Firebase account to Facebook developer account.

Connect OctopusPro account with Firebase account.
Fieldworker permissions
OctopusPro has designed fieldworkers' permissions that allow your admin users to control the type of data that can be viewed or viewed and updated by your fieldworkers, also the actions that they can take on the app such as create bookings, create customers, noting that Fieldworkers will still be able to request approval for a certain update in case of lacking the permission to execute the update directly, keeping your data secure and protected.
Fieldworkers can take the following actions on their bookings, given that they have the required permission activated:
Accept/ Decline Booking Appointment
Add a Service to Existing booking
Choose your brand name – Add a new trading name to your business
A trading name is a name used by companies that do not operate under their registered company name, it can be a name (or names) that a person, partnership, or company may use which is different from the name they have registered with. A business may be permitted to use as many trading names as required, but these cannot be registered as official names of the company.
A trading name can also bring benefits if you can create one that matches your website domain. This could be particularly useful if the domain name and social media handles for your registered company have already been taken. You would be able to work around this by using the trading name that matches your desired brand name, website, and social media profiles. This will also help with the branding of your business and create one identity for your business.

With OctopusPro, you can easily operate under multiple trading names without leaving your account. If your business operates under more than one trading name, you can add information on all trading names by creating several different ones. You will be able to choose which trading name is applicable when creating inquiries, bookings, etc
Set Fieldworker Share Per Service
A Fieldworker Share is a payment received by fieldworkers for each assigned, completed booking. Admin users can set the payment structures for every fieldworker their company has. Each fieldworker can have different payment structures set for different services.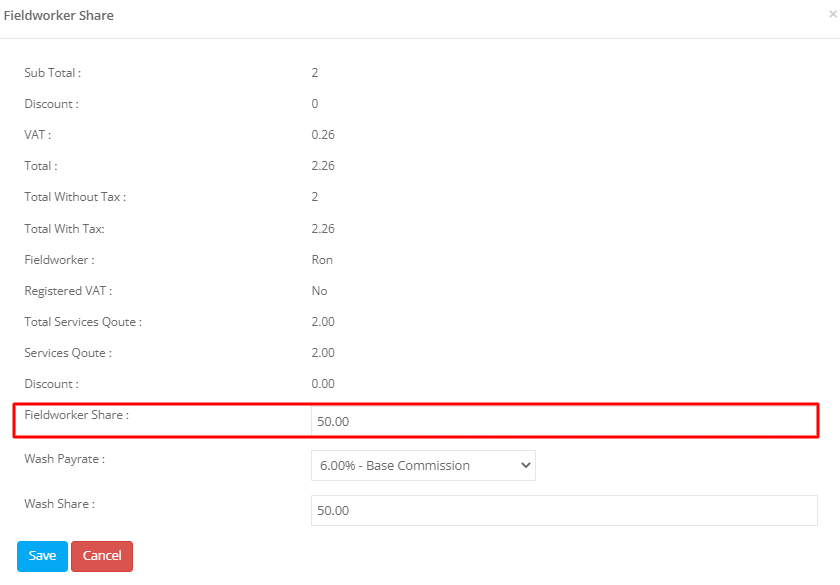 Admin users can set Fieldworkers preferred Service Payrates or payment based on one of the below structures:
Customize Voucher Codes for customers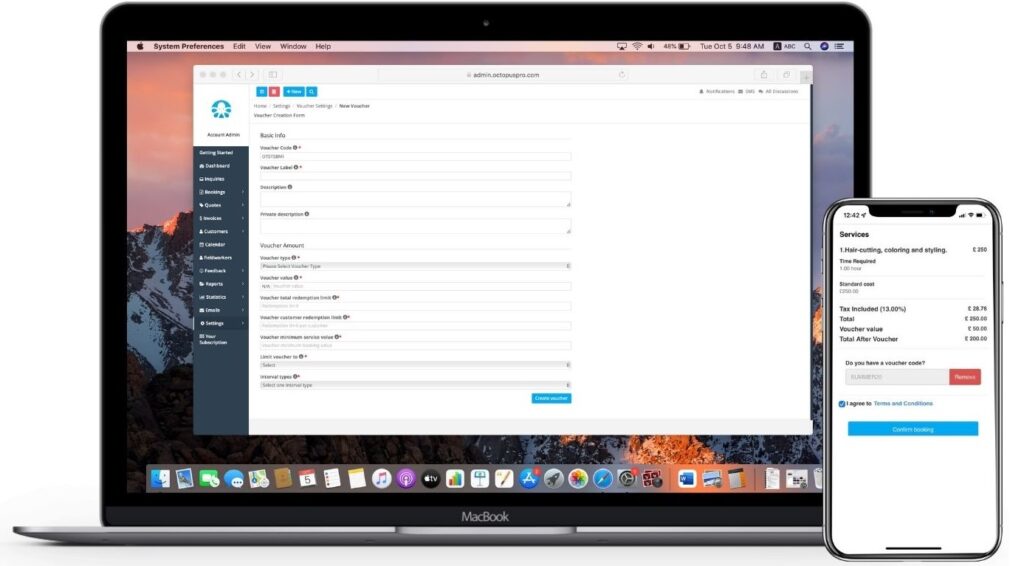 Provide your customers with unique discount voucher codes and encourage them to book your services. OctopusPro allows you to create custom voucher codes that help you target potential customers, retain existing clients and promote new services by encouraging existing customers to try these new services.
So, you can build brand awareness and improve customer loyalty by creating unique voucher codes for your customers to enjoy on certain services, in specific locations, and within certain date and time intervals. You can create voucher codes for specific customers and for customers with certain labels and send them via email and SMS. You can also provide your fieldworkers with permission to create voucher codes that apply to their bookings only. Track, measure and improve your marketing ROI by generating reports to monitor the results of different voucher marketing campaigns and promotions.
Finances
– Add credit card surcharge amount to payments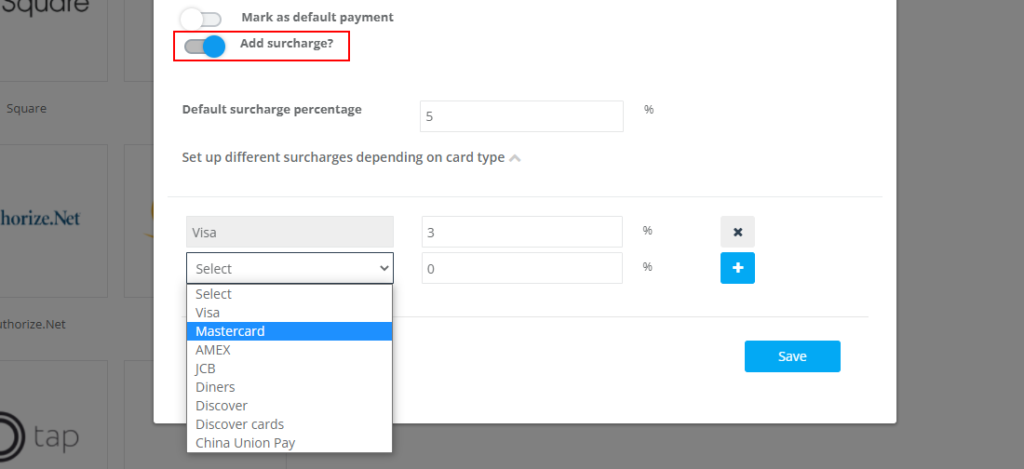 Manage your business and reduce your expenses while still allowing your customers their choice of payment type. With OctopusPro, you can to set your own surcharge percentage for your services and even set different surcharge percentages for different and multiple card types.
In the case that your business or company has multiple payment gateways enabled (like Stripe and PayPal), you can also set a different surcharge percentage for each payment gateway.
Finances – Accept Tips and Gratuities from your customers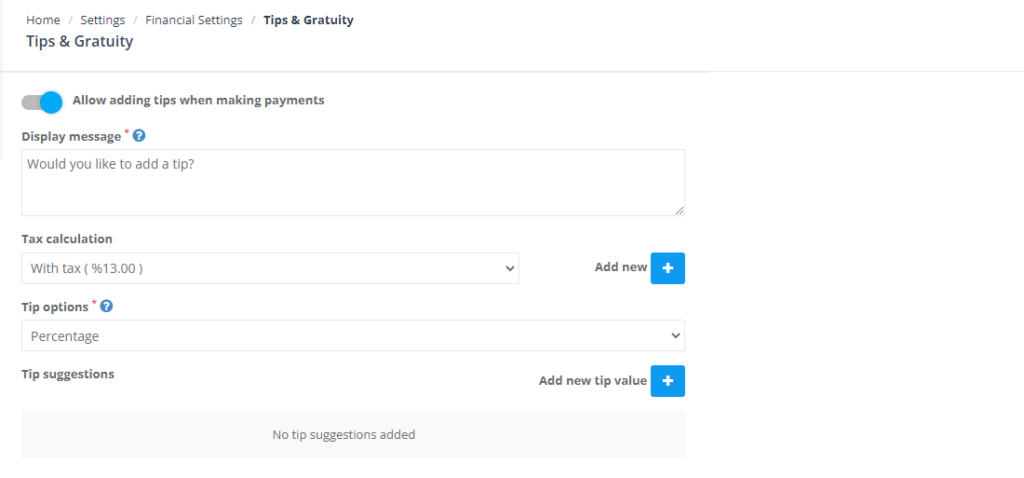 In OctopusPro, "Tips and Gratuities" is a feature that admin users can set up and add as an option to their payment. Using this feature, customers can tip the fieldworker for the assigned services.
The tip amount will be value-added to the total invoice. However, it is separated from it, so admin users are able to know the fieldworker's tip and the total cost of the booking.
Create Forms & Checklists for your fieldworkers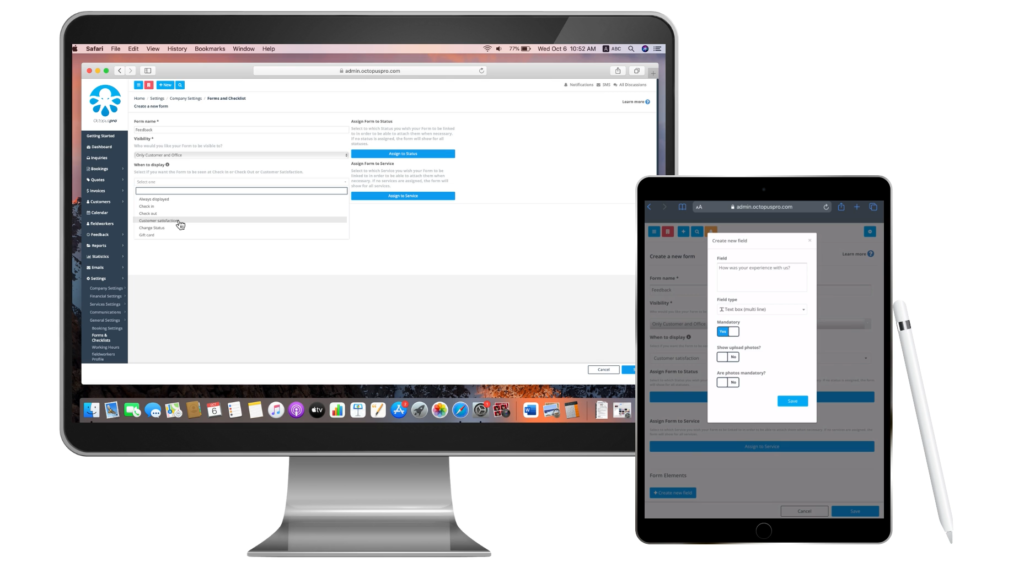 Collecting data and processing it for every job can be quite time-consuming, especially if your business has fieldworkers located all across the country. In that case, creating forms for fieldworkers will make for a better field service report, and you will be able to avoid miscommunication between admin users and fieldworkers. This feature will make the business run smoothly without disconnect and delays between field service reports.
All industries have their own regulations that are placed to ensure higher quality and efficiency when providing services. "Checklists" help your business systematically ensure that jobs and services procedures are effective, clear, and created in a way that is easy for your employees to access and complete.
Create service packages for customers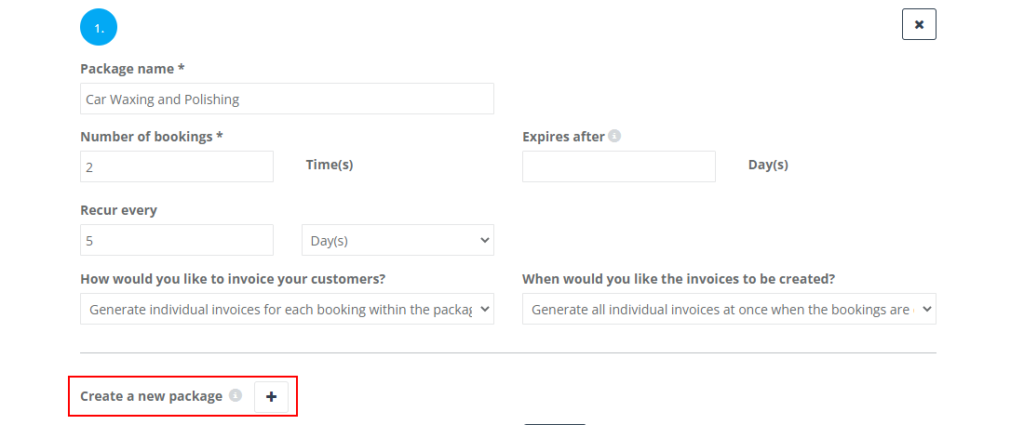 Almost every business in various markets offers packaged services. While it looks like packages mainly benefit customers, there are multiple gains that businesses reap from those deals. From increasing sales to achieving a higher customer satisfaction rate, packages offer positive outcomes for any business. Some of these outcomes are:
Packages increase the company's initial sale
Unlike standalone services, packages include more than one service in them. Thus, when a customer chooses to book a package, they pay for the services bundled inside, increasing the company's initial sale. The key here is making packages and bundles that appeal to the target customer enough, convincing them to choose bundled services instead of standalone ones.
Packages upsell customers without asking them to
Bundled services, if done correctly, offer customers higher value for the money they pay. This way existing customers would try new services they have never booked before. So, instead of booking only the service they used to book, they would book one more service.
Bookings – Virtual, Mobile and Fixed Service Locations
OctopusPro can be used to manage any service business and supports a wide range of businesses including:
Businesses that provide mobile services at the customer's home or work address, like mobile mechanics, mobile massage and beauty services, mobile vets and animal care services, private tutoring services, furniture removal services, handyman services, and cleaning businesses.

Businesses that provide services at fixed-site locations like beauty salons, massage studios, and car wash shops.

Businesses that provide services at virtual/online locations like online education services, technical support, virtual assistance, and consulting services.
Regardless of how you offer your services, OctopusPro provides all the tools you need to run your business, and the features required to help you grow your business smoothly while staying in control over your business operations, whether scheduling a mobile mechanic for a regular service, booking a massage at the studio, or booking and scheduling education services online.

Bookings – Ability to add multiple addresses to bookings
OctopusPro helps you to further reduce service delivery costs, now with the option to add multiple locations to a single job and optimize your travel routes.
Particularly important for delivery businesses, removals, cleaning, installation & maintenance, waste collection, etc..

Customer Portal – Customisable Inquiry Form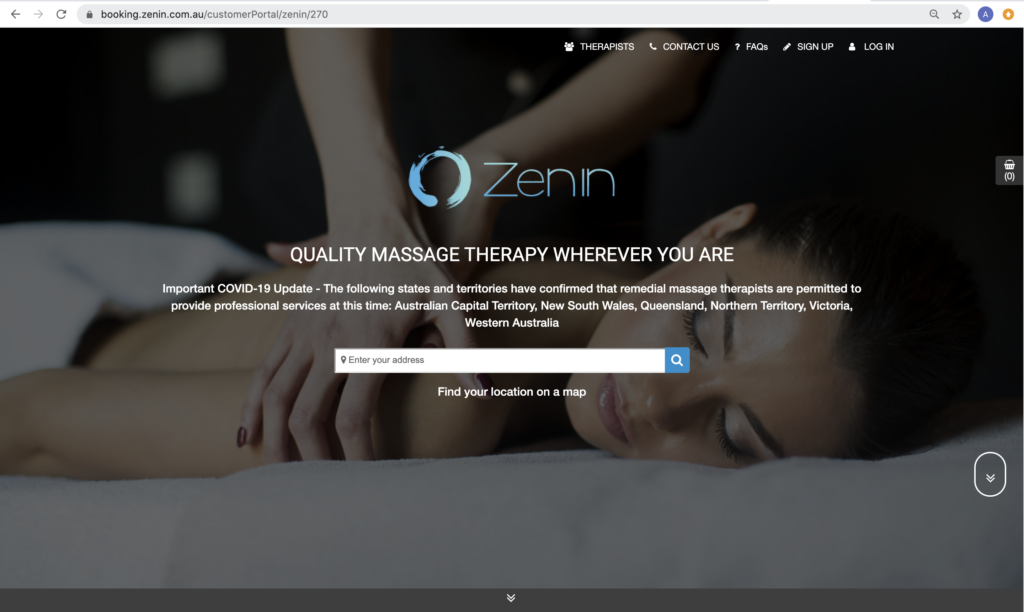 A customisable inquiry form can now be embedded within any page of your website making it even easier for customers to reach you. New inquiries will appear directly in your OctopusPro account where you can manage your leads and convert inquiries to estimates and bookings.

Booking Management – Mobile App for Office staff

Admins and Office Users are able to manage jobs in real time and provide important notifications using their mobile device. Increase productivity by enabling real-time in-app collaboration and communication between your office workers, your field technicians, and your customers using a single application.
Receive push notifications through the app for all important changes
Track the location and view the progress of workers
Receive field updates
Seamless customer and field worker communication
Set seasonal prices and specials
Manage custom automated emails and SMS messaging
Track invoices and payments
Export reports and analytics (connect with Google Analytics)
Notification types you can enable / disable:
Notify customer in real-time of field workers arrival status
Instant access to customer details
On-site arrival/departure times for field workers are automatically recorded
Messaging, voice calls, send work orders, estimates and invoices, share customer histories.
Automated notifications alert your fieldworkers of approaching appointments and job changes.
Find out more >

Finances – Integrated Accounting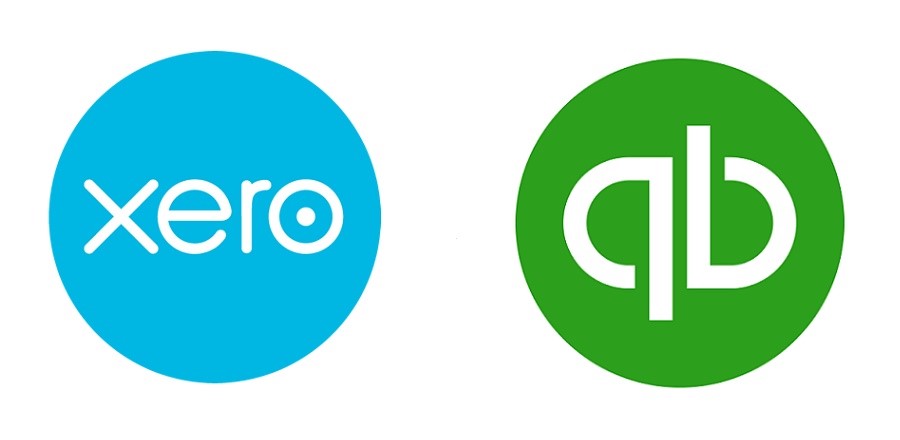 Already using QuickBooks or Xero? OctopusPro users integrate seamlessly with industry-leading accounting platforms to manage their finances. Easily migrate QuickBooks and Xero settings into OctopusPro with the click of a button.
Fast and easy integration
Straight forward 2-way sync
Easily update and track finances
Push customer invoices to your accounting platform with one click.
Sync customers & employees between OctopusPro and your accounting platform.
Sync services and track all changes.
Transfer and keep track of all payments from one place avoiding double entry.
Find out more >

Booking Management – Mobile Workforce GPS Tracking
Improve field worker accountability and keep jobs on schedule –GPS tracking for fieldworkers that can be viewed by office staff and customers.
Monitor field technician locations in real-time with GPS tracking through the mobile app. You and your customers can track job progress, keep up to date on field worker locations, and see when they're travelling without the need for time-consuming phone calls or messages.
Available for iOS and Android devices
Google Maps integration
See a map view of your team and jobs
Create reports to view location data

Booking Management – Add a book now button or link to your website
Convert more visitors into confirmed bookings. You can now easily create a Book Now button to embed anywhere on your existing website, or to share with your customers by email and social media.

Finances – New payment options and gateway integrations
Enable one click payment processing from anywhere. Securely accept all major payment types and give customers even more options to pay online. OctopusPro now offers Paypal, Authorize, eWay, Stripe, Square, WePay, Checkout, Afterpay, Apple Pay, Samsung Pay, Google Wallet, 2Checkout, BitPay and Telr integrations, with more on the way!

Find out more >

Track your booking status and timeline
Track the status of jobs from your mobile or web application. Track a bookings life-cycle at a glance – inquiry date, scheduled site-visit date(s), invoice sent date, payment date, and completion date.

Create customer properties to manage collecting information about your customers

Remove the need to re-enter booking information while providing a one-step digital experience for your customers. By creating customizable profiles and accounts, office staff have instant access to all relevant customer information and customers are able to self manage bookings using the customer portal.
eg. a mobile mechanic can store and quickly access required information on a customer's car such as the build year, number plate, color etc.

Booking Management – Assign multiple Fieldworkers to a booking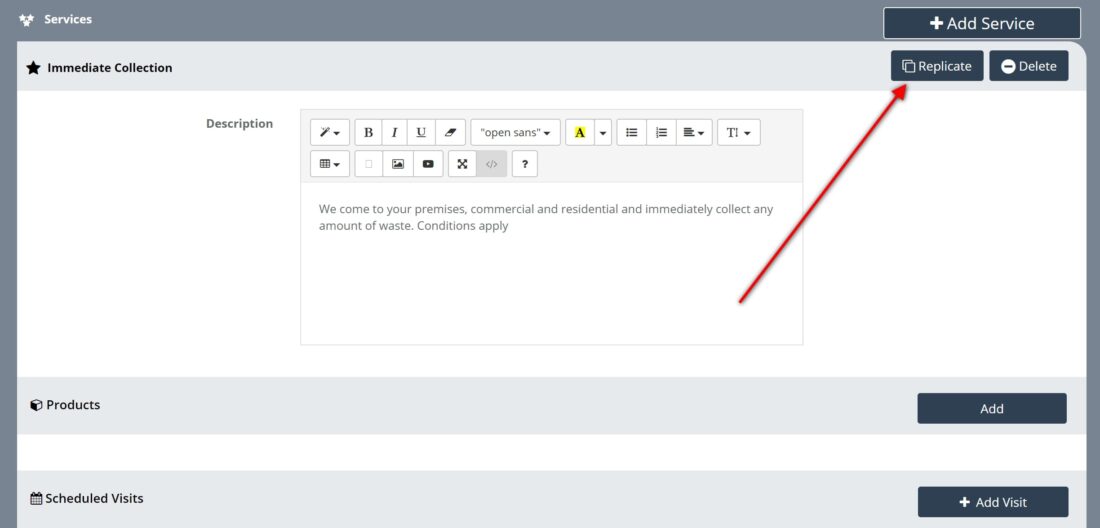 Have more than one resource working on the same job? You can now assign additional fieldworkers to your bookings, ensuring team members know exactly what's required for each booking. OctopusPro will also automatically calculate fieldworker pay based on the services performed.
Booking Management – Create services and bookings without generating an invoice
Need to schedule and manage bookings for a service but don't want to bill your customers or generate an invoice? Just select the free service option under Cost & Payrate in your service settings.
Booking Management – Calendar & Scheduling Improvements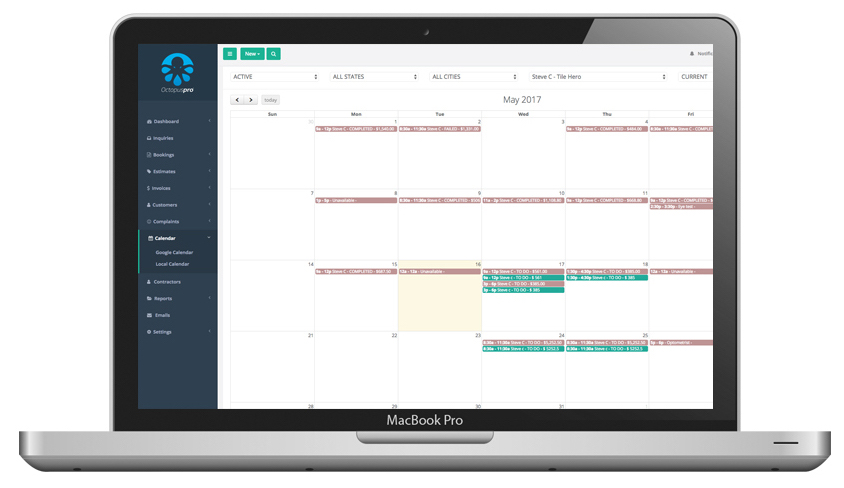 Managing any last-minute requests, cancellations, field worker absence and other schedule changes is now even easier. OctopusPro's integrated drag and drop calendar ensures efficient job scheduling with the ability to clearly visualize field workers real-time availability and quickly schedule and reassign jobs.
Simply Drag and Drop existing bookings to apply alternative booking times and fieldworkers.
Daily Bookings View helps you to optimize resource utilization and make better scheduling decisions.
Find out more >
Import your customers' database using CSV
Save time on data entry! Import all important details about your existing customers, users, services, and products into OctopusPro via CSV file.
Find out more >

Booking Management – Booking Assignment
You can enable and disable the ability of your fieldworkers to accept and decline bookings ensuring you always maintain total control over jobs and staff.
Customer Portal – Real-time bookings and technician availability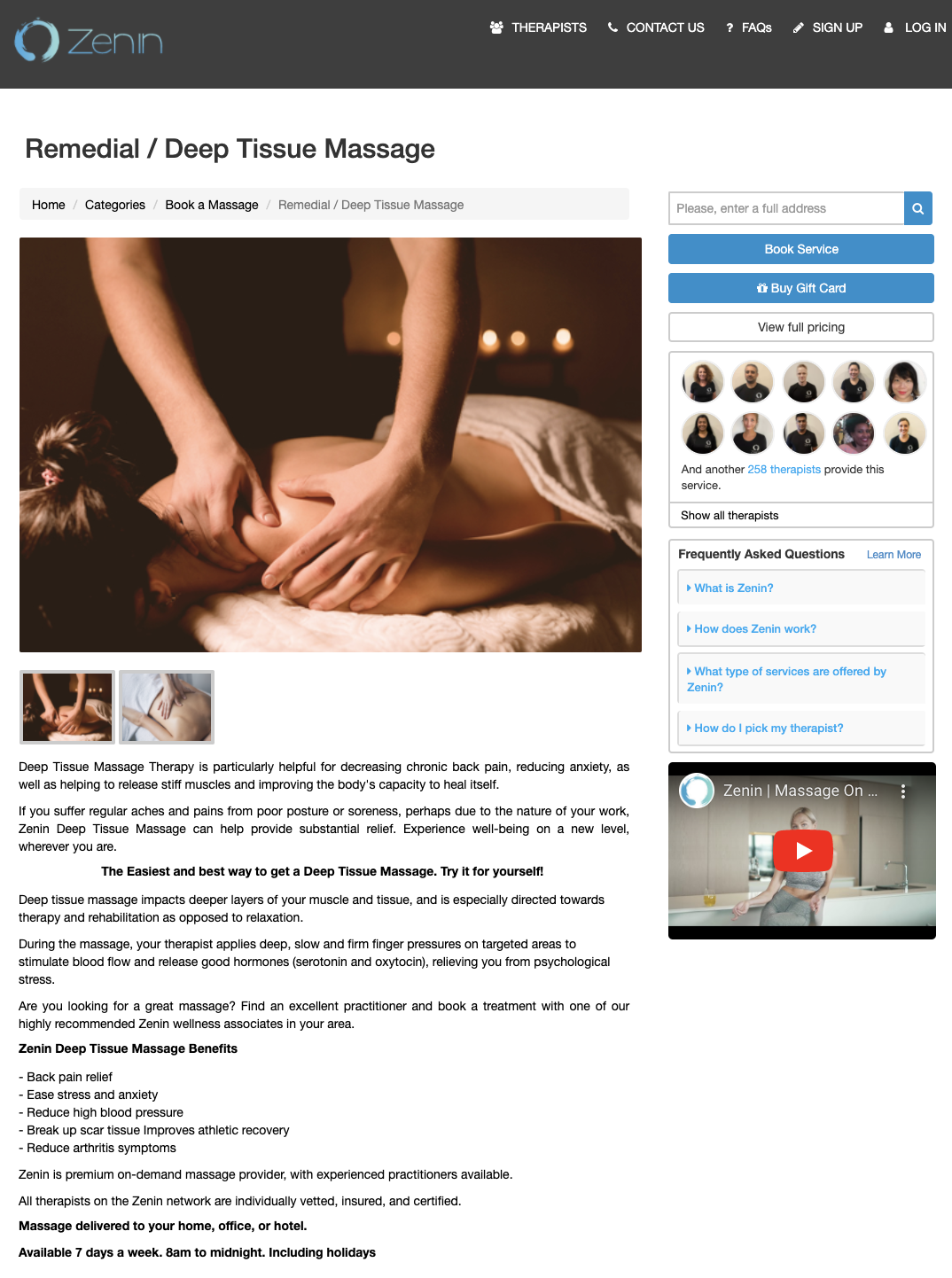 Enable customers to view availability & request bookings with any fieldworker or to request bookings and view available times for preferred fieldworkers.
Customers can view the profile details of available fieldworkers, such as: their location, display name, photos, videos, social media links and customer ratings.
Merge / Combine Invoices from different bookings
If you perform regular bookings for certain clients and want to bill them periodically in one group invoice, like on a weekly or a monthly basis, you can combine and merge different invoices from your client's bookings together into one invoice to send out at the end of their desired billing date, rather than sending separate invoices for each booking you have scheduled for them during that period.
To merge invoices together, use the advanced invoice search to filter invoices by customer, then select the invoices you need to combine from the list and press the Merge Invoices link that appears in the checkbox at the top of the invoices list. You can also go to your customer's profile page to view their list of invoices from their invoices tab to select the invoices you want to merge.
Once your invoices have been combined and merged, a new invoice number will be generated for the combined invoice. The combined group invoice will look just like your regular invoice, with the addition of a date for each item line which comes from the scheduled visit date for the service, or from the date the product was added. In the view page for the merged invoice you will also see a reference to the booking number of each listed item, which links to the original booking. The merged group invoice will also have a new creation date which will be set to the date the invoices were merged. Please note that you can't merge invoices that have a payment added or that have been synced to your accounting software like Quickbooks or Xero.
If for any reason you need to revert the merging of a combined invoice, you can press the Revert Merging Invoices button which shows in the Actions button in the view invoice page, this will revert the invoice back to its original separate or individual invoices. When merging of an invoice is reverted, the newly created group invoice will be deleted and the invoice will split back to the original invoices which existed prior to them being merged. Please note that you can't revert merging of an invoice that has a payment added or that has been synced to your accounting software.
If you need to merge additional invoices with an already merged invoice, you can do that in the same way you merge regular invoices, and the same rules and limitations apply.
[/vc_row