Calendar Month View
The system automatically filters the local calendar to show all upcoming bookings for the month. So, you can have a monthly overview of your upcoming and attended bookings during each month, where you can manage your calendar and view, add, or reschedule bookings directly from, and even mark days or hours of a day as unavailable for work, and much more. 
The monthly view will be the default view on your calendar, it displays all the bookings scheduled during the month, and it is a more general view. Use the arrows on the top left of the page, to go forward a month or back a month.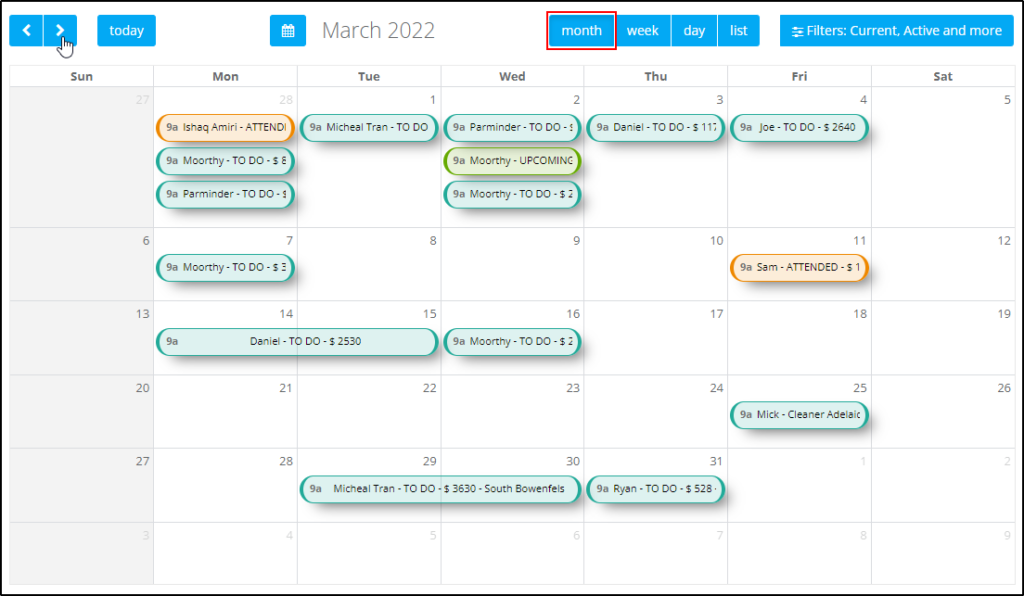 How to add a new booking to the calendar view?
You can also easily create a new booking from your calendar view, click on the calendar time slot you want to schedule a booking on, and a pop-up window will appear, click on Add Booking.
You will be redirected to the create a new booking page, enter all your booking details and save. The booking appointment will then appear on your calendar view.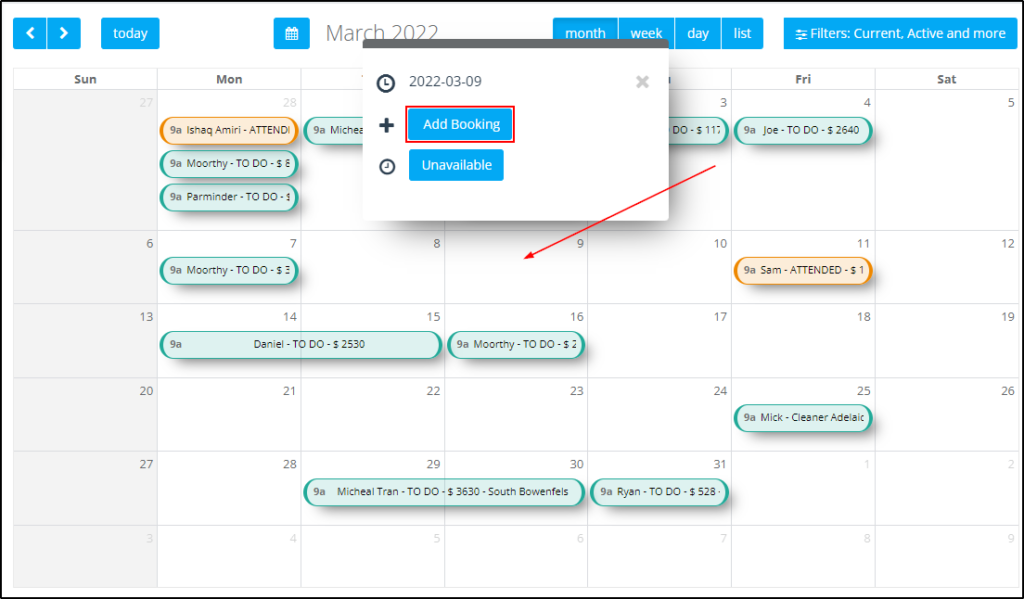 How to add an unavailable event for a fieldworker on the calendar view?
You can also directly add unavailable events or mark unavailable days for your fieldworkers directly from your calendar week view, click on the calendar time slot you want to mark as unavailable, and a pop-up window will appear, and click on Unavailable.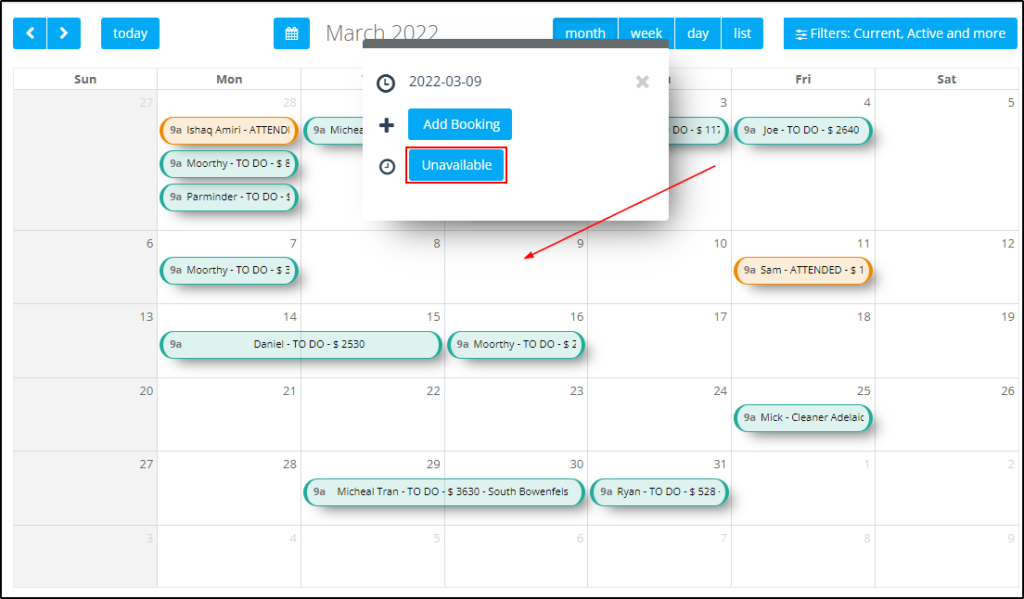 To mark an unavailable day or a specific time of the day for a fieldworker, select the fieldworker from the dropdown list, to mark a day as unavailable, enable the toggle button All day.
To set an unavailable event during a specific time of the day, select the day from the date picker, and pick the time, then click Save.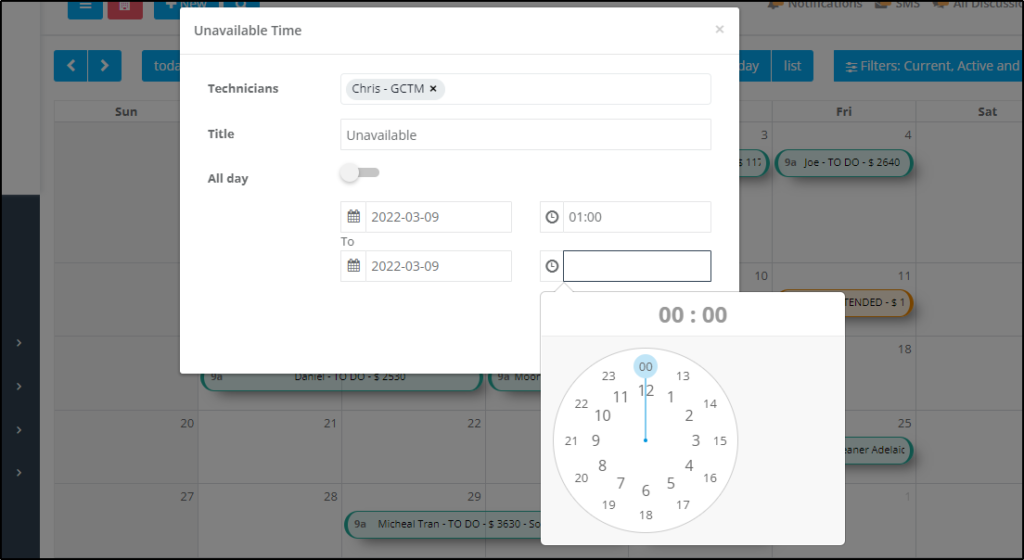 Upon clicking on save, your fieldworker will be marked as unavailable, and they will not be able to accept any bookings during these hours. The unavailable event will be added and displayed on their calendar.

How to reschedule bookings on the calendar view?
Click, Drag and Drop.
To reschedule a booking on your default calendar view, you can easily click, drag and drop the booking appointment to reschedule it to a different day.
Upon rescheduling, a notification will appear that your calendar has been updated, and your customer and assigned fieldworker will be notified of these changes.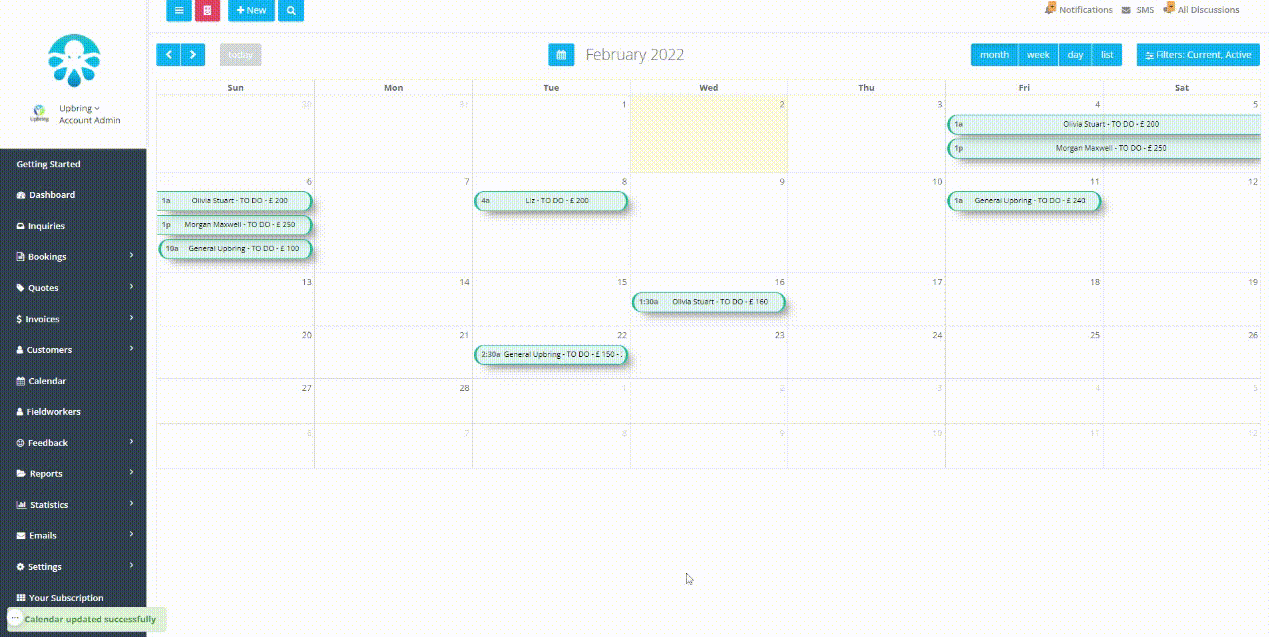 For further information on how to manage your calendar click here.