Changing and Resetting User Passwords
Maintaining robust security in a digital business environment is paramount, and this includes managing user passwords. In OctopusPro, there are robust features that allow both the admin and individual users to change or reset passwords, ensuring secure and reliable access at all times.
As an administrator, you have the ability to change a user's password in certain situations – such as if a user has forgotten their password, there is a potential security breach, or when regular password updates are part of your company's IT security protocols. Here's how you can do it:
Navigate to Settings > Company Settings > Users.
Identify the user whose password you need to alter and click on 'Actions'.
From the dropdown list, choose 'Change Password'.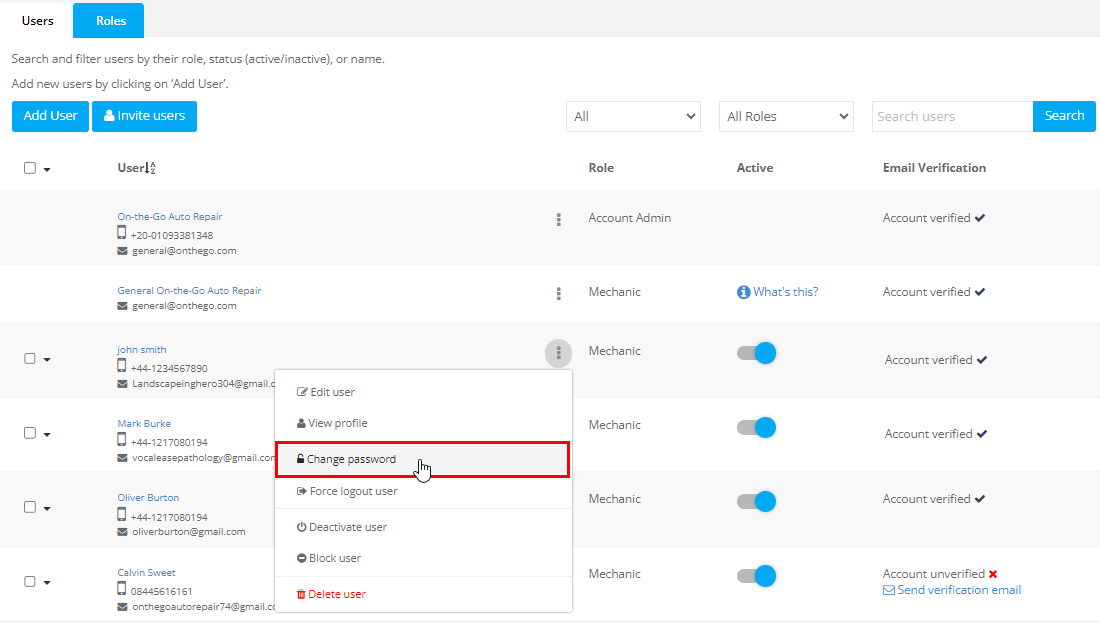 4. Enter the new password, then click on "Save".

On the other hand, users themselves can also manage their passwords. When they are added or invited to the system, they will receive a verification email. This email contains a link which, when clicked, allows them to set their own password. This provides them with a personal sense of security and control over their account. Furthermore, if users need to change or reset their password in the future, they can do this by themselves from their account settings.
Benefits & Functionality
Security Management: Consistent password updates help enhance account security and prevent unauthorized access.
Operational Continuity: This feature enables swift action in scenarios where a user has forgotten their password, ensuring smooth operations and immediate access.
User Autonomy: By allowing users to set and reset their own passwords, they can maintain their account security in a way that suits them best.
Regulatory Compliance: Regular password changes are often required in many industries as part of compliance protocols. This feature enables administrators to manage this process effectively.
Use Case Examples
A fieldworker on location forgets their password and can't access crucial job information. As an admin, you can promptly reset their password, enabling them immediate access and ensuring task continuity.
Regularly scheduled password changes can be a part of your company's IT security protocol to mitigate cyber threats. As an admin, you can manage this efficiently through OctopusPro, while individual users also maintain control over their account security.
Remember to use this feature responsibly, always respecting user privacy and following relevant regulations and best practices.
To stay updated, please subscribe to our YouTube channel.