Selling Gift Vouchers
OctopusPro makes it easy for your customers to purchase gift vouchers for your services and send them as gifts to their friends and family. This user guide will walk you through the process of setting up and utilizing the gift voucher feature, answering frequently asked questions, and providing tips for maximizing its potential.
Table of contents
What are the advantages of allowing gift vouchers purchases?
Offering gift vouchers is an excellent strategy for attracting new customers, retaining existing ones, and increasing brand awareness. Gift vouchers encourage recipients to explore your products and services, potentially leading to additional sales.
Admin users can activate the gift voucher feature by navigating to Settings > Customer Portal > Flags & Permissions, then enabling the toggle to Allow customers to buy gift vouchers.

Once enabled, the gift voucher option will be available when booking any service, allowing customers to book a service for someone else.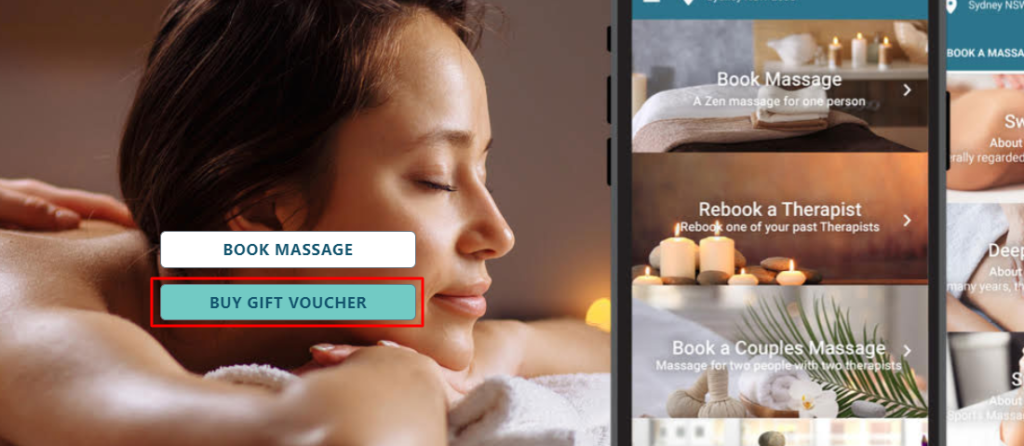 How do my customers purchase Gift Vouchers?
Customers can purchase gift vouchers through two channels:
Customer portal
Via admin users
Buy gift voucher via Customer portal
Visit the Customer Portal
Select the desired service
Click on the option "Buy Gift Voucher"
Choose the required time and service type


Click "Continue" to confirm the service selection or click "Add more service" to add additional services to the cart
Enter contact details and click "Next"


Provide the recipient's information and click "Next"


Process the gift voucher payment and click "Next"


On the Gift Voucher Overview page, enter a voucher code (if applicable) and click "Confirm booking"

After completing your purchase, a new window will appear displaying your confirmation. You will have the option to print the confirmation or send it to your phone. You can also view your voucher details by clicking on "View voucher," or modify or cancel your gift voucher by clicking on "Modify" or "Cancel," respectively.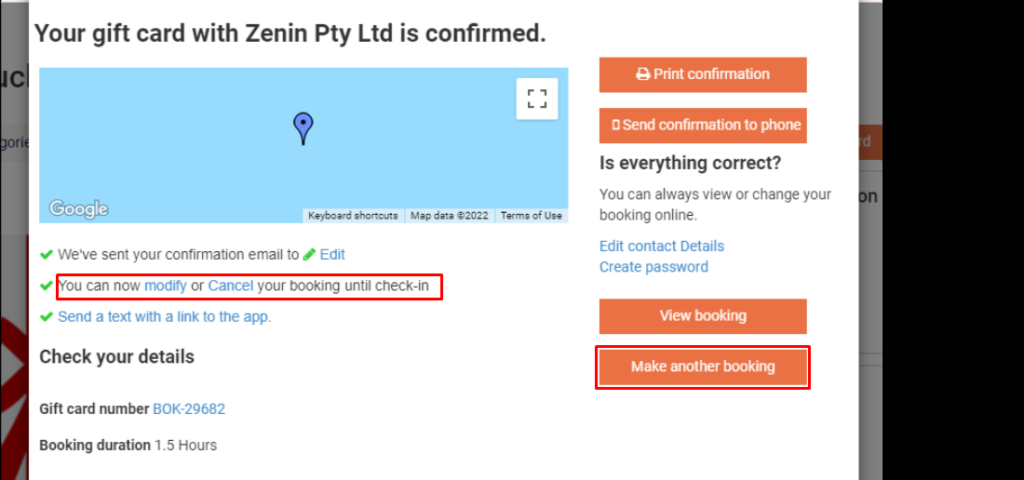 Both the buyer and recipient will receive a confirmation email containing the gift voucher booking and a redeem link.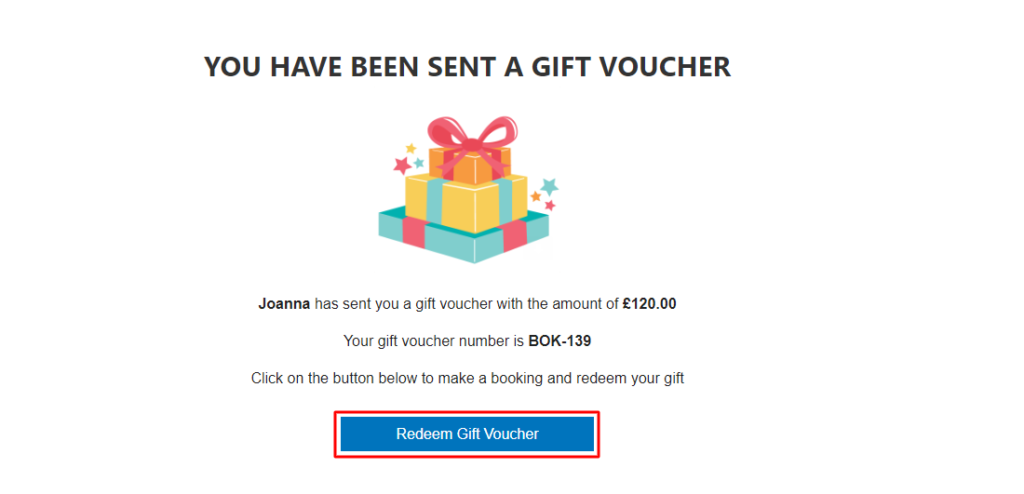 Buying Gift vouchers via Admin users
To purchase a gift vouchers as an admin users, follow these steps:
Login to your admin user account
Navigate to Bookings> Create new 
Click on the "Status" drop-down menu and select "Gift voucher"

Admin users will need to add the customer's info then fill out the section for "Your contact info" so that to add the recipient info.
Process the full payment and the redeem link will be forwarded to the recipient.
Admin users will be able to view the gift voucher booking under Bookings> All Bookings as displayed below:

Can customers apply voucher codes when buying a gift voucher?
Yes, you can apply voucher code before making payment to the purchased gift voucher.

Can customers buy a gift voucher without making a full payment?
No, customers need to process full payment while buying a gift voucher.
Does the business payment terms affect the gift voucher purchase?
No, the gift voucher should be paid for fully by the buyer.
What is the difference between regular bookings and Gift vouchers purchases?
Regular booking is made by the customer to book a certain service/s, set its date and time, specify its location, and process the payment as per the available payment methods. While gift voucher purchase is booking a certain service/s, make the full payment and send the redeem link to another person or recipient to schedule the service date/time and specify the delivery address if any.
What value customers can add to a Gift voucher?
To buy a gift voucher, your customers need to select the desired service/s, once selected, the gift voucher will be valued with the total cost of the selected services, hence, your customers can add any value based on desired services.
Can customers add more value to a purchased gift vouchers?
As a recipient to the gift voucher, when you redeem it, you have the option to redeem the purchased service/s only, or add more services and pay the difference.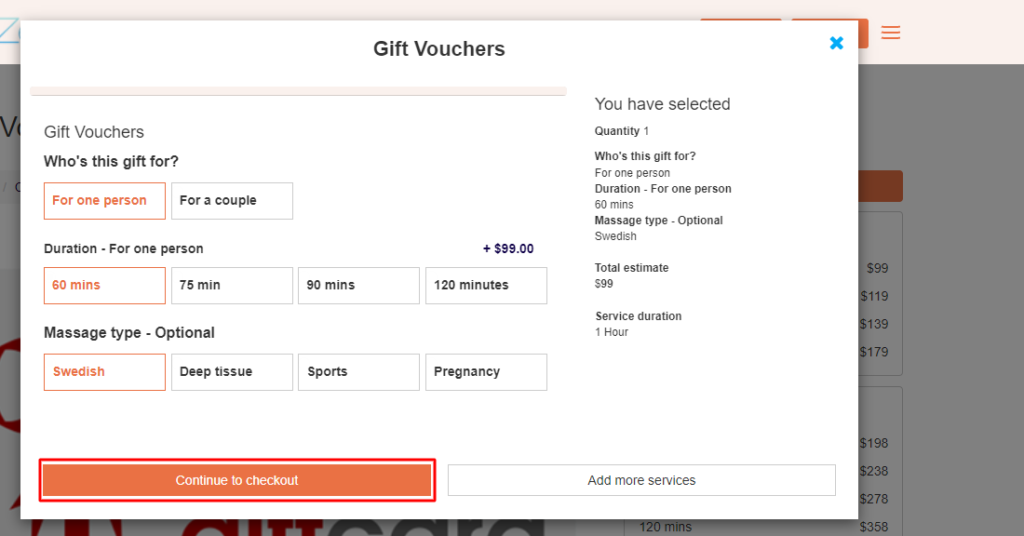 Is there any service/booking my customers can't use the gift voucher for?
No, once the option for gift voucher purchase is enabled, all services will be available to be bought by your customers and sent as a gift.
Can my customers return or refund a gift voucher purchase?
No, Once a gift voucher is bought and paid for, it belongs to the recipient and it can't be returned.
Is there an expiry date to the purchased Gift voucher?
No, however, once the gift voucher is redeemed, it can't be used again.
Can my customers purchase Gift vouchers for a company?
Yes, you can buy a gift voucher and dedicate it to a business account by following the below steps:
Visit customer portal

Select the desired service

Click on the option Buy as a gift voucher

Add the required time and service type as displayed below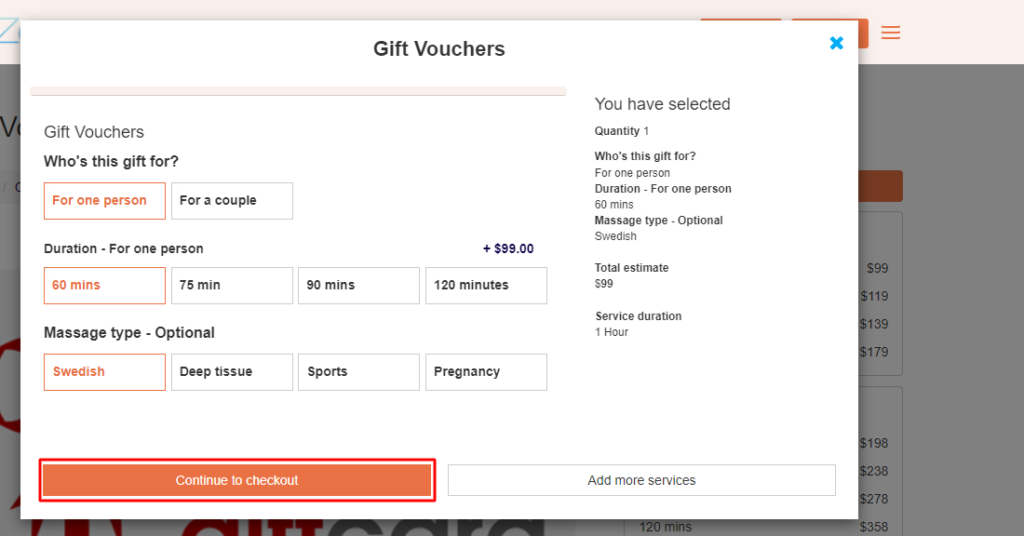 Click Continue to confirm your service selection or click on Add more service, to add additional services to your cart

Add your Contact details then click

Next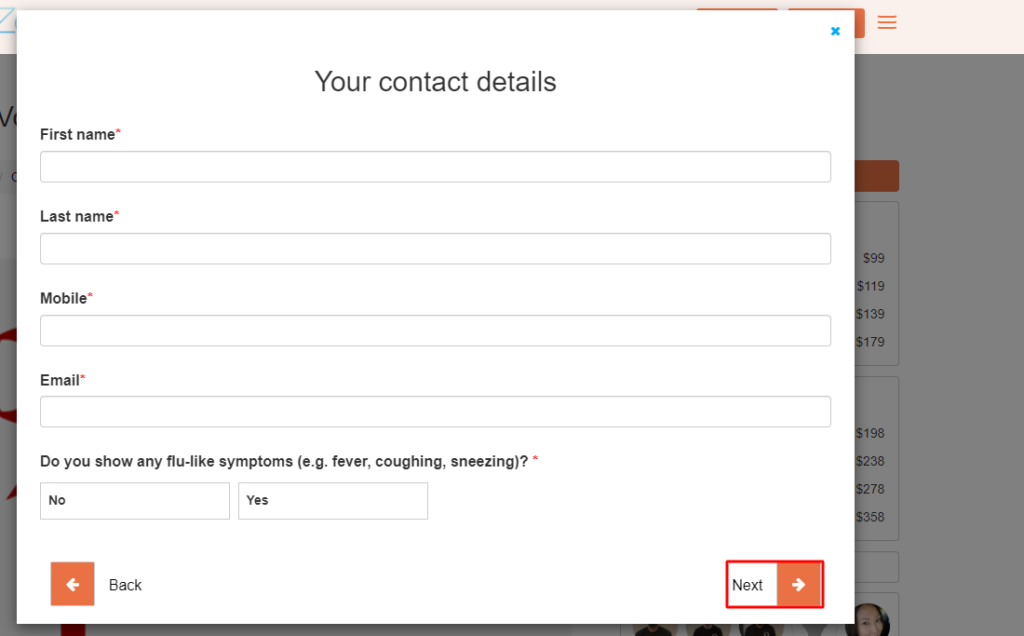 Process the Gift voucher

payment
Click on Business, then add contact information for the recipient then click

Next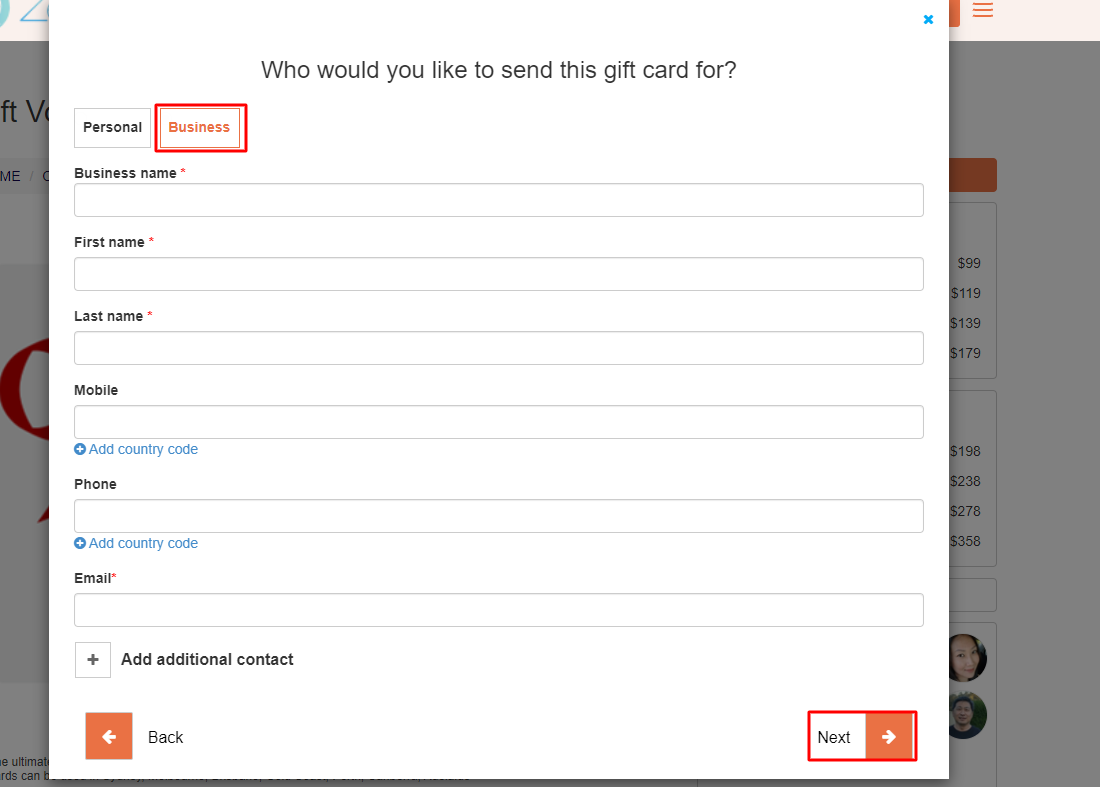 You'll be redirected to the Gift voucher overview page, click on

Confirm booking

and your Gift voucher will be emailed to the recipient with a

Redeem link

.
How can customers redeem a gift voucher?
To redeem a Gift voucher, the recipient can follow the below steps:
Click on the Redeem link that was sent over email as displayed below: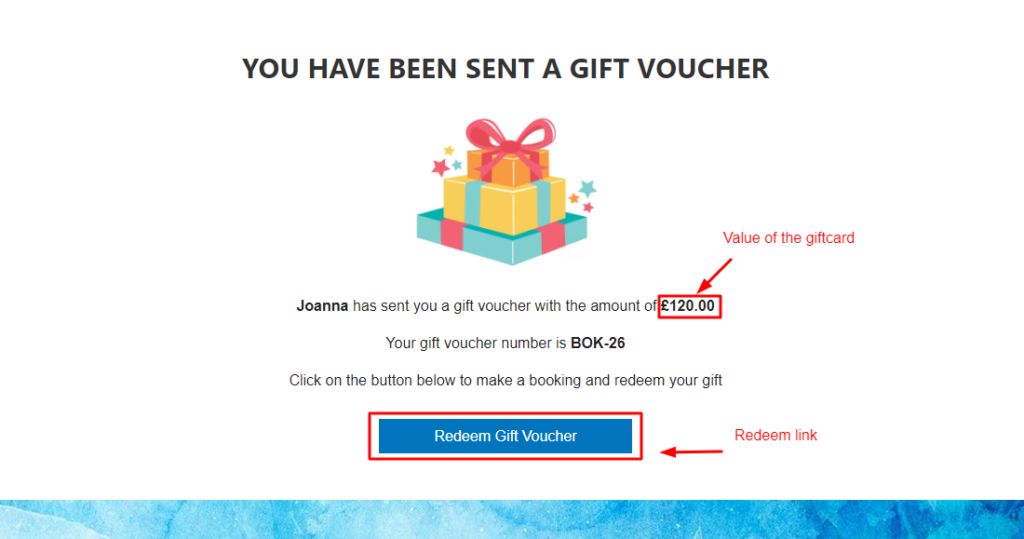 You'll be redirected to the gift voucher

overview

page as displayed below: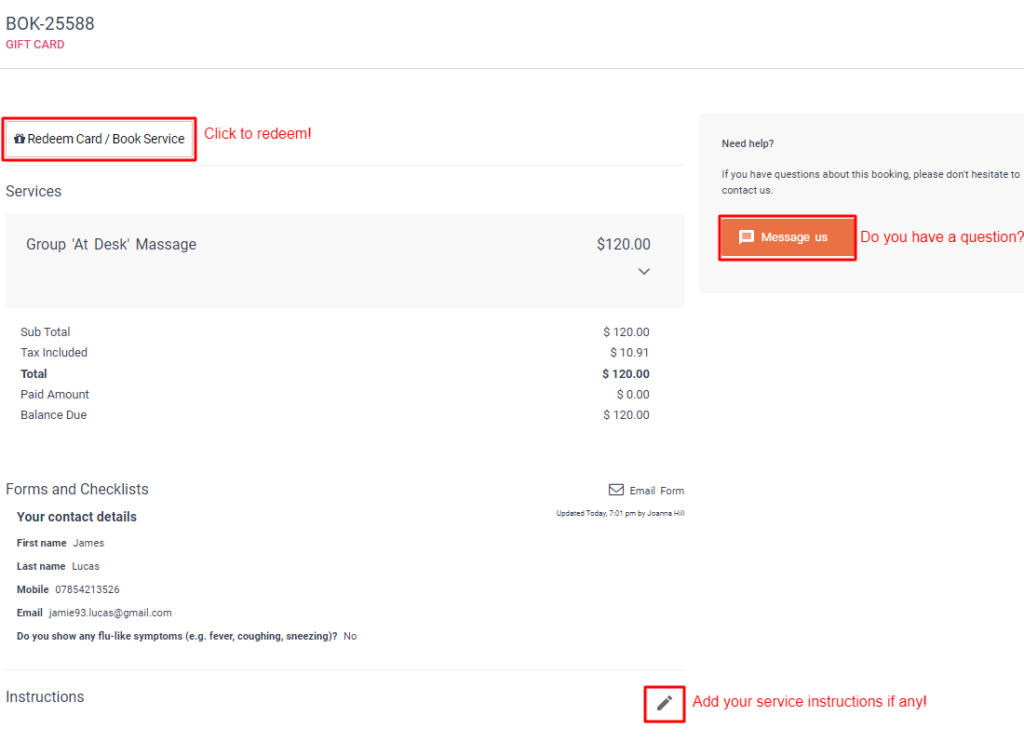 Click on

Redeem card

and you'll be redirected to a new page, where you can confirm redeeming the same purchased service or change the purchased service
Click on Continue to redeem the purchased service, you'll be redirected to a new page where you can select the service location

Click Next, then from the next window, select the requested date/time

Click

Next

to confirm your selection and your service booking.
Once your booking is confirmed, a confirmation email will be sent to you with booking information and a link to reschedule or cancel your booking.

Can gift voucher recipients modify the requested service or booking?
Yes, when recipients click on the "Redeem card" option, they have the flexibility to either redeem the pre-selected service or booking or opt for an alternative service of equal or greater value. In the latter case, recipients can add more services and pay the price difference.
Are returns possible for purchases made using gift vouchers?
The eligibility for returning purchases made with gift vouchers is contingent upon the specific cancellation policy of your business.
Can gift voucher recipients transfer the voucher to someone else?
Indeed, gift voucher recipients can share the redeem link with another individual. However, it's essential to remember that each gift voucher can only be redeemed once.
Can gift vouchers be partially redeemed?
Yes, if the gift voucher's value exceeds the cost of the selected service, the remaining balance can be used for future purchases. The voucher will remain valid until its entire value has been utilized.
How can I track gift voucher sales and redemptions in OctopusPro?
Admin users can monitor gift voucher sales and redemptions by navigating to the "Bookings" section and filtering for gift voucher transactions. This allows businesses to analyze the performance of their gift voucher program.
Can I create custom gift voucher designs for my business?
Currently, OctopusPro offers a standard gift voucher design. However, you can customize the email template that contains the gift voucher, allowing you to add your branding and personal touch to the communication.
Is it possible to set a minimum or maximum value for gift vouchers?
The value of a gift voucher is determined by the total cost of the selected services. If you want to set a minimum or maximum value for your gift vouchers, you can do so by setting specific rules or limitations for the services available as gift vouchers.
For more information, please visit Octopuspro user guide, and subscribe to our youtube channel.