Lead Capture Form | Embed Inquiry Form On Your Websites
Turn Website Visits into Business Leads with the OctopusPro Lead Capture Widget
The fully customizable OctopusPro Lead Capture Form is a powerful tool designed to capture leads from your website directly into your OctopusPro account, streamlining lead capture and customer communication. By embedding this form widget on your website, you can effortlessly generate leads and capture valuable customer information, paving the way for successful sales and customer interactions.
The Lead Capture Form is a simple yet effective form that allows customers to submit their inquiries directly through your website. These inquiries are then conveniently displayed in the inquiries section of your OctopusPro account, enabling you to manage initial customer contacts, convert inquiries to estimates, and ultimately secure bookings. This versatile widget can be embedded on any page or website, ensuring your customers can easily reach you with questions about your products and services.
Imagine the potential of this software system working for you. Every website visitor is a potential customer, and our Lead Capture Form is your ticket to capturing and nurturing these leads. The software ensures a simple, user-friendly interface for customers to inquire or request services, hence bridging the gap between you and your potential customers.
By using the Lead Capture Form, you can transform your website into a lead-generating powerhouse, empowering your business to achieve new levels of success. The Lead Capture Form is the ultimate tool for businesses looking to improve customer engagement and conversions while simplifying lead generation and management. Say goodbye to missed opportunities and hello to increased sales and revenue with OctopusPro's Lead Capture Form.
But why is a lead capture form / inquiry form essential for your website? Visitors are already interested in your services when they land on your website, so including a contact or Lead Capture Form is a great way to capture their information and start building relationships with potential customers. The Lead Capture Form provides a hassle-free way for customers to reach out to you, making it simple for them to ask questions or request services.
Customization is key with the Lead Capture Form. You can tailor the Lead Capture Form to match your branding and messaging, providing a consistent experience for customers and helping to build trust. Plus, the widget offers automatic email confirmation, letting customers know their message has been received and reinforcing your brand. With seamless integration with your OctopusPro account, you can manage inquiries and convert them to estimates and bookings with ease.
Additionally, the Lead Capture Form provides you with the flexibility to control your service selection process. You can choose whether to allow customers to select multiple services from a dropdown list or limit them to select only one service.
Don't miss out on the potential of the Lead Capture Form – embed it on your website today and start capturing more leads. Whether you're a small business or a large enterprise, the Lead Capture Form is the ultimate solution for enhanced lead generation, streamlining customer communication, and driving sales.
Features and capabilities include:
User-friendly Design: The Lead Capture Form from OctopusPro offers a simple and straightforward design. This increases conversions by making it easy for customers to submit inquiries, boosting interactions and improving your lead generation efforts.

Highly Customizable: OctopusPro allows for extensive customization, letting you tailor the form to match your specific business needs. This results in a more accurate collection of lead data and ultimately, a more efficient lead conversion process.

Brand-Specific Customizability: By customizing the Lead Capture Form per trading name, you can ensure brand consistency across all your different businesses. This strengthens your brand identity, leading to increased customer trust and loyalty.

CSS Customization: Customize the form's appearance using CSS to match your existing website and branding. This seamless integration enhances your professional image and provides a better user experience.

Photo Upload Support: Encouraging users to upload relevant photos enables your team to gain a clearer understanding of customer inquiries. This increases the quality of service response and ensures customer satisfaction.

Redirection to Customer Portal: By the option of redirecting customers to your portal post-inquiry, you can offer immediate access to further information and assistance. This increased engagement enhances customer satisfaction and loyalty.

Period Required Field Option: By knowing the requested service timeline up-front, businesses can manage inquiries more efficiently. This results in faster response times, increasing customer satisfaction and the chance of conversion.

Website Integration: Embedding the Lead Capture Form on your business website leads to automatic population of leads in your account. This streamlines the inquiry management process, saving time and reducing the risk of manual data entry errors.

Mobile Responsiveness: A fully responsive form provides a consistent user experience across all device types, ensuring you capture leads from customers, no matter what device they're using.

Data Security and Compliance: Adherence to essential privacy regulations and data security measures not only provides peace of mind to your business but also reassures your customers that their data is safe. This builds trust, a critical factor in customer decision-making.

IP Management and Spam Protection: The combination of IP blocking and protection from web crawlers significantly reduces spam inquiries. This allows your team to focus on genuine leads, increasing productivity and efficiency.

Integrated Autoresponder: An immediate automatic email response upon form submission enhances customer engagement and shows your customers that their inquiry is important, leading to a better customer experience.

Analytics and Reporting: Insightful analytics and reporting enable you to make data-driven decisions. By understanding form performance and conversion rates, you can refine your lead generation strategy and improve results.

Multi-language Support: By catering to a diverse customer base with multiple languages, you can reach a wider audience and maximize your market penetration. This multicultural approach can give you a competitive edge in today's globalized market.

Conditional Logic Support: By using conditional logic in your forms, you can improve the user experience by avoiding unnecessary or irrelevant fields. This can increase form completion rates and generate more qualified leads.

Social Media Integration: Social media integration enables users to autofill some information using their profiles and lets you track conversions from different social media channels. This helps leverage your social media presence and gain leads from these popular platforms.
All these features, coupled with OctopusPro's Customer Portal, provide a powerful combination for improving customer engagement and conversion, streamlining your business processes, and boosting your bottom line.
Table of contents
The Advantages of Integrating a Lead Capture Form into Your Website
In the modern fast-paced world, it's impractical for businesses to be accessible to customers 24/7. However, providing a way for visitors to contact you, even when you're not available, is crucial. Inquiry or contact forms serve this purpose effectively. They offer customers an effortless method to send you a message directly from your website, while also creating the impression of constant availability. Although a business phone number on your website is essential, it cannot replace the utility of a contact form.
A Lead Capture Form can be utilized for any type of request you wish to capture through your website and channel into your sales workflow funnel. Be it a general service request, a "contact us" form, or any other non-product-specific query, the Lead Capture Form provides a seamless avenue for customers to connect with you. Moreover, you can fully personalize the wording used in the process to ensure your customers comprehend that they are only making an inquiry or requesting a quote.
Incorporating a Lead Capture Form streamlines customer communication, fosters trust, and increases the likelihood of converting leads into customers. By offering a straightforward and user-friendly contact option, you can enhance user experience and boost customer satisfaction. Additionally, customizing the Lead Capture Form to align with your branding and messaging ensures consistency in every interaction with your customers and reinforces your brand.
In conclusion, a Lead Capture Form is indispensable for your website if you aim to improve your business accessibility and strengthen your online presence. It's a simple yet powerful tool to engage with customers, capture valuable leads, and expand your business.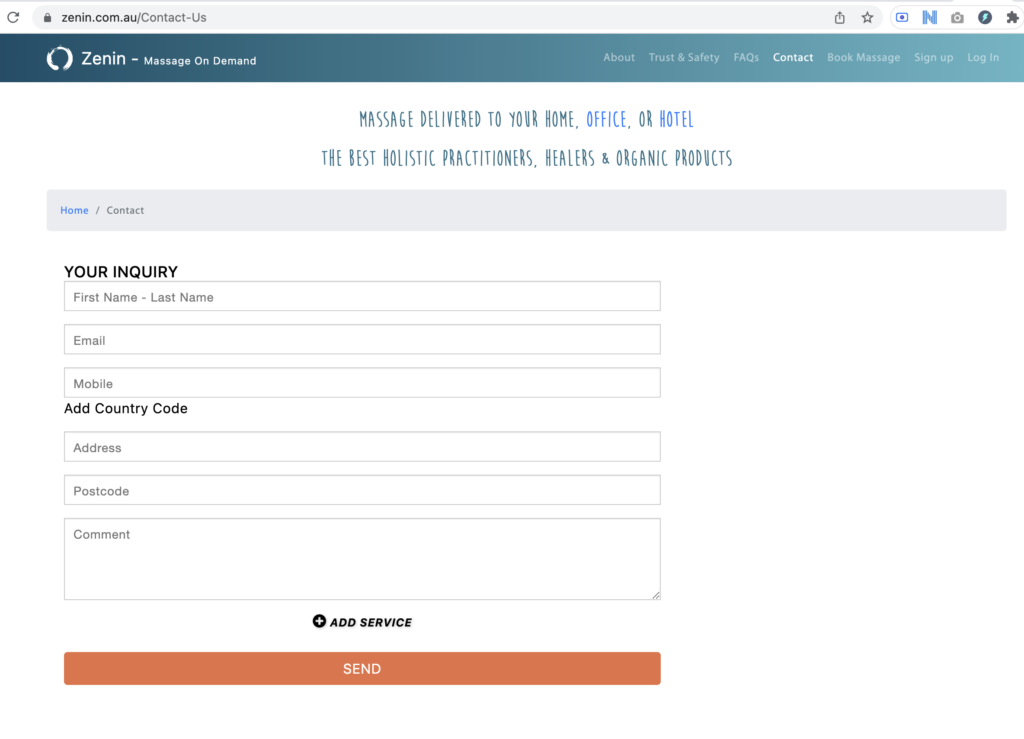 Transform Your Multi-Brand Strategy with OctopusPro's Customizable Lead Capture Forms:
OctopusPro offers an innovative solution for managing multiple trading names under one account. Its unique Lead Capture Forms can be customized for each of your distinct trading names, allowing the same form to be posted across different websites, yet appearing completely unique on each site.
Beyond customization, OctopusPro enhances your brand consistency. All communications and auto-responders are white-labeled or branded under each respective trading name, providing a seamless and personalized experience for your leads.
What's more, these customizations and branding efforts are clearly visible in your reports, providing you with valuable insights into your lead management process.
OctopusPro offers an efficient and effective solution for multi-brand lead management, fostering customer trust and loyalty while keeping your various brand identities intact. Supercharge your multi-brand strategy with OctopusPro, the ultimate tool for your lead management needs.
Don't hesitate – add a Lead Capture Form to your website now and start enjoying the advantages it brings!
A Lead Capture Form serves a multitude of purposes, including but not limited to the following examples:
Service/Information Request: Customers can utilize this form to inquire about further details on the services or products offered by your business.
Questions: The Lead Capture Form enables visitors to pose various questions related to your business.
Feedback: This contact form is designed to collect general comments from your visitors concerning your website and business.
Incorporating a contact form on your website offers several significant advantages:
Spam Reduction: The alternative to using a contact form is displaying an email address on your contact page, which can lead to issues such as spam. Bots scour the internet to collect email addresses from websites, resulting in a deluge of unwanted spam. Dealing with spam wastes time and negatively impacts your business.
Information Control: By specifying the information you'd like from customers, you can gather precisely what you need from them.
Sales Funnel Management: As all inquiries submitted through your contact form will appear in the inquiries tab of your OctopusPro account, you can efficiently manage them within your sales funnel and convert them into quotes and bookings.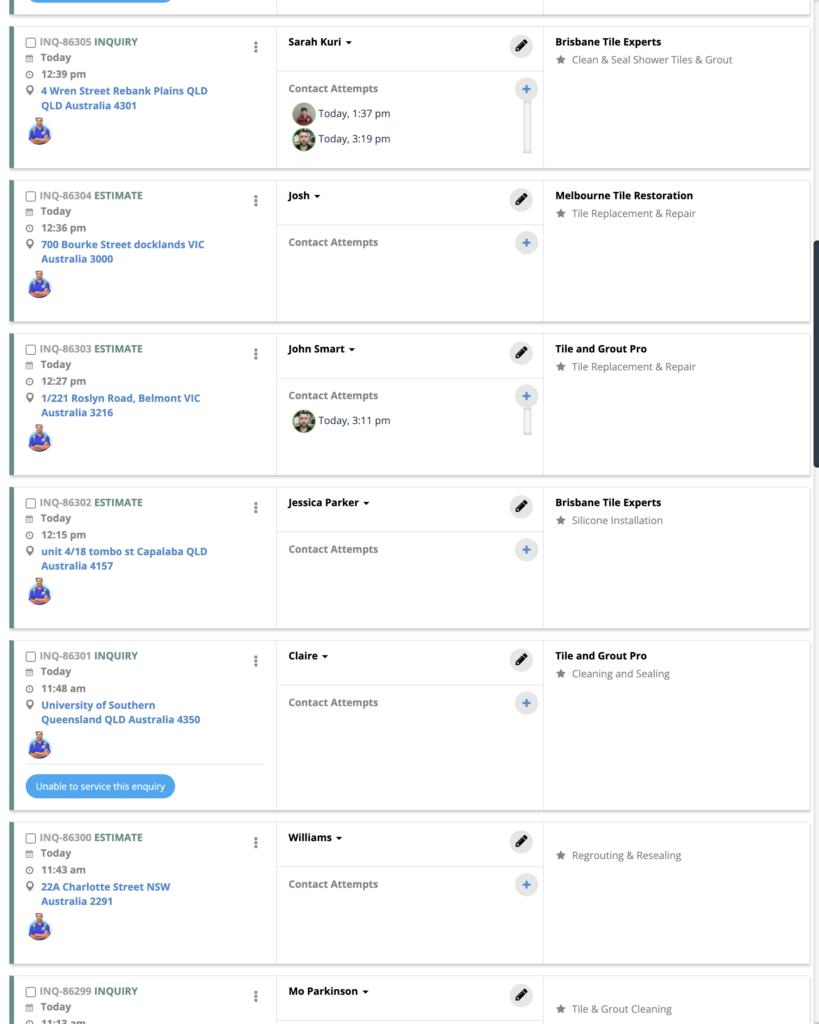 By incorporating a Lead Capture Form into your website, you can streamline customer communication, gather the necessary information, and enhance the overall user experience, all while reducing spam and effectively managing your sales funnel.
Instant Response System
OctopusPro's Instant Response System ensures quick, effective communication with your leads. As soon as a lead comes in, our software sends an automated email acknowledgment. This not only assures prospects of your prompt attention but also sets clear expectations for further contact.
For every inquiry, a unique reference is generated, allowing customers to track and manage their enquiries effortlessly. Should you require additional information, OctopusPro allows you to request it instantly, eliminating delays and enhancing customer service.
With OctopusPro, you're always one step ahead in your lead management process. Experience efficient, streamlined communication with the Instant Response System.
Customizing response email template
When a user reaches out to you through your website, it's crucial to acknowledge receipt of their message. OctopusPro simplifies this process with a customizable autoresponder, accessible through your settings.
To locate the email template titled "Confirmation email for websites," navigate to Settings > Communications > Templates and Canned Responses. This automatic response not only confirms the receipt of the user's message but also serves as an additional opportunity to showcase your business name and branding. It functions like a takeaway, brochure, or business card, offering a tangible reminder of the interaction. An automated email at the top of a user's inbox is also an excellent reminder that they've contacted you.
To set up an automated response for clients, ensure you configure the "Confirmation email for websites" template in the email templates section.
If you prefer not to send an automatic confirmation email to customers after they submit an inquiry, simply disable the "Send confirmation email to customer after the inquiry is submitted" flag.
Understanding the significance of a Lead Capture Form on a website, don't delay any further. Embed your Lead Capture Form on your website today and reap the benefits of seamless customer communication.
Customizing the Appearance and User Experience of Your Lead Capture Form
The Lead Capture Form can be tailored to match your branding and messaging, providing a consistent experience for customers and building trust in your business. This customization allows you to create a Lead Capture Form that aligns with your website's design and brand identity.
You can easily modify the appearance of your Lead Capture Form through your settings. Customization options include adjusting the form title, button text, button color, button text color, form text color, and title color.
For more advanced customizations, you can refine the look and feel of your Lead Capture Form using CSS once it has been embedded on your website. This allows you to tailor the form to perfectly match your website's design and branding.
For setting up your Lead Capture Form style in OctopusPro, follow the instructions bellow
Firstly, you need to go to Settings > Communications > Lead Capture
Scroll down to a Box that says widget styling.
Form styling details are explained as:
Widget Title: You can modify the title of your Lead Capture Form in the first box (e.g., QUICK INQUIRY).
Button Text: Customize the text on the button that customers click to submit their inquiry on your website (e.g., GET QUOTE).
Button Color: Select a color for the button that complements your website theme (e.g., red).
Button Text Color: Choose a suitable color for the button text to match your website theme (e.g., green).
Text Color: Pick a color for the custom field text (e.g., yellow).
Title Color: Determine the color of your Lead Capture Form title (e.g., purple).
If you choose the same colors and the texts in the examples mentioned before your inquiry should look like this:
Note: There are two ways to change the colors mentioned earlier. You can either enter the color code or select the desired color by clicking on the square color icon located on the right side of the field you want to modify.
You can also customize the labels for your form fields, such as email, mobile, phone, state/region, town/city, address, postal/zip code, comment, property type, required period, and other fields by scrolling down to the Form Fields section.
If your business requires multiple addresses for bookings (e.g., pickup and delivery addresses, or multiple delivery addresses), you can display up to three address fields in your Lead Capture Form. These fields will directly feed into the corresponding multiple address fields in your OctopusPro account.

Note: When converting an inquiry to a quote or booking, you can copy the values from these address fields to the respective quote or booking address fields.
You can also choose which fields you want to display in the Lead Capture Form by activating the "visible" flag for fields you want to appear, or the "hidden" flag for fields you don't want to appear.
To modify the name of your form fields, simply enter the new name in the input field next to the default field label.
For instance, you can change the label of your Name field to First Name by entering 'First Name' in the input field next to 'Name'.
As a result of this change, the placeholder text (text that disappears when the customer starts typing in the field) will appear in the Lead Capture Form as follows:
Moreover, you can determine whether these fields should be optional or mandatory for your customers to complete. By default, fields are set as optional. To make a field mandatory, click on the last button to the left of the field you want to change.
Don't forget to click Save to apply your changes before testing them.
Displaying Service Custom Fields Upon Service Selection
When your customers are filling out the form, they will have to select at least one of your services which you decide to make visible in your form.
If you want custom fields of your services to be displayed when selecting the service, you can choose either "visible" or "hidden" for the Show Custom Fields flag.
As a result of the previous step, your customer will fill or choose the custom field depending on your setup.
If you don't want all custom fields of a specific service to be shown, you can customize that in your custom fields settings by activating the Hidden from Lead Capture Form flag which appears when creating or editing custom fields.
For more information about showing the custom fields when the service is selected go to Settings>>Services Settings>>Custom Fields.
Displaying Service Categories
If your business offers a wide range of services, you can group them under categories to make finding services easier. The categories that will display here are the categories you have set for your services in your services settings.
Activating the Show category will appear in the Lead Capture Form as:
Accommodating Customer Inquiries Without Mandating a Service Selection
If you want to allow your customers to submit an inquiry through the Lead Capture Form without selecting a service, you can disable the flag for it.
To do that, go to Settings > Services Settings > Services
On the service view page, click on the service you want to disable the flag for and click edit from the actions button.
First, you have to disable the flag for "Allow scheduling bookings through the customer portal" to display the Lead Capture Form on your customer portal service view page, and allow your customers to submit inquiries.
Then, to allow your customers to submit an inquiry without selecting the service, disable the flag "Display in Lead Capture Form"
This service will not be mandatory to select when your customers are submitting an inquiry.
Follow the same steps for other services, to hide them from the Lead Capture Form so customers can easily submit an inquiry without having to select a service for it.

After disabling all the flags, the services will be hidden from the Lead Capture Form whether it is embedded on your own website or visible on your customer portal.
Your customers can now submit inquiries without selecting a service.
If your business doesn't offer a lot of services and is not grouped by categories, then you should disable this flag.
Adding the Ability for Multiple Service Selection in the Lead Capture Form
You can control whether customers can select multiple services in the Lead Capture Form.
Find the 'Enable Multiple Service Selection' option: On the settings page, look for the checkbox labeled "Enable Multiple Service Selection".

Select or Deselect the option: Click the checkbox to enable or disable this feature. When enabled (box ticked), customers can select multiple services in the form. When disabled (box unticked), customers can only select one service.
With these steps, you can easily control whether customers can select multiple services or just one in the Lead Capture Form.
Encouraging Customers to Upload Photos Post-Inquiry Submission
If you would like your customers to upload photos together with their inquiry, you can do that by activating the related flag in your Lead Capture Form settings.
The upload photo form popup will display to the customer right after they post their inquiry, and you can customize the message that appears to the customer in that popup when asking for photos to be uploaded with the inquiry.
Redirecting Customers to Your Customer Portal after Submitting an Inquiry
Once a customer successfully submits an inquiry through your Lead Capture Form, you have the option to either keep them on the same page or redirect them to your Customer Portal.
If you'd like to redirect customers to your Customer Portal after submitting an inquiry, simply enable the "Redirect the customer to Customer Portal after submitting the inquiry" flag. This way, customers can easily access their portal for further information and assistance after submitting their inquiry.
Utilizing Custom Fields
Your business may require the collection of additional information from customers to effectively address their inquiries. In such cases, you can add custom fields to your Lead Capture Form.
To create custom fields, first, set them up in your service settings. Next, add these custom fields to your Lead Capture Form from the Custom Fields tab in your Lead Capture Form settings, as previously explained.
You have the flexibility to add as many custom fields as necessary, and you can choose from various field types to create the fields you need. This allows you to be creative with your Lead Capture Form design and include any desired fields.
To add new fields to the Lead Capture Form, you can create and link custom fields. You can either link existing custom fields or create new ones to display as additional fields in the Lead Capture Form.
If you want to link an existing custom field to your Lead Capture Form, simply navigate to the Custom Fields tab within your Enquiry Form settings. Click the "Assign Custom Field" button and select the desired custom field from the list of available options to link it to your form.
After that a pup up will appear, click on the field which says select what suits you.
Don't forget to click on the save button.
Your new custom field will be added on your Lead Capture Form.
If you want to change the order your custom fields display in your form, you can rearrange them by dragging and dropping the added fields into an order that makes sense to you. To do this, hold down the left mouse button and drag your custom field to where you want to place it.
After that go to widget tab located at the top left of the page.

Scroll down to the end of the form fields box and hit the save button.

You will see the newly ordered custom fields in your Lead Capture Form as:

If the custom field you wish to add doesn't already exist, you will need to create it first by going to settings > services settings > custom fields > create a custom field. Click here and you will be redirected to create a custom field in services settings.
Understanding the 'Period Required' field option
Manage inquiries more efficiently knowing the timeframe when a customer would like to receive a service by adding the 'Service Required' field to your Lead Capture Form, e.g. 'ASAP', 'Next 2-5 Days', 'Next Week' etc. If you don't want the period required dropdown field to appear in your form, you can disable it from your Lead Capture Form settings form.
For more information about the period required visit the following link.
–https://help.octopuspro.com/add-period-required-field
Testing your Lead Capture Form
As you make changes to your Lead Capture Form settings, you can see them actualize in the 'Preview' section below after saving your changes.
Embedding your Lead Capture Form on Your Website
After configuring the contact form, you can easily embed the widget on your business website. This allows leads to automatically populate in your account, streamlining the process.
To set up and personalize your Lead Capture Form, navigate to Settings > Communications > Enquiry Form in the Lead Capture Form section.
Once you've customized your Lead Capture Form, copy the generated code snippet and paste it into the designated section on your website where you want the widget to be displayed.
To complete the embedding process, scroll down to the "Embedding the Form" section and follow the provided instructions. With the Lead Capture Form in place, watch as lead capture and customer communication become more efficient and seamless.
Managing Banned IPs
Unwanted spam inquiries can clutter your inquiries list and waste your time by requiring manual deletion. Additionally, these spam inquiries may lead to your email address being blacklisted. When recipients of your auto-responders mark them as spam, it can negatively impact the deliverability of your legitimate emails to customers.
OctopusPro enables you to block specific IP addresses, preventing spam inquiries from those sources. This saves you time and allows you to concentrate on genuine inquiries from real customers.
All banned IP addresses can be found in the Banned IP section. To ban an IP address, locate and click on the Lead Capture Form the sender you wish to ban in the All Inquiries section of the menu. Scroll down to the sender details and click on 'Ban IP Address'.
OctopusPro's Lead Capture Form does not necessitate the use of a CAPTCHA to combat spam, as it remains hidden from web crawlers and spiders. This ensures a user-friendly experience while maintaining a secure inquiry submission process.
– https://help.octopuspro.com/view-banned-ip-addresses
Facilitating Online Bookings through Your Website
The Lead Capture Form is an excellent tool for capturing inquiries and providing the various advantages discussed in this article. However, if you wish to enable your customers to place bookings on your website with specific service, pricing, and date-specific requests, you may want to consider using the OctopusPro Customer Portal to receive bookings online.
While the Lead Capture Form focuses on collecting initial customer inquiries, the Customer Portal offers a more comprehensive platform for customers to schedule and manage bookings directly on your website. This not only streamlines the booking process but also enhances customer experience, leading to improved satisfaction and loyalty.
Customer Portal Benefits:
Comprehensive booking experience: The Customer Portal enables customers to schedule, manage, and pay for bookings directly on your website, providing a seamless user experience.
Real-time availability: Customers can view your real-time availability and choose a date and time that suits them best.
Pricing transparency: The portal displays accurate pricing for services, ensuring customers are well-informed before placing a booking.
Account management: Customers can create an account, manage their bookings, view past services, and access invoices, fostering long-term relationships.
Enhanced customer engagement: The Customer Portal allows customers to leave reviews and provide feedback, promoting better engagement and communication.
In summary, the Lead Capture Form is perfect for capturing initial customer inquiries and generating leads, whereas the Customer Portal offers a comprehensive booking experience that encourages customer loyalty and streamlines the booking process. By utilizing both tools, you can optimize your website for enhanced customer engagement and conversion.
For more information about the OctopusPro Customer Portal, please visit: https://help.octopuspro.com/customer-portal-set-up
To stay updated, please subscribe to our YouTube channel.