Automate Service Reminders for Customers
Enhance your customer retention rates and fuel repeat business with OctopusPro's robust "Next Service Date Reminder" feature. This dynamic tool is a boon for businesses offering recurring services that customers might need periodically. By leveraging this feature, you can ensure timely reminders for upcoming service needs for both customers and admin users.
Send emails that bring customers back.
Once a fieldworker has completed a booking and marked it as finished in the system, the OctopusPro platform can trigger an automatic next service reminder for the customer. This serves as the final step in the tracking process.
Job Completion: After a service is marked as complete by the fieldworker, this status change triggers the Next Service Reminder feature.
Automated Reminder Setup: Depending on the nature and frequency of the service provided, the system can be configured to automatically send out a reminder to the customer to book their next service. For instance, if you provide a service that typically requires quarterly maintenance, you can set up the system to send out reminders 60 days after the booking completion date.
Customer Notification: The customer will receive a notification (via email or SMS as per your settings) reminding them that it's time to schedule their next service.


Prompting a Booking: The notification will contain a direct link for the customer to easily schedule their next service appointment. If you prefer your customers not to book online, you can remove this button or link from your templates, and prompt your customers to contact you by phone instead to receive an updated quote and book directly through your office staff.
Booking Confirmation: After the customer schedules their next service, they and the assigned service provider will receive a booking confirmation notification.
By adding this step to your booking tracking process, you can encourage customer retention and timely bookings for recurrent services, ensuring a steady stream of business while providing proactive customer service.
Next Service Reminder
Ideal for businesses with services that have recurring needs, this feature automates reminders for both clients and admin users about upcoming service requirements, fostering repeat business and boosting your bottom line. From scheduling regular property maintenance to recurring beauty treatments, the application of this feature is wide-ranging. Enhanced with the capability to integrate special offers or suggest repeat bookings in your email or SMS templates, it provides a powerful tool to encourage customer engagement and build customer loyalty.
Use Cases and Examples
Property Maintenance Businesses: Regularly scheduled reminders for property inspections, repairs, or cleaning can ensure your clients never miss a vital property maintenance event.
Health and Beauty Services: Whether it's a monthly massage, a six-week hair appointment, or an annual health check-up, automated service reminders ensure that your customers rebook their appointments in a timely manner.
Car Maintenance Services: Remind customers when it's time for their next oil change, tire rotation, or annual vehicle inspection.
Difference between Booking Reminders and Service Reminders
A booking reminder and a service reminder are two different types of reminders used in different contexts:
Booking Reminder: A booking reminder is typically used to remind individuals of an upcoming appointment, reservation, or scheduled event. It serves as a prompt to ensure that they remember and are prepared for the specific time and date of their booking. For example, a booking reminder might be sent by a salon to remind a customer of their hair appointment the next day or by a hotel to remind a guest of their upcoming reservation.
Service Reminder: A service reminder, on the other hand, is usually related to the maintenance or servicing of a product or equipment. It is commonly used by businesses or service providers to inform customers when a scheduled service or maintenance is due for their vehicle, appliance, or any other item. For instance, a car dealership might send a service reminder to a customer to notify them that their car is due for an oil change or regular maintenance check-up.
In summary, a booking reminder is used to remind individuals of an appointment or reservation, while a service reminder is used to remind customers of a scheduled maintenance or service requirement for a product or equipment.
Let automated campaigns bring in repeat business.
Customer Retention: By keeping your services on top of customers' minds, you promote repeat business and improve customer retention.
Improved Efficiency: Automating the reminder process saves time and resources in managing repeat bookings.
Increased Revenue: By encouraging regular rebooking of your services, you can increase your business revenue.
Configuring Next Service Date Reminder:
Automation, Customization, and Manual Control
OctopusPro provides you with extensive control over the Next Service Date Reminder feature, allowing you to tailor it to your business needs.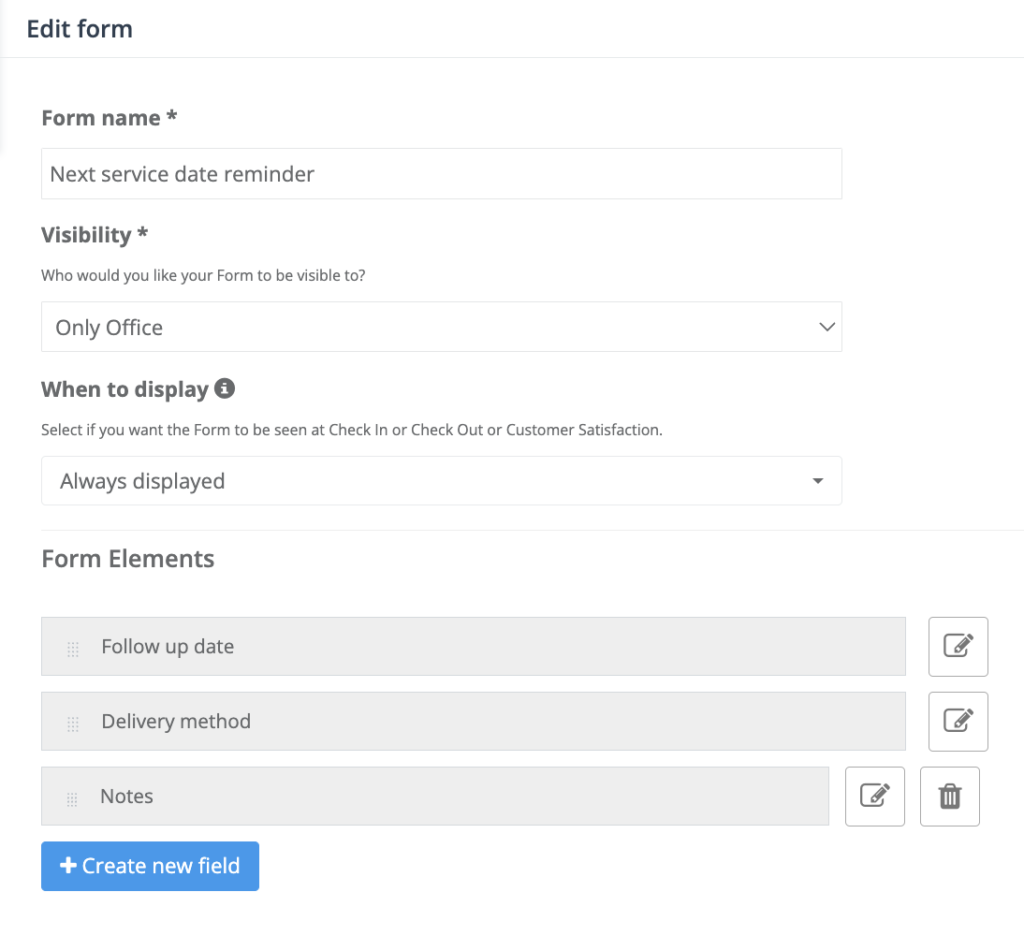 Enabling and Disabling Reminder Form:
OctopusPro allows you to determine if the Next Service Date Reminder form appears during the booking process. To enable or disable this form, navigate to Settings > General Settings > Forms and Checklists. This flexibility ensures that you can collect the most relevant data from your customers based on your service requirements.

In addition, you can customize the form fields that appear in this form, ensuring you gather the most pertinent data from your customers.
Customizing the Next Service Date Reminder Form:
The Next Service Date Reminder feature comes with a customizable form that you can adjust to fit your business needs. Here's a rundown of the elements you can personalize:

Form Name:
This allows you to label the form for easy identification within your system.
Visibility:
You can set the visibility of the form based on your needs. For instance, you might want the form to be visible only to your office staff, or perhaps you want to extend visibility to field workers or customers as well.

When to Display:
You have the option to choose when this form should appear during the service journey. You can select for it to be always displayed, or only at specific points such as Check-In, Check-Out, Customer Satisfaction, when a status changes, or when a Gift Card is issued.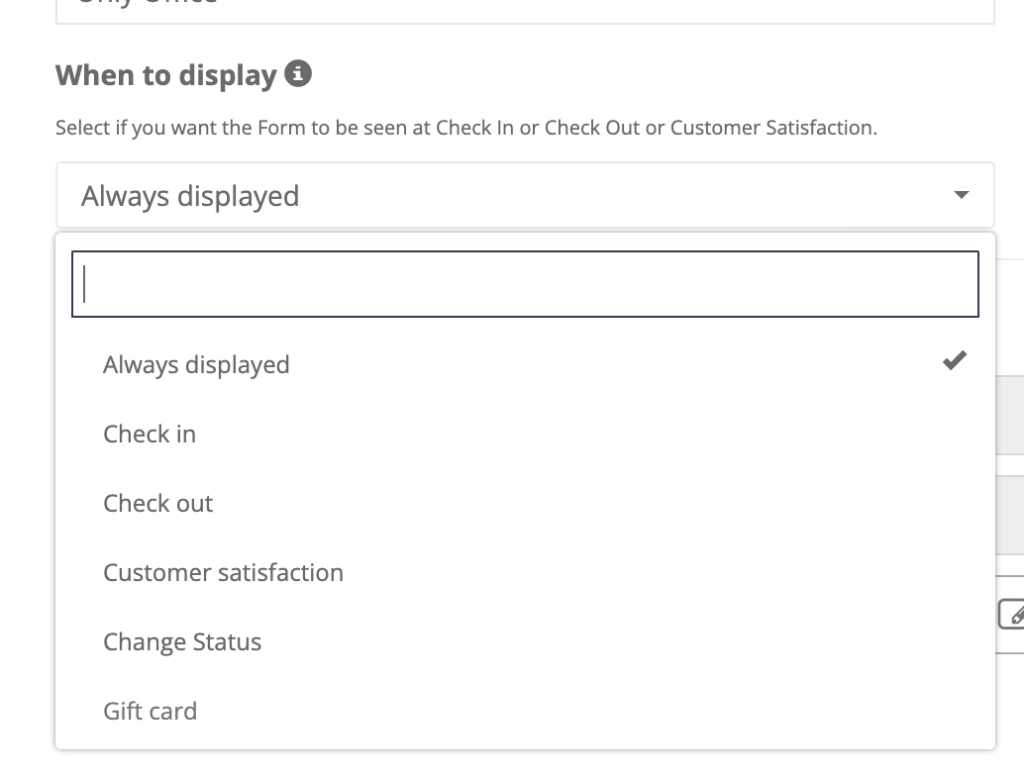 Form Elements:
Here you can select what elements appear on the form. This can include various data fields that you find useful to collect for your services.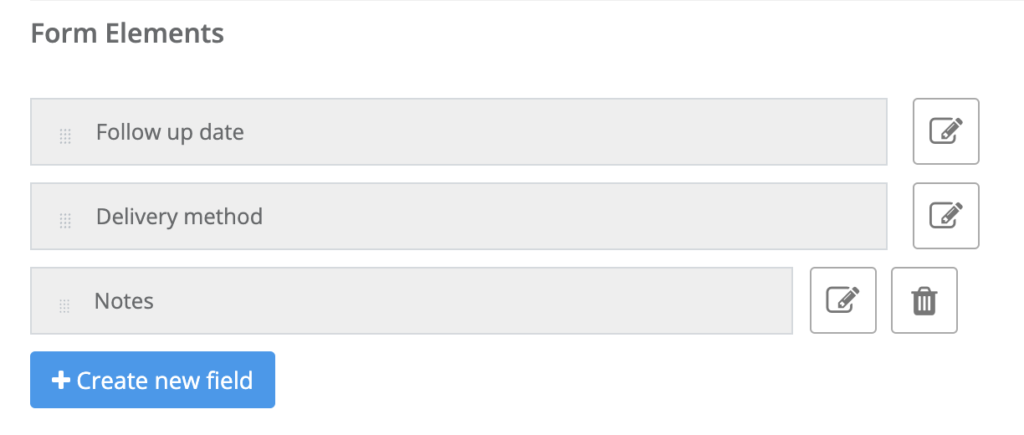 Statuses:
You can determine in which booking statuses the form appears. By default, it appears when the status is 'COMPLETED', but you can customize this to include any or all booking statuses based on your operational workflow.

These customization options ensure that the Next Service Date Reminder feature aligns with your business process, enhancing efficiency and customer interaction.
Customizing Reminder Templates: Tailored Communication
In OctopusPro, the communication you send to your customers is fully customizable. The software allows you to personalize your reminder email and SMS templates to match your brand voice and cater to your customers' specific needs. To tailor your templates, naviate to Settings > Communications > Templates & Canned Responses. Here, you can add, edit, or delete templates, ensuring the right message is conveyed every time a reminder is due.

Enable Automated Reminders:
For an efficient, time-saving approach, you can set up automatic reminders to be sent out to your customers. There are separate automations for SMS and email reminders, and you can enable or disable each independently based on your communication strategy. To manage these automated reminders, navigate to Settings > Communications > Automations.

Exploring the Functionality
Tracking and Managing Due Bookings: Staying on Top of Your Schedules
Admins have the convenience of tracking and managing due bookings through the Bookings > Next Service Due option in the left-hand side menu.

Leveraging the Admin Exclusive 'Notes' Field: Enhanced Communication
Moreover, an exclusive "notes" field is provided in the reminder section for admins. This can be employed for adding pertinent notes about customer interactions, enhancing the customer follow-up process.

Manual Sending of Mass Reminders:
Despite the convenience of automated reminders, there may be instances where you want to manually trigger these reminders. OctopusPro empowers you with this capability, giving you the control to ensure timely and context-specific communication with your customers.
This feature is particularly useful when you wish to send out all reminders at once, instead of waiting for each individual scheduled time. To manually run these reminders, navigate to Settings > Communications > Automations, find the appropriate automation, and click on the 'Run Now' button.

By tailoring your reminder configurations and communication methods, you can optimize customer engagement and foster long-term relationships.
Manually Sending Reminders: Precision Control
OctopusPro provides you the flexibility to manually send reminder templates (both SMS and emails) for any booking. Whether it's a follow-up message or an upcoming service reminder, you can directly engage with your customers whenever needed. This functionality is accessible from the listing page or the view/manage page for each booking.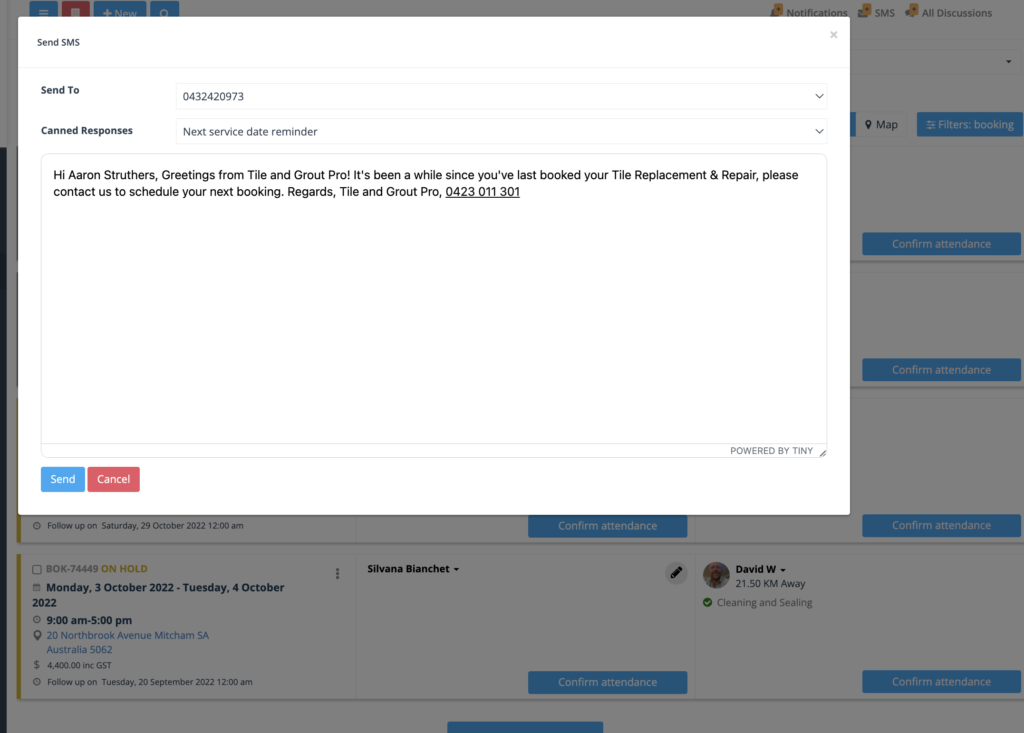 To manually send these reminders, simply select the appropriate template from the list when initiating an SMS or email communication with a customer. This high level of control enables you to cater to specific client communication preferences and deliver personalized service at scale.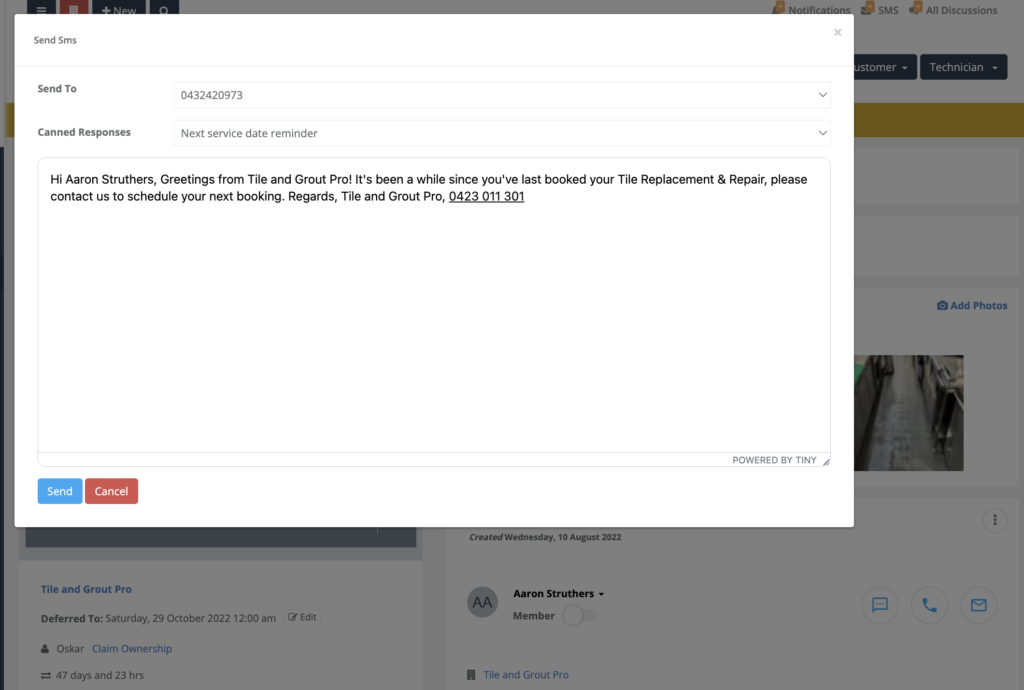 In addition to this, you can view the list of bookings due for next service from the menu, offering a clear snapshot of customers that are due for the next service. This feature allows you to manually sift through customers due for service and interact with them on a personal level if desired, thus fostering stronger customer relationships.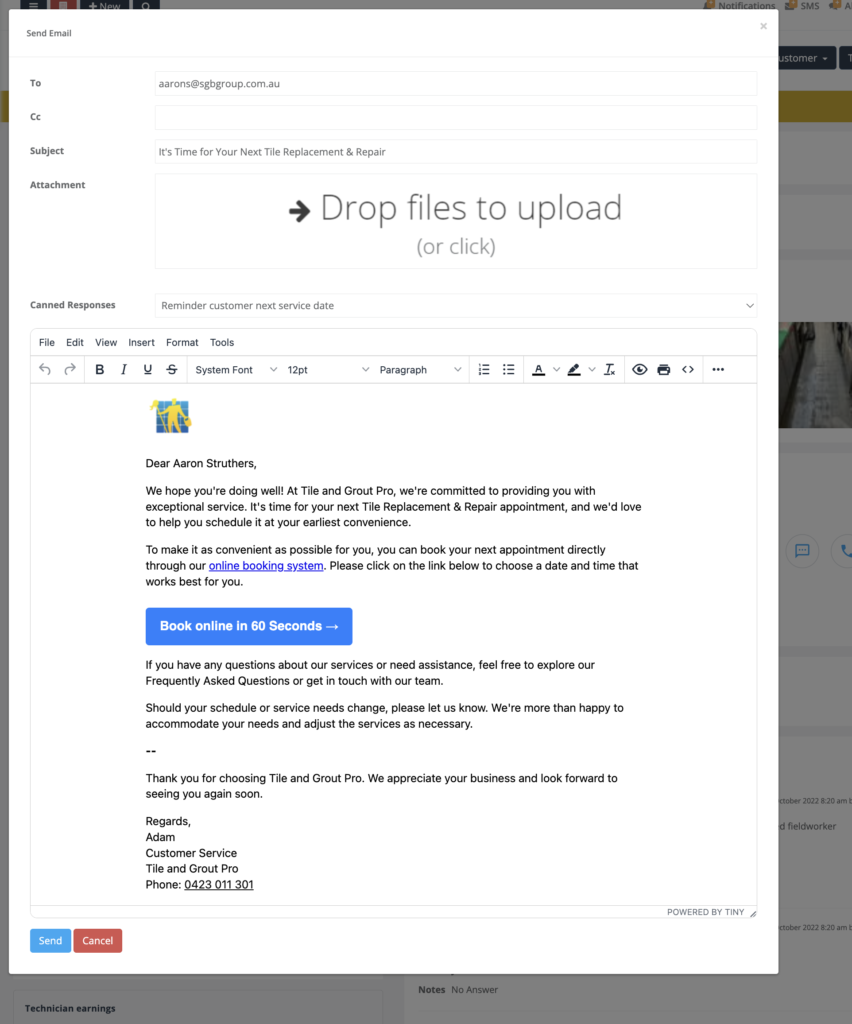 Limitations and Restrictions
This feature is best utilized for services that have a repeatable nature or requirement. For one-off services or customers who do not wish to receive reminders, the feature may be less effective and could potentially be viewed as spam.
To stay updated, please subscribe to our YouTube channel.