Managing Follow-Up Reminders for Inquiries/Leads
OctopusPro's Follow-Up Reminder feature enables seamless and efficient communication with customers by automating follow-up reminders for inquiries or leads. This tool not only optimizes customer interaction, but also enhances your brand reputation, contributes to customer experience, and potentially boosts sales.
With OctopusPro, you can schedule, view, edit, and remove follow-up reminders, making sure no customer inquiry is missed. Furthermore, this feature allows for customization and automation that aligns with your business operations, effectively saving time and resources.
Additionally, by enabling automation procedures through Settings > Communications > Automations, you can set the frequency, and time, and customize templates for follow-up reminders, providing a comprehensive solution for maintaining and nurturing customer relationships.
Table of contents 
Scheduling Your Follow-Up Reminder
As an OctopusPro admin user, you have the power to optimize customer relations by scheduling follow-up reminders when creating a new inquiry. This crucial feature allows you to send automated SMS or email notifications to your customers, keeping them engaged and informed about future inquiries. Here's a detailed walkthrough on how to set up this feature:
Begin by adding the source of the inquiry, then activate the"Follow-Up Reminder" toggle. Doing so will bring up a calendar interface for you to specify the date and time of the reminder.

To schedule the follow-up date, click on the "Calendar" icon, which will present a monthly calendar view. Simply navigate to the desired date and click on it to set it as your follow-up date. The system automatically saves your selection.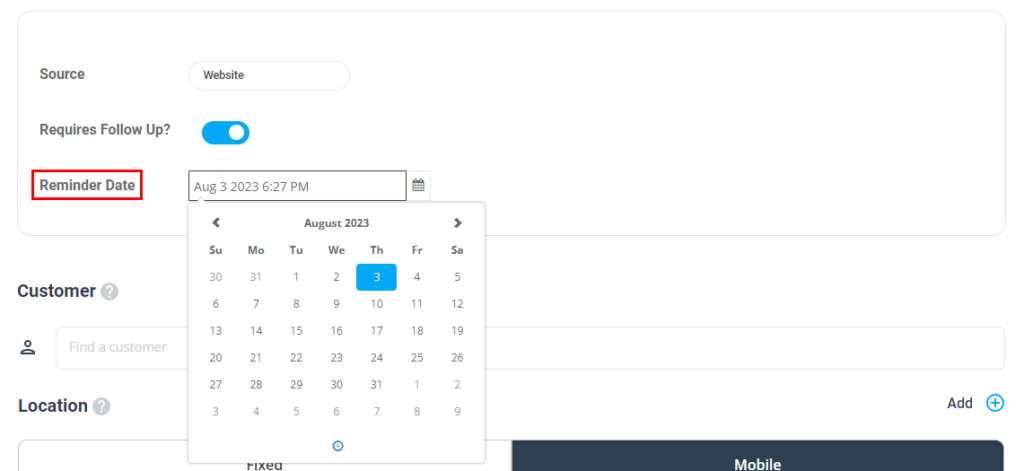 Once you have picked the date, it's time to specify the time for your follow-up. Click on the "Clock" icon to bring up a time picker clock.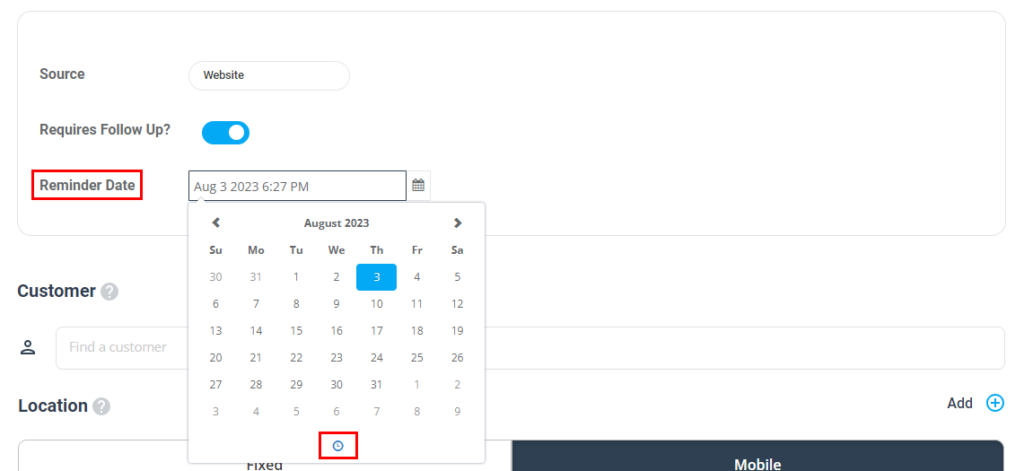 You can use the arrows to adjust the hours and minutes to the preferred time. To switch between AM and PM, just click on the respective indicator.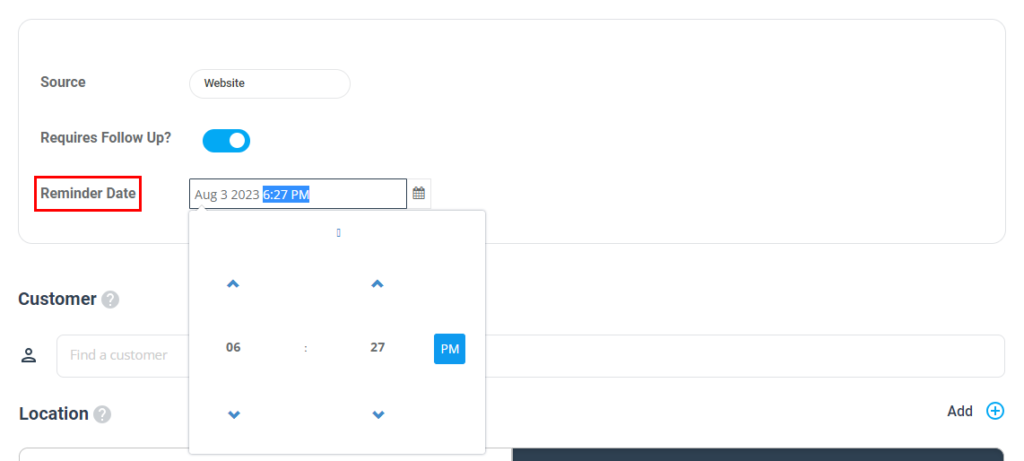 This straightforward yet effective feature ensures you maintain regular and timely communication with your customers, reinforcing their connection with your brand and potentially enhancing their experience and loyalty. Remember, a timely follow-up can make all the difference in turning an inquiry into a conversion.
Viewing Follow-up Inquiries 
OctopusPro's intuitive design allows admin users to quickly access and manage all inquiries marked for follow-up. Here is how you can navigate this feature:
Accessing Inquiries Due for Follow-Up: From the left menu of your dashboard, navigate to "Inquiries > To Follow." Here, you'll find all inquiries that require a follow-up.

Understanding Follow-Up Status: You'll notice a count of pending follow-up inquiries displayed on your menu, giving you an overview of your current customer engagement status. This count represents the number of inquiries with follow-up reminders set.

Filtering Inquiries: For a more granular view, you can filter these inquiries based on specific customers or their upcoming follow-up dates. Simply use the filter option on the overview page, make your selection, and click on "Apply."

Viewing Detailed Information: If you wish to view the details of a particular inquiry, click on the "Actions" button next to the inquiry of interest, and select "View Inquiry." This will lead you to a detailed page with all the information related to that particular inquiry.
Admin Notifications for Follow-Up Inquiries
OctopusPro also keeps you aware of the inquiries that are due for follow-up via admin notifications. This ensures that no customer engagement opportunity is missed. The "To Follow" count in the menu is updated in real-time, acting as a constant reminder of the inquiries that need your attention. As you address each follow-up, this count decreases, allowing you to monitor your progress and ensure all customer inquiries receive timely responses.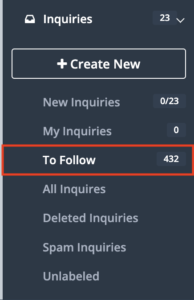 In this way, OctopusPro supports the effective management of customer interactions, allowing you to maximize customer satisfaction and optimize conversion rates.
Editing the Follow-up Reminder 
At times, you may need to adjust the timing of your follow-ups. To do this:
Navigate to "Inquiries > To Follow." Select the inquiry whose follow-up date you want to change and click on "Follow up on."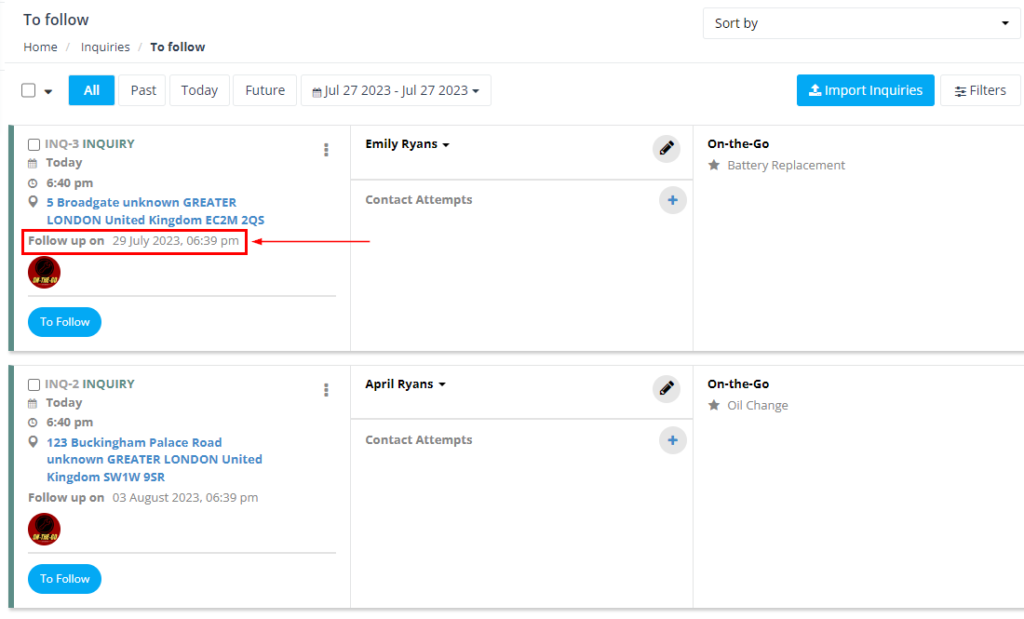 A pop-up window will appear with an option for you to set a new date and time. After making your selection, confirm by clicking on the "Save" button.

Alternatively, go to "Inquiries," select the desired inquiry, click on the "Actions" button, then select "Edit inquiry."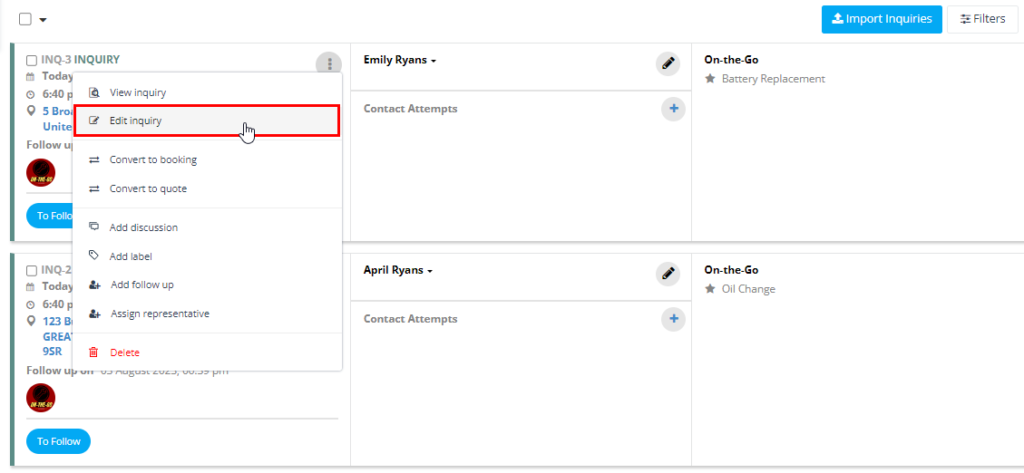 This redirects you to the "Edit inquiry" page. Scroll down to "Set Reminder," click on the calendar, and select your new date and time.

Removing the Follow-up Reminder
OctopusPro also allows you to remove a follow-up reminder should circumstances change. Here's how:
Select the inquiry for which you want to remove the follow-up date, then click on "Follow up on".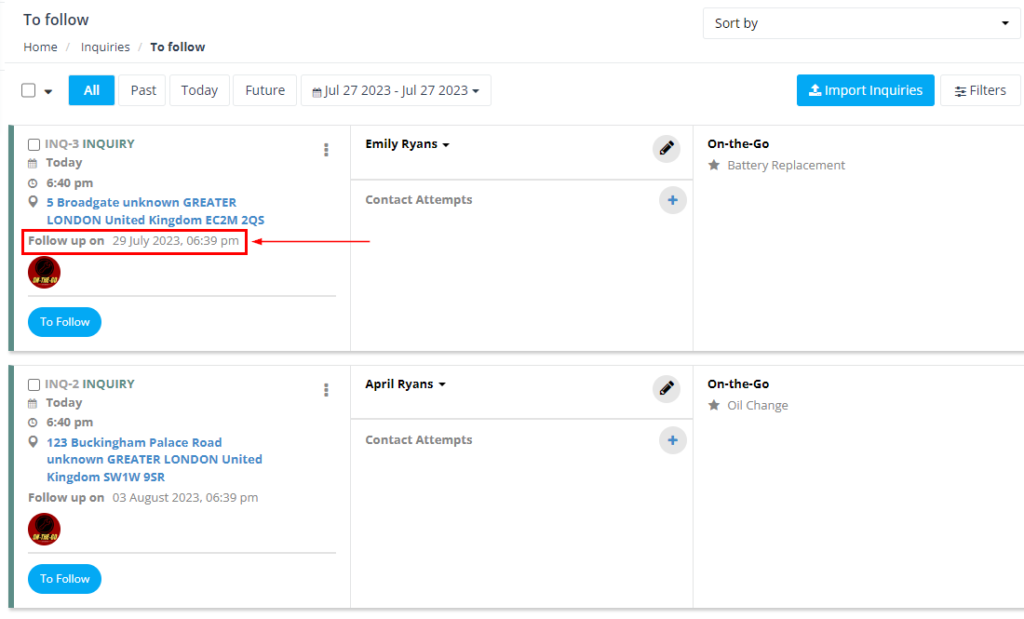 A pop-up window will appear. Click "Remove follow up", and the follow-up date will be erased instantly.

Another method is to navigate to the inquiries, select "Edit inquiry", then click on "Requires to Follow Up?" Toggle the option from 'yes' to 'no' to disable the follow-up date.
Navigating, modifying, and deleting follow-up reminders is seamless with OctopusPro, making it a useful tool for maintaining efficient customer communication and managing your business processes.
To stay updated, please subscribe to our
YouTube channel
.