OctopusPro Dashboard: Comprehensive Business Performance Insights
The Dashboard in OctopusPro serves as the central hub for administrative users, providing an extensive and insightful overview of various aspects of your business. It streamlines data visualization and helps you make informed decisions to optimize performance. The dashboard is designed to offer a snapshot of your sales cycle, pipeline, bookings, inquiries, and much more.

Key Features of the Dashboard:
New Inquiries: Monitor the count of new inquiries and the percentage increase compared to a previous time period. This helps you track lead generation and gauge marketing effectiveness.
New Estimates: Observe the total quote value of new estimates and their percentage increase over time. This information can help you assess your sales team's productivity and identify areas for improvement.
Bookings Completed: Track the total value of completed bookings and their percentage increase. This metric allows you to evaluate revenue growth and overall business performance.
Complaints: Keep an eye on the count of complaints and their percentage increase. This data can help you identify potential issues and improve customer satisfaction.
Inquiries: View a comprehensive list of all incoming inquiries, enabling you to stay organized and promptly address customer needs.
Upcoming Jobs: Access a list of upcoming jobs for efficient follow-up and scheduling.
SMS Messages: Monitor the communication between your team and clients through SMS messages.
Discussion Board: Stay up-to-date on team collaboration, updates, and announcements via the discussion board.
Future Booking Summary Chart: Get a quick snapshot of all your future bookings, filterable by date, status, and period.
Completed Bookings: Review a list of successfully completed bookings, sortable by total value, count, period, and other factors.
Past Bookings: Examine a summary chart of past bookings to analyze historical performance and identify trends.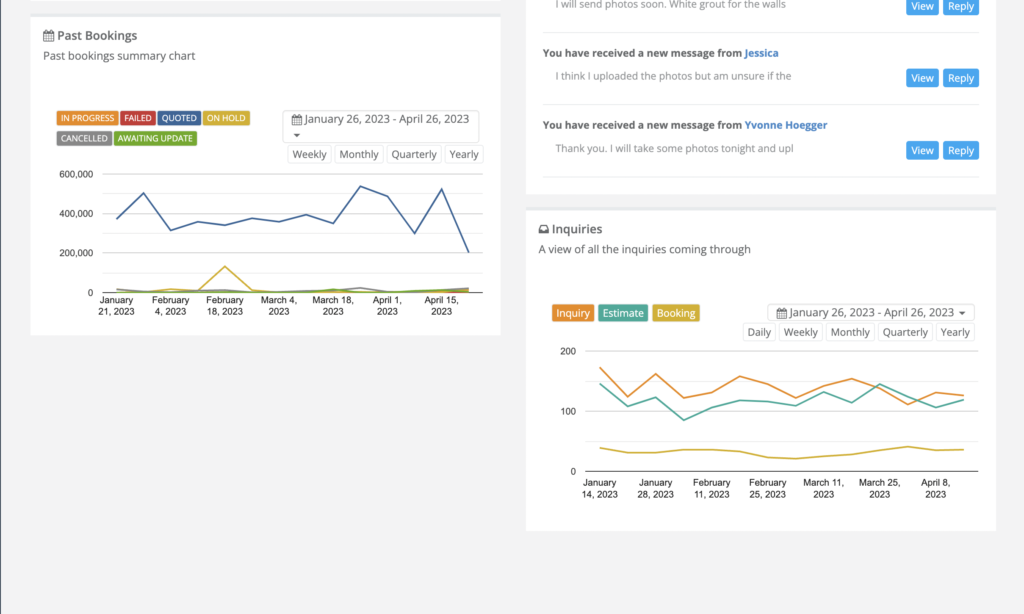 Flexible Timeframes:
The Dashboard allows you to view data on various timescales, including daily, weekly, monthly, quarterly, and annually. This flexibility enables you to customize the dashboard to display the most relevant information for your business's specific needs.


By offering a comprehensive and customizable view of your business's performance, the OctopusPro Dashboard empowers administrative users to make data-driven decisions and optimize operations.