Create custom fields for services
Custom fields allow you to set up your services exactly the way you need them to be presented to your customers.
With custom fields, you can:
Add information, questions, and selection fields for your customers to fill in
Determine whether the customers' selections affect the booking price or not
Determine whether a field is visible for customers or just workers and admins
Adding selection fields that affect the price helps you provide accurate quotes for your customers when:
Adding questions for your customers to answer during the booking process also gives you valuable information so that your workers are better prepared for the job.
If you choose either a drop-down or a radio button question type, you can add options, and if needed, assign different values for the options.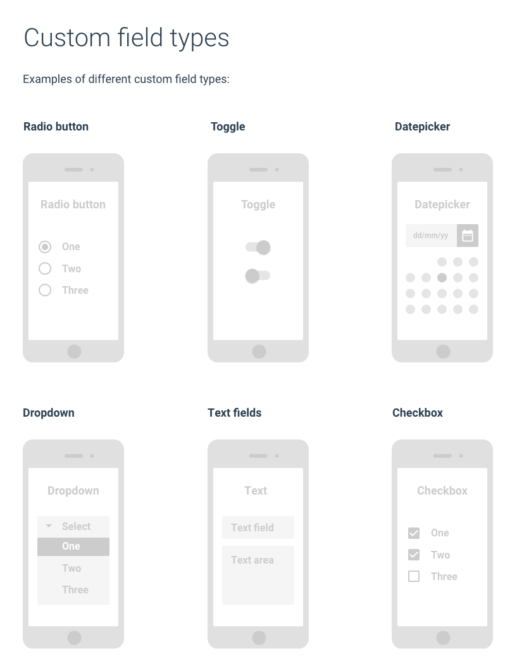 You can create custom fields in two places
If you are on the Edit Service page, you can either create a new custom field or add an existing one. To do either, click on the '+' icon next to the Custom Field section.

Otherwise, navigate to the Custom Fields tab on the Service Settings page where you can create new custom fields, and connect them to the services where you want them to appear.

Create a new custom field
To create a custom field, give it at least a Label, Name (visible for admins only, e.g. to describe the use of the custom field), and select the Field Type from the drop down.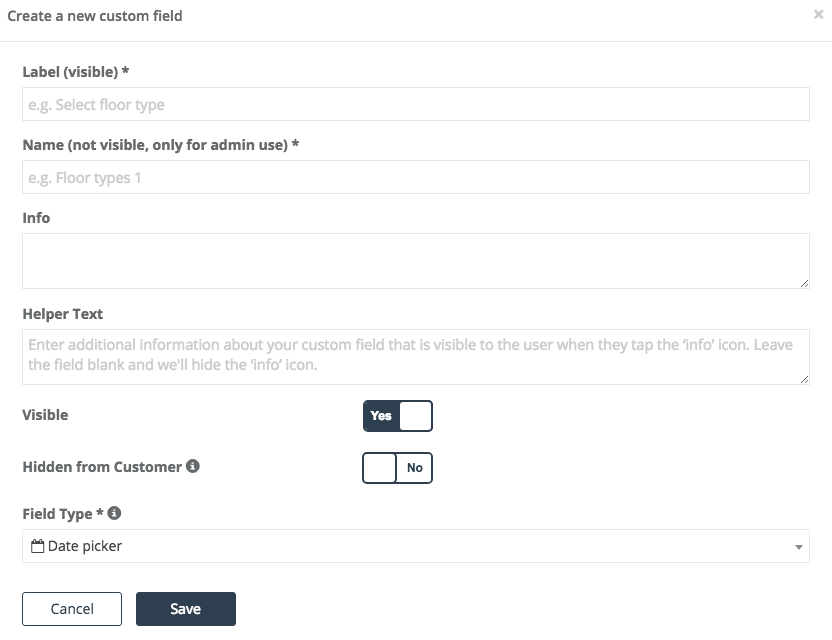 If you select either 'Toggle' or 'Text field (one line)' from the custom field type drop-down, the 'Default additional cost' field will directly affect the pricing depending on customer's selection.*
Toggle: the additional cost will either be zero if the toggle is not checked or the amount you input in the 'Default additional cost' field.
Text field: the additional cost will either be zero if nothing is inputted into the field by customer (or admin if making booking manually), or it will be the amount inputted multiplied by the amount you input in the 'Default additional cost' field. E.g. if you charge $3 per glass, name the custom field as "Number of glasses", and add 3 as the additional cost. If customer enters a value of 10, the additional cost will be $30.
Custom field setup example
A massage business charges for their services depending on the duration of the massage, which can be set up as fixed costs on the service level, e.g. as 30 minutes, 60 minutes, and 90 minutes. However, the business also offers additional services that can be added, e.g. a manicure, and a pedicure.
This can be added by creating a custom field called "Additional services" and tick yes for "Affects service price", and to add the options, click on the plus sign next to 'Add a new selection'. One by one, add all the options and their values, e.g.:
Title: Manicure
Additional time: 15 minutes
Additional cost: $20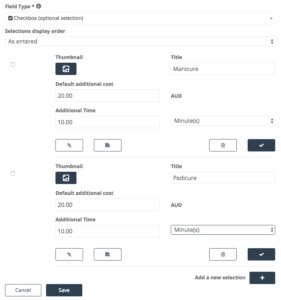 To finish setting up the custom field, remember to assign it to a service by selecting it from the list, click on "Connect custom fields to services" and choose the services where you want it applied.
Custom fields in your customer portal
If you have set up a customer portal, and set your custom fields visible to customers, they will appear as steps of the booking process.
See examples of how different custom fields look like in the customer portal: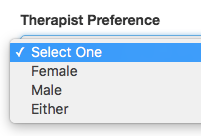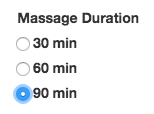 Assign custom fields to services
Assign the custom field to all the services where you want it to appear in by ticking the box next to the custom field and click on 'Connect Custom Fields to Services'.

Example
If you run a beauty salon business, and you offer hair, body, and nail services and you create a custom field Hair Length' with the custom field values 'Short', 'Medium', and 'Long'. In this case, you would only connect the custom field to your hair-related services, such as 'Haircut', and 'Hair Color'.