Add a new service
Go to Settings
Select Service Settings
Click on Services
Your service list shows all the services you have created. On the Services page, you can set each service as visible or invisible to customers.

Add a new service
On the Services page, click on Create New
Enter required fields: Name, Category, and Minimum Booking Price, and any additional information such as a description and images

Set your pricing

You can choose from three pricing models:
Time, if you charge e.g. hourly

Fixed, if you charge a one-off fee per service
Unit, if you charge e.g. per square meter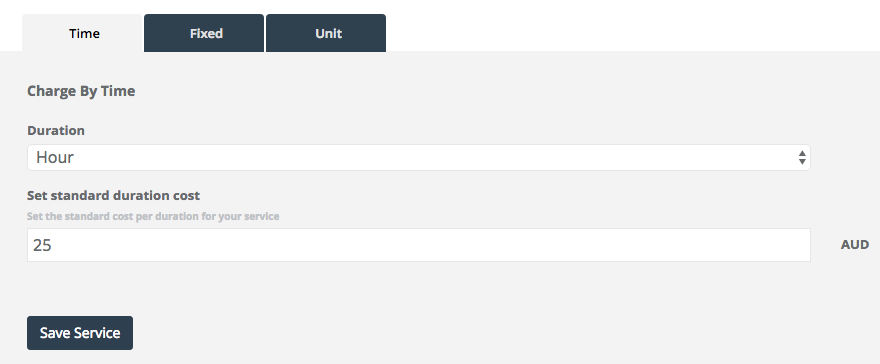 Time:
If you only set the standard duration cost of e.g. $100 per hour, when a booking is made for more than 1 hour, the standard duration cost will be multiplied. If however you want to customize your pricing, you can create as many new rates as needed.
Example:
A business has a standard duration cost of $100 per hour for the first two hours, but any overtime after the two hours is only $80 per hour. This can be set as a new rate of 2h as the minimum duration, and $80 as the hourly rate.

Fixed:
If you have more than one fixed cost, you can add as many new rates as needed. Note: the starting cost won't have a title, so if you have more than one fixed rate, it's recommended you create them all as "new rates", and leave the starting cost field empty.
Example:
– 30 Minute Massage
– 60 Minute Massage
– 90 Minute Massage

Unit:
If you only set the standard unit cost of e.g. $10, and the default value of 1, when a booking is made for more than 1 unit, the standard unit cost will be multiplied. If however you want to customize your pricing, you can create as many new rates as needed.
Example:
A business offering dog walking services wants to charge differently depending on the number of dogs, a dog being the unit. Cost for 1 dog can be set as the standard unit cost, and new rates can be created for 2-3 dogs, 3-4 dogs, etc.
OctopusPro allows users to customize their services and pricing to fit various different business models. If your pricing is more complex, consisting of different variables, the best way to further customize your service pricing is creating Custom Fields and assigning them to your services.
Custom fields
Custom fields are fields that your customers can/need to answer when making a booking through your Customer Portal and/or Branded App, or admin staff when they create bookings, quotes, or inquiries manually.
Custom fields can be:
Additional costs on top of your base cost depending on customer's selection
Additional information from your customers, helping you prepare better
Customize your custom fields:
Determine the type of custom field (e.g. drop-down, toggle, text field, see the image below for examples)
Determine whether a custom field affects the price
Determine whether it's a required field
Hide certain custom fields if you don't want customers to see them when booking, but want your admins and workers to be able to add if required (These can be fields that a customer wouldn't know to answer, but if an extra fee occurs while a worker is completing a booking, they can easily add it to the booking)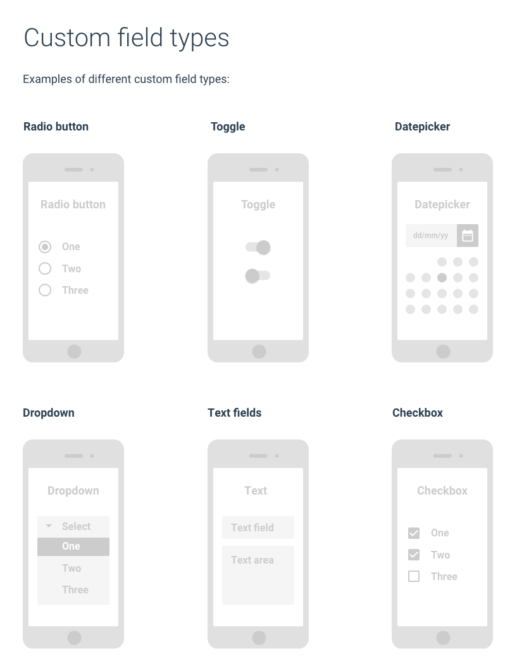 If you are on the Edit Service page, you can either create a new custom field or add an existing one. To do either, click on the '+' icon next to the Custom Field section.

Otherwise, navigate to the Custom Fields tab on the Service Settings page, where you can create new custom fields, and connect them to the services where you want them to appear.
Connect Custom Fields to Services Example:
If you run a beauty salon business, and you offer hair, body, and nail services and you create a custom field Hair Length' with the custom field values 'Short', 'Medium', and 'Long'. In this case, you would only connect the custom field to your hair-related services, such as 'Haircut', and 'Hair Color'.

Add a service manual for your fieldworkers
Giving your workers specific instructions per service helps them provide consistent quality service every time
Service manual is only visible to your fieldworkers in the fieldworker app, and your admin staff in the system, your customers cannot see it
To add a service manual, simply type in or paste the instructions into the Service manual section.

Set a minimum booking price
Setting a minimum booking price for your service will prevent making a booking for any amount less than the minimum.

Assign service to a fieldworker
In order to assign a service to a fieldworker, the service needs to be linked to the fieldworkers who are able to provide the service.
Fieldworkers can select which services they provide either in the OctopusPro fieldworker app or within the system by logging into their OctopusPro account in a browser
If required, admin staff can also edit each fieldworkers profile, and add services to them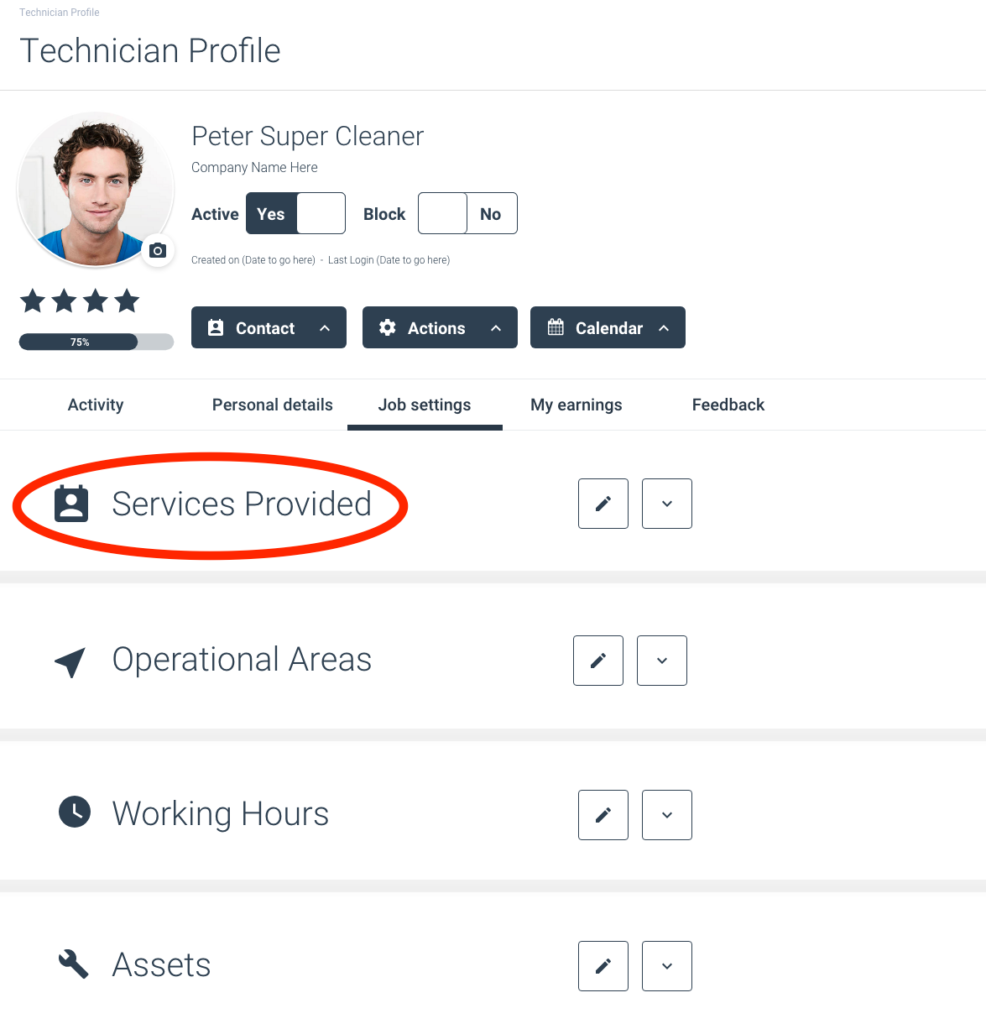 Add Service Categories
Categories help customers navigate between different types of services your business provides.
By default, you will have one category called 'Category 1', and all your services will be assigned to this category.
Add more categories:
Navigate to the Categories tab in the Service Settings

Click on 'Create New'

Name the category

Assign the services that belong to the category by ticking them off from the services list
Add an optional category description and image, these will be visible to the customer in your Customer Portal and/or customer-facing app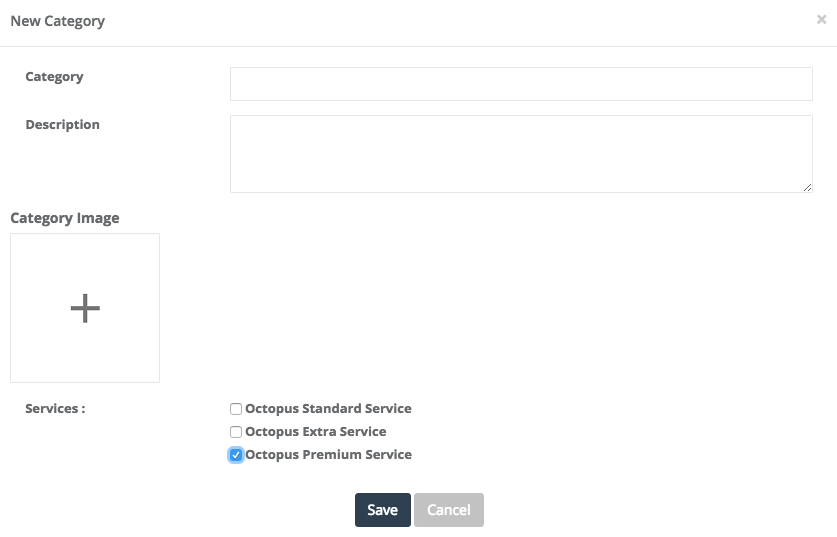 Categories example
A beauty salon provides a variety of treatments. They divide their treatments into three different categories: Hair, Body, and Nails.
They can categorize their services, e.g. under the Hair category, they only list services such as blow dry, haircut, and hair coloring.
Recommendations for setting up your services
To improve the likelihood of your services getting booked, we recommend that you:
Upload photos for each service
Write a description for each service
If you create categories, add a cover image and a short description of the categories as well
Remember to activate or ask your fieldworkers to activate the services they provide in their profiles in order to assign services