Discount Voucher Code Management System
OctopusPro's Discount Voucher Codes feature is a sophisticated voucher management system and discount code generator designed to drive sales and enhance customer loyalty. This versatile coupon code software creates unique promo codes, catering to your business service discount solutions and retail coupon software needs.
Voucher codes can be customized for various promotional activities including single-use codes for VIPs, personal referral codes, pre-launch codes for new services, exit-intent offers, and influencer offers. Our online coupon generator delivers unique identifiers to incentivize purchases and reward your customers. Coupon Codes can be tailored to specific customers, services, or even timeframes to drive targeted marketing efforts.
The voucher creation process is intuitive, allowing admin users to easily define key attributes such as the voucher label, description, amount, type, value, redemption limits, minimum service value, and more. The created vouchers can then be distributed through various channels including emails, social media, and other marketing avenues.
These voucher codes can be applied during online bookings through the customer portal, allowing customers to redeem their vouchers on both web and mobile platforms. They can also be applied by admin users while creating bookings, or even by fieldworkers. This feature enhances the customer experience by offering exclusive benefits while booking your services.
With OctopusPro's discount voucher system, new services can be promoted efficiently, and crucial data can be gathered for shaping future marketing efforts. This integration of retail promotion software with affiliate marketing tools increases order value and contributes significantly to business growth.
Our digital coupon platform and voucher distribution tools simplifies the creation and tracking of discount vouchers, offering a comprehensive service promotion software solution. Choose OctopusPro to elevate your brand, incentivize purchases, and enhance customer satisfaction.
Optimize Sales with Our Voucher Management System for Service Discount Voucher Codes
Table of contents
Whether you're creating a new voucher code, customizing an existing one, or managing redemption, this guide will provide you with the information and guidance necessary to get the most out of the Voucher Codes feature. Remember, an effective voucher program can significantly boost your customer engagement and increase sales, so let's get started!
What are Voucher Codes?
Voucher codes, also known as promotional codes or discount codes, are unique sequences of letters and/or numbers that businesses provide to their customers for various promotional purposes. Customers can apply these codes at the point of purchase (often during an online checkout process) to receive a discount or benefit such as a percentage off their total, free shipping, a gift with purchase, or some other promotional offer.
There are many forms of voucher codes serving your aims: 
Single-Use Promo Codes

: These voucher codes are specifically designed for individual customers, often VIPs or loyal clients. They receive these unique codes via various channels such as email, postal mail, or social media and can use them only once. These codes are not intended for public use.

Personal Referral Codes

: In an effort to encourage customers to invite friends and family to utilize your services, you may provide them with personal referral codes. Each time these codes are used, your customer receives a discount as a token of appreciation.

Pre-Launch Codes

: Whenever a business introduces new products or services, it may employ pre-launch vouchers to generate buzz. These often provide a limited discount for early adopters. For instance, the first 10 customers booking the new service may receive a 40% discount.

Exit-Intent Offers

: Marketers often use the last moments of a site visit to entice potential customers to complete their purchases. This is typically achieved through a pop-up ad appearing just before the visitor exits the website or tab, offering promo codes or discounts to incentivize the purchase.

Influencer Offers

: In the realm of influencer marketing, brands often collaborate with popular online personalities who have substantial followings. Brands leverage this popularity by providing influencers with unique promo codes to share with their followers. For example, a code like "Sara20" not only offers a discount to followers but also allows the brand to measure the success of the influencer campaign based on the usage of that code.
Benefits of Creating Voucher Codes
Customer Attraction and Retention: Voucher codes can attract new customers and keep existing ones coming back. They provide a compelling reason for customers to choose your business over others.
Increased Sales: By providing financial incentives, voucher codes can motivate customers to make purchases they might not otherwise make, thereby driving your sales figures upwards.
Promote New Products or Services: If you're launching a new product or service, creating a voucher code for it can generate interest and drive sales.
Inventory Management: Voucher codes can help move older or overstocked inventory quickly. By creating a special offer, you can clear space for new products.
Data Collection: By tracking which voucher codes are used most frequently, you can gather valuable data about customer preferences and shopping habits, which can inform future marketing strategies.
Customizability: This feature allows you to customize every aspect of your vouchers, from the type and value of the discount to the specific customers who can use it. This allows for highly targeted marketing efforts.
Customer Loyalty: Offering exclusive voucher codes to repeat customers can boost customer loyalty by making customers feel valued and appreciated.
Increased Average Order Value: By setting a minimum spend limit for voucher codes, you can encourage customers to spend more per transaction, increasing your average order value.
Remember, voucher codes are a versatile marketing tool and these are just a few of the potential benefits they can bring to your business.
Ideal Audience for Voucher Codes
You can generate voucher codes for your existing customers to offer them discounts on specific services, within an area zone, or to celebrate certain occasions like Mother's Day, Valentine's Day, school season, and other national holidays. The vouchers are not only exclusive for the current customers, Most of the brands usually offer their potential customers encouraging promo codes to have a discount when they use their services for the first time. The voucher codes can also be a sort of cooperation with other brands to promote the services among their customers. E.g. a car washing center provides a promo code for bank customers who pay with their debit cards.
Who Can Generate Voucher Codes?
Your admin users can create the voucher codes and it would be visible to all the admin users who have access to the account. Fieldworkers who have access can also generate voucher codes on the account. 
Enhancing Brand Image through Voucher Codes
Voucher codes are an excellent resource for your online marketing strategies. You can seamlessly integrate these promotional codes into your social media campaigns, newsletters, email marketing initiatives, search engine marketing, and any other digital marketing methods you employ for your business. By emphasizing the thoughtful gestures your brand offers to your customers, you can bolster your business's image and, in turn, positively impact your revenue.
Moreover, vouchers can fuel the spread of word-of-mouth about your business. People are naturally inclined to share recommendations with their friends, especially when it involves attractive promotions and discounts. So, with the strategic use of voucher codes, you can enhance your brand's reach and reputation.
User Permissions for Voucher Code Creation
Your admin users are permitted to create vouchers by default. The admin users can give access to any other user role to generate vouchers too. To do so, go to Settings > General Settings > Users, navigate to the Role tab located at the middle top of the page and click on Assign Credentials.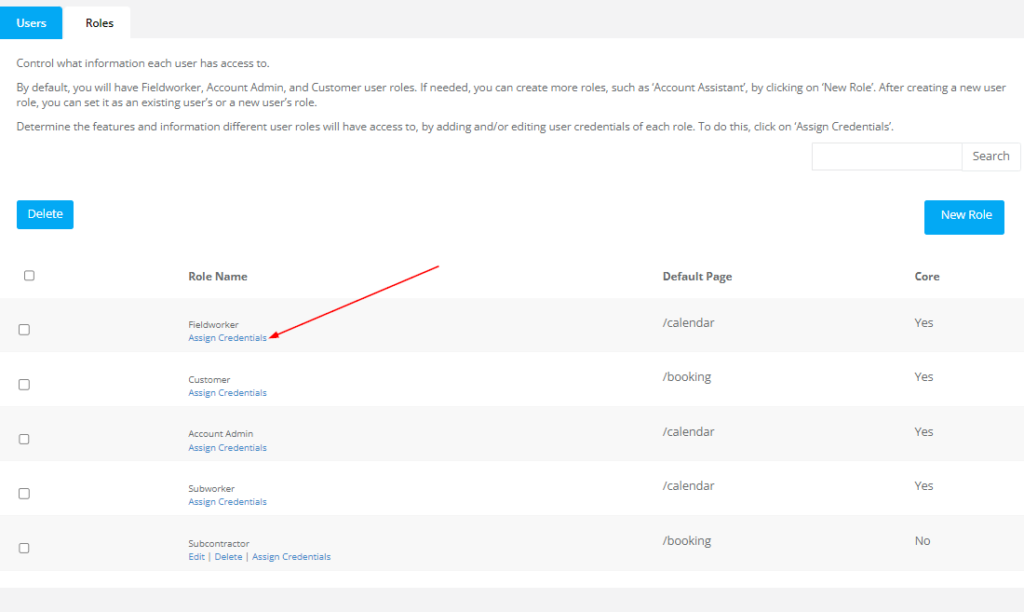 Click on Permission For Settings, press Ctrl + F on your keyboard, and the find field of your browser will appear, type in Settings Voucher, and the permission will be highlighted. Click on the permission checkbox to enable the settings for your selected user. Click on Save to adjust the changes.
Upon saving, you have now granted permission for the selected user to create Voucher Codes.

Getting Started with Voucher Codes
Before you create your first voucher code, make sure you understand the basics. A voucher code is a unique string of letters and/or numbers that customers can enter at checkout to receive a discount or special offer.
Creating a Voucher Code
To begin, navigate to Settings > Financial Settings > Discount Vouchers from your sidebar menu. Click on "+Create New Voucher" and you will be presented with a screen to create and customize your voucher.
The system will have already generated a code. You can either use the generated code or replace it with a new custom one. The code is editable and can be changed to any code or word that is related to the discount you are offering. Note: When adding a manual voucher code, please ensure that the code is at least 8 characters.
Users will use that code to validate the voucher discount when creating a booking either through the admin portal, customer portal, or the Custom Branded App.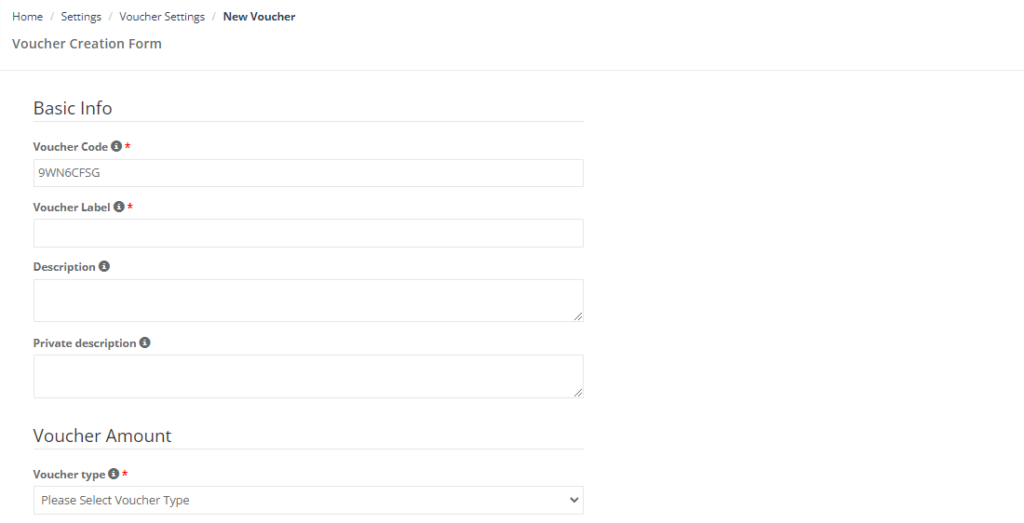 Customizing the Voucher Label
Voucher labels serve as identifying tags for your vouchers, enabling your administrative users to distinguish between different voucher codes. These labels are visible to admin users and help them understand the purpose of each code. By using voucher labels, admin users can efficiently categorize and define voucher codes, streamlining their management and tracking.
Labels also enhance the searchability of voucher codes for admin users. For example, vouchers can be labeled as "Holiday Vouchers," "Spring Break Vouchers," or "Monthly Vouchers," making it easier for admin users to find the vouchers they need.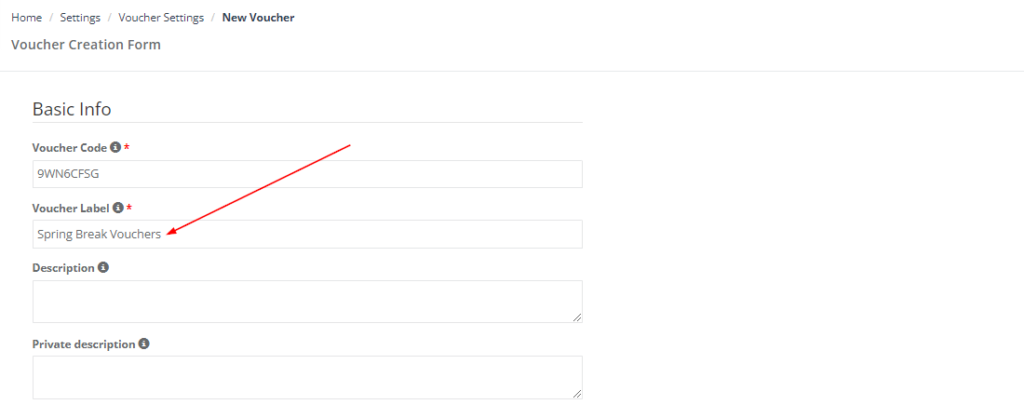 Writing an Effective Description
The description field is a critical component of the voucher creation process. It's the space where you can provide a comprehensive overview of the voucher code's specifics. This might include the code's purpose, its intended recipients, the discount it offers, the terms and conditions for its use, and any other relevant details. For example, you might specify, "This code provides a 50% discount to new users of our ride-hailing service."
This description is visible to all your users, including admin users, office staff, fieldworkers, and most importantly, your customers. Once the voucher code has been generated and made public, customers can view this description to understand the details and benefits of the code.
The description can also be considered as a marketing message to your audience. So the details in the description field can be a catchy message informing them about the voucher code and its details.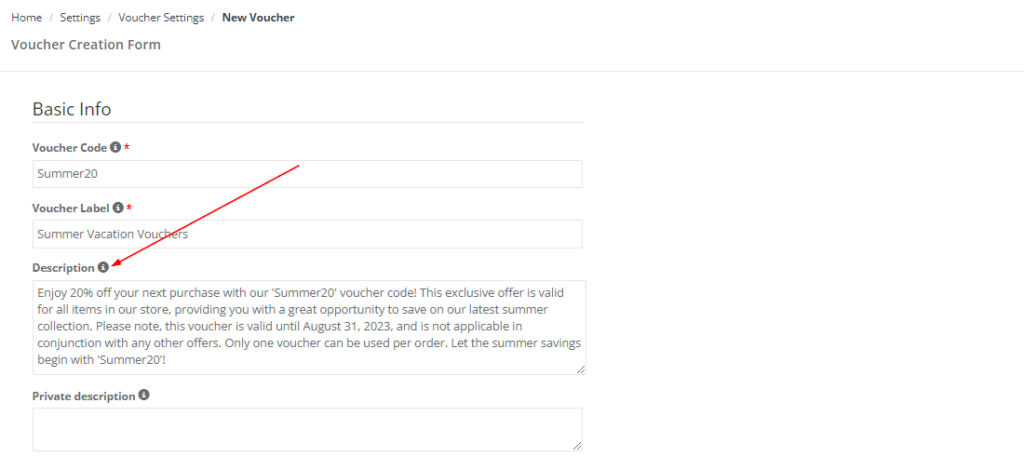 Incorporating a Private Description
You can also add a private description that will only be visible to staff and administrators. This is helpful for keeping internal notes about the voucher's purpose or terms.
The "Private Description" field is a space reserved for internal notes and information that only your employees and admin users can view. This feature is particularly useful for providing additional context or instructions about the voucher code that isn't meant for public view.
For instance, if a voucher code is designed to target a specific customer segment, you could note this in the private description. This would inform your admin users and office staff about the specific purpose and target audience of the voucher code, enabling them to use or distribute it correctly.
For example, a private description might read: "This 'Summer20' code is exclusively for our summer promotional campaign. Please ensure it's only shared in our summer email marketing series only starting June 1."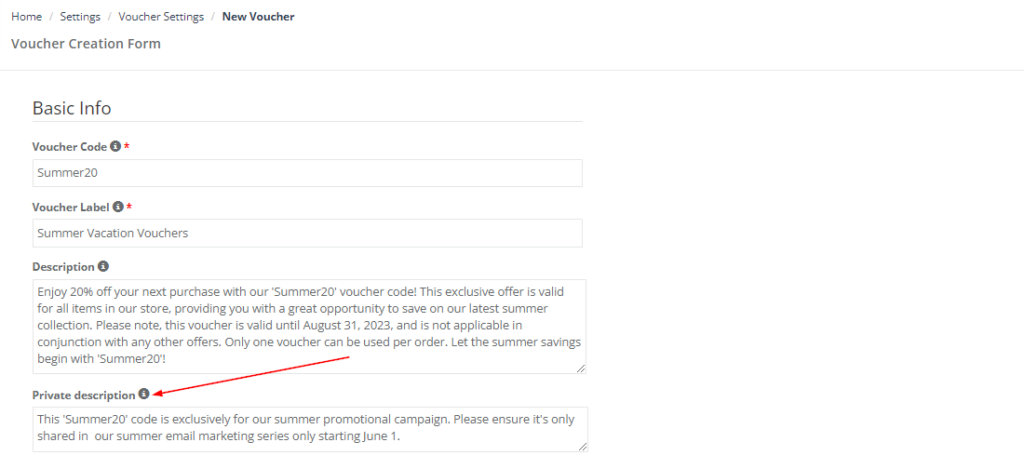 Determining the Voucher Amount
The "Voucher Amount" is the monetary or percentage value the voucher will deduct from the customer's total.
Selecting the Appropriate Voucher Type
The "Voucher Type" option allows you to define the kind of voucher you're creating. You have three choices, enabling you to tailor the voucher type to fit your specific needs:
Amount: Selecting this option allows you to provide a fixed monetary discount to your customers. For example, a voucher code might offer $20 off the total cost of an order. If a customer's total comes to $100, applying this code will reduce their total to $80.

Percentage: Choosing this option means your voucher code will offer a specific percentage discount to your customers. For instance, if a service costs $100 and you offer a voucher code for a 40% discount, the final cost to the customer will be $60.

Unit: This option is best used when you want to provide a discount per unit of service. The unit could relate to the quantity of a specific item or service in a customer's order, or how your business calculates services provided based on the chosen charging rate. For instance, if a car wash business charges per vehicle, a unit discount would apply to each vehicle serviced.
It's important to note that selecting "Unit" as your voucher type means the discount will be calculated per unit, aligning with the "Charge per unit" and "Charge per time" options for the paid services you offer.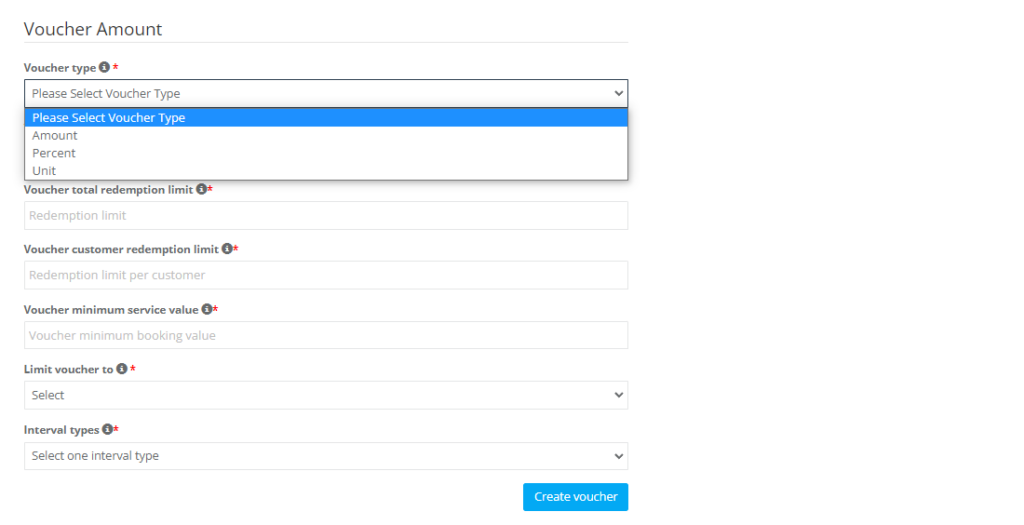 Setting the Voucher Value
Here you should set the value of the discount you are going to provide to your customers using the code. You should enter a number depending on the Voucher type you used. If your voucher type is Percentage, writing 30 would mean that the code offers 30% off for your customers. If the voucher type is Amount, inserting "25" would mean the code offers free $25 for your customers. If the voucher type is Unit, you should also state how much discount you would like to provide for each unit. So, if the number of the value is 10, there will be $10 off per used unit.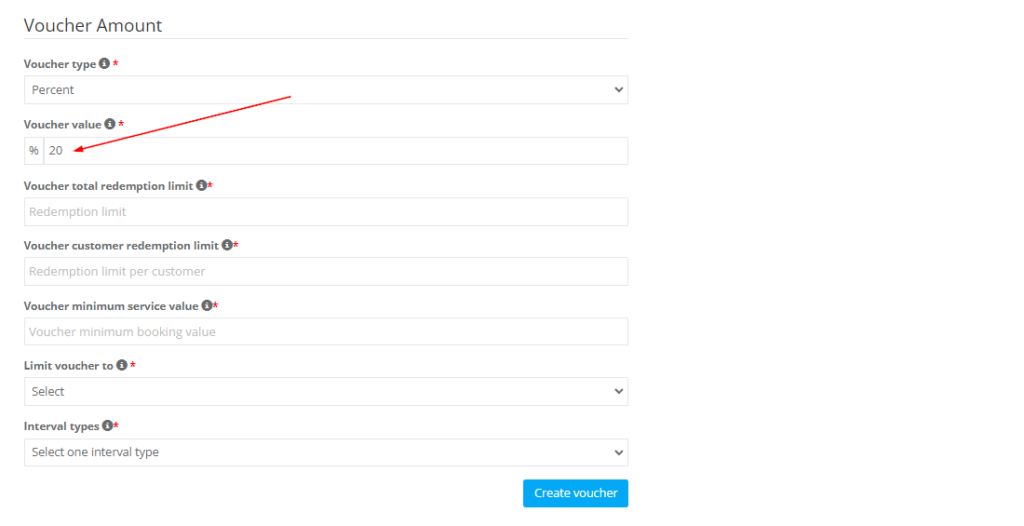 Setting the Voucher Total Redemption Limit
The "Voucher Total Redemption Limit" sets a limit on how many times the voucher can be used across all customers. For instance, if you set this limit to 100, the voucher will be deactivated after it has been used 100 times. So, if the number of redemptions of the code exceeds 100, it won't be redeemable from the customers' side.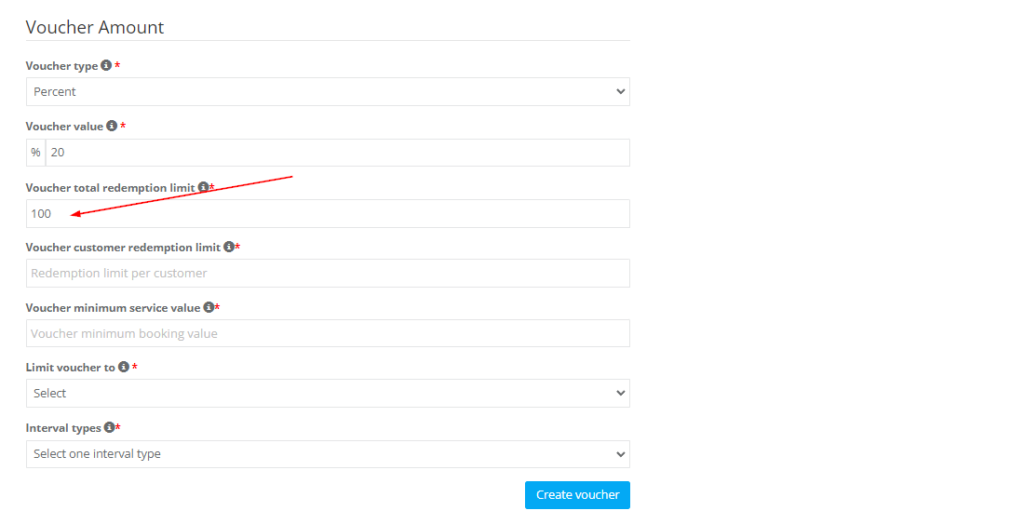 Setting the Customer-Specific Redemption Limit for Vouchers
The "Voucher Customer Redemption Limit" is how many times a single customer can use the voucher. If you want each customer to only use the voucher once, set this limit to 1, in that case, the newly registered customers are allowed to use it once and all other attempts will fail. You can also increase the number depending on the purpose of the voucher. Therefore, you can allow your customers to redeem the voucher multiple times (4,7,10..etc) whenever they book your services, as long as they match all the discount voucher conditions/criteria.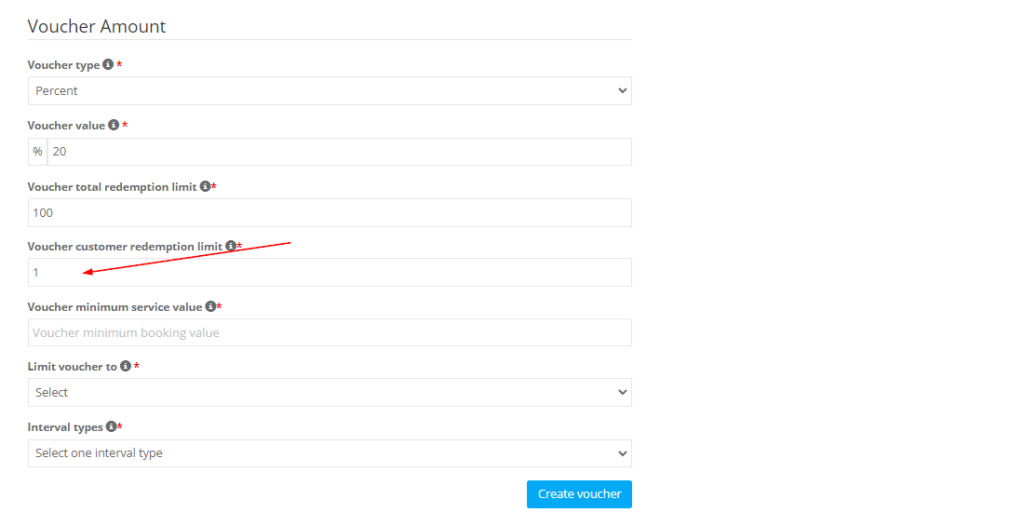 Setting the Minimum Service Value for Voucher Use
The "Voucher Minimum Service Value" is the minimum amount a customer must spend in order to use the voucher. This is a great way to encourage higher-value purchases. That means the total invoice shouldn't be less than this amount to be eligible for the code. For example, if the minimum value is $100, an invoice with a total of $80, will not be eligible to redeem the code.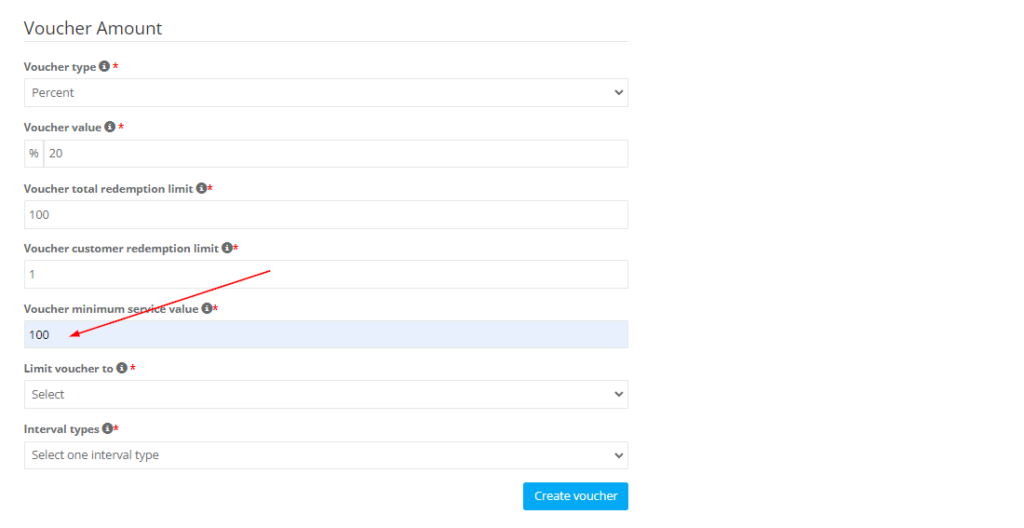 Targeting Specific Audiences with Vouchers
The "Limit Voucher" feature allows you to precisely define the customer demographics that can redeem this voucher code. This tool assists you in customizing your promotional efforts to ensure they target the right customers. You can define these limits based on the following categories:
Service: Selecting this option means only customers who book specific services will be able to redeem the code, you can then specify and select which services you want.

Customers: If you select this option, you can designate specific customers who are eligible to use the voucher. Note that you can add a maximum of 50 customers using this option.

Customer with Labels: This option is perfect for vouchers targeting customers with specific labels. Labels help you categorize your customer base, and by choosing this option, you allow all customers associated with a particular label to redeem the code. For example, labels could be "Old Customers," "2023 Customers," or "Customers with Complaints."

Location: Limiting a voucher by location zone enables you to make the voucher code available only to customers in selected locations. Customers outside the specified areas will not be able to redeem the voucher.
By strategically defining voucher limits, you can optimize the impact of your promotional campaigns, ensure the most appropriate customer groups receive the benefits, and boost your business's efficiency and return on investment.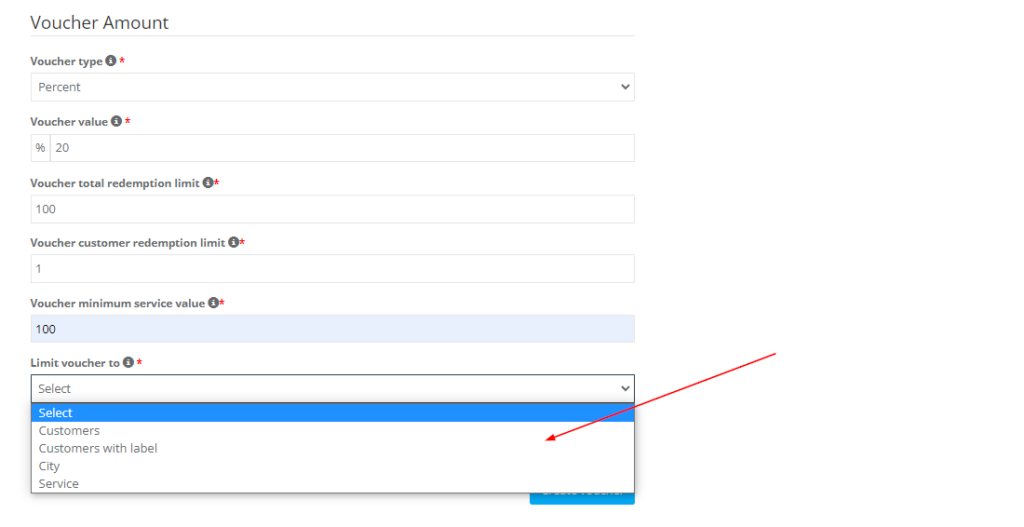 Choosing the Suitable Interval Types
Interval types allows you to determine the duration and timing during which the voucher code can be redeemed. This customization ensures your promotional offers are valid within a specific timeframe, contributing to better planning and targeted marketing. The four interval types you can choose from are:
1. Date Range: This option allows you to set a start and end date for the voucher. The code will only be valid for redemption within these specified dates.

2. Time Range: If you want the voucher to be valid at certain times of the day, use this option. For instance, you might set the voucher to be redeemable only during off-peak hours to encourage more usage during those times.

3. Dates: If there are specific dates on which you want the voucher to be valid, this is the option to choose. For instance, you might want the voucher to be usable only on holidays, or on certain dates tied to your business's promotional calendar.

4. Days: This option allows you to select specific days of the week on which the voucher can be used. This can be particularly useful for weekly promotions or to boost sales on traditionally slower business days.
Each of these interval types provides a different way to control the validity of your vouchers, enabling you to optimize their effectiveness based on your business's needs and marketing strategies.

Finalizing and Distributing Your Voucher Code
Once you've finished setting up your voucher, click "Create Voucher". You can then distribute the voucher code to your customers via email, social media, or any other preferred marketing channel.
How Customers Redeem Voucher Codes in the Customer Portal
After a customer creates a booking through the customer portal, in the final step on the booking overview page, the customers can easily enter the voucher or promo code in the empty field to redeem the offer, after clicking on validate.

Upon clicking on validate, the discount amount will be deducted from the total price of the booking. The amount deducted will depend on the type and value set for this voucher code. In this case, the amount and value set for this voucher code are 20% off the total price, which has deducted 20% off the total booking price.
Click on Remove to delete the voucher code.

Note that the voucher code will only be redeemable if the customer applying the code meets all required terms of the voucher code that has been set. For example, if the voucher is only limited to certain services, only applied services will accept the voucher code. Or, if the voucher code is limited to an area zone, the code will only be redeemable by residents of that area.
The number of times the customer can redeem the voucher code will also depend on the voucher customer redemption limit set for this code. For example, if the number set is 1, the customer will be able to redeem this code only once. In case the customer tries to redeem the code more than once, the code will not be applied to this booking and a "message" will appear stating that the Redemption Ended For Customer.
Redeeming Voucher Codes through an Admin or Fieldworker
Admin users can redeem discount voucher codes when creating a new booking on behalf of a customer through the mobile application. To do that: 
In the last step of creating a booking, at the bottom of the page, there will be an empty field to enter the voucher code. The admin user should enter the applicable code for this booking, then click on validate to redeem it. Note that the code will only be redeemable if it meets all required terms of the voucher code that has been set. If the code is applicable to the selected service, customer, booking location, or date.
If the code meets all the required terms, it will successfully be redeemed upon clicking on validate, and the discount amount will be deducted from the total price of the booking. The amount deducted will depend on the type and value set for this voucher code. In this case, the amount and value set for this voucher code are 20% off the total price, which has deducted 20% off the total booking price.
Click on Remove to delete the voucher code.
FAQs & Troubleshooting
If you encounter issues or have questions while creating or managing your vouchers, please refer to our FAQs and Troubleshooting section for guidance. You can also contact our customer support team for assistance.
Remember, the Voucher Codes feature is a powerful tool for incentivizing purchases and fostering customer loyalty. With it, you can create unique and customizable offers that meet the needs of your business and your customers. Enjoy creating your unique promotions!
To stay updated, please subscribe to our YouTube channel.