Add/Remove service(s) to a fieldworker's profile
It's crucial that a fieldworker's profile is up to date with all of the services they provide as fieldworkers can only be assigned to jobs that require the services they have added to their profile. Assigning the right services to the right fieldworkers who can provide them help in choosing the right fieldworker when making a new booking. To add or remove services to a fieldworker:
Go to Fieldworkers from the main menu
On the fieldworker you want to add the service to, click Actions
3. Click Services
4. Click Add Service
5. Check all services provided by the fieldworker and ensure that any services not provided are not checked
6. Press Save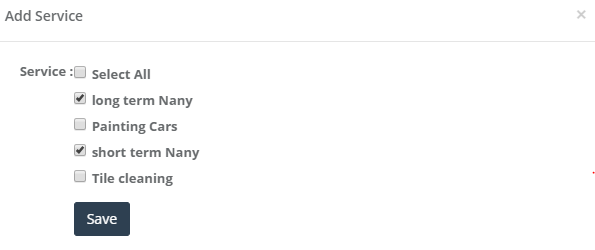 When making a new booking, two main things customize the appearing of fieldworkers to be assigned to have the job: services assigned to fieldworkers and location availability. So, when making a new booking, not all the fieldworkers will appear for you to choose from, only those who are assigned to the service that has been booked and who can provide this service in the booking location.