Adding Issues and Complaints via Booking, Estimate, or Invoice
OctopusPro understands the inherent challenges that can arise within the service management industry, and thus offers a robust and intuitive solution for managing issues and complaints. This guide will help you understand how to effectively use this system to ensure the highest level of customer satisfaction.
Table of Contents:
Creating Issues
Adding Issues and Complaints via Booking, Estimate, or Invoice
Locate the booking, estimate, or invoice in question.
Click on the "Actions" button. This should open a dropdown menu.

From the dropdown menu, select "Add Issue". This will open a new complaint form.


Fill out the complaint form. Be sure to include as much detail as possible to help facilitate the complaint resolution process.
Once you've entered all necessary information, press "Save". The complaint will now be logged in the system for further action.
Adding Issues via the Customer Portal
Customers can also add complaints through the booking page on their Customer Portal.
Like the process above, this will open a complaint form. The customer should fill this form out and press "Save".
Once the complaint has been saved, it will automatically notify the relevant admin and fieldworker. This feeds into the same issue management process as above.
Sending Issue Acknowledgment Email
An integral part of OctopusPro's efficient issue and complaint handling system is the ability to automatically send acknowledgment emails to customers once an issue is lodged. Whether the complaint was logged by an admin or directly by the customer through their portal, acknowledgment emails reassure customers that their issue has been received and will be attended to promptly. This section provides instructions on how to send these acknowledgment emails and customize the email template to align with your company's communication style.
How to Send an Acknowledgment Email
When adding an issue directly through the admin portal, you will be prompted to send and acknowledgment email to the customer upon saving the issue. However, if for any reason you need to send this manually, simply follow the steps below to send an acknowledgment email to a customer:
Navigate to the specific complaint lodged by the customer.
At the top right of the complaint page, click on the "Email Acknowledgement" button.
A preview of the acknowledgment email will appear. Review it to make sure all the details are correct.
Press "Send". The customer will receive the acknowledgment email, confirming that their complaint has been received.
This automatic email helps maintain clear communication lines with your customer, reassuring them that their concerns are being addressed.
How to Customize the Acknowledgment Email Template
OctopusPro allows you to customize the acknowledgment email template to ensure it aligns with your brand and communication style. To do this:
Go to "Settings" in your OctopusPro dashboard.
Navigate to "Communications" and then click on "Templates & Canned Responses".
Locate the "Acknowledgment Email" template.
Click "Edit" to customize the template. You can modify the subject line, body text, and add your company's logo or any other visual elements as needed.
After making all the necessary changes, click "Save".
The customized acknowledgment email will now be used every time a complaint is lodged, creating a more personalized communication experience for your customers.
Promptly acknowledging the receipt of a complaint is an important step in demonstrating your commitment to customer service. The OctopusPro system makes this effortless with automatic acknowledgment emails, which can be customized to your brand's tone and style. By integrating this practice into your complaint handling process, you assure your customers that their concerns are taken seriously and will be addressed as soon as possible.
Managing Issues
After adding a new issue or complaint in OctopusPro, your organization enters into a structured process designed to maximize communication, ensure swift problem resolution, and enhance customer satisfaction. This section outlines the steps following the registration of a new issue in the system.
1. Use the Discussion Board
The discussion board located on the issue/complaint page serves as a platform for discussion about the issue or complaint. It is recommended that all relevant personnel use this feature to share information, provide updates, and engage in discussions about resolving the issue. Remember, the visibility of each comment can be managed based on the chosen visibility options, ensuring the right people are notified and included in the discussion.
2. Scheduling Follow-Up Appointments and Converting Booking Status
When the resolution of an issue or complaint requires scheduling additional appointments, OctopusPro allows you to manage this effectively. As an admin, you can add extra appointments to the booking related to the complaint, and schedule either the same or a different fieldworker to address the problem. Please note, to add these additional appointments, the booking status needs to be converted to 'In Progress'. This helps maintain accurate status tracking.
3. Update Issue Status Accordingly
As you are updating the booking status to 'In Progress', it's crucial to update the issue status as well. This ensures the coherence between the status of the booking and the issue, providing a clear picture of the overall progress. Though booking status and issue status are independent, keeping them updated in tandem is essential for effective tracking and management.
4. Manage Fieldworker Payments
OctopusPro equips you with an advanced system for managing fieldworker payments, particularly when multiple or additional fieldworkers are enlisted to resolve an issue. As an admin, you can exercise comprehensive control over individual payments, ensuring accurate and fair compensation aligned with each fieldworker's contribution. This functionality proves to be especially useful in handling intricate issues that necessitate the expertise of more than one fieldworker.
Payment Withheld Flag Activation
Whenever a complaint is added to a booking, OctopusPro automatically activates the "Payment Withheld" flag for the fieldworker assigned to that booking. This mechanism ensures that any payment disputes arising from the complaint can be appropriately addressed before releasing the payment. It's crucial to note that this flag doesn't get automatically removed once the complaint is closed. The decision to release the payment rests solely with an authorized admin user who can remove the flag manually after the complaint is satisfactorily resolved.
Managing Payment Flags
You can manage the "Payment Withheld" and "Payment Released" flags from multiple points within the system. These flags can be accessed and manipulated from the booking and invoice pages, offering convenient control over fieldworker payments. Additionally, these flags can be managed from the Fieldworker Booking Summary Report on an individual booking level, allowing for precise payment adjustments as per the unique requirements of each booking.
Benefits of Precise Payment Control
This precise payment control mechanism facilitates fair compensation management and maintains a transparent payment process for all involved fieldworkers. It ensures fieldworkers are incentivized to address and resolve issues promptly and to the best of their ability, thereby contributing to improved customer satisfaction and operational efficiency.
OctopusPro's advanced system empowers you to manage complex situations involving multiple fieldworkers seamlessly and ensures the robust integrity of your payment processes.
5. Notify Fieldworkers
With a new complaint lodged, fieldworkers will be notified via the OctopusPro app. In cases where the complaint is added by a customer through the customer portal, admin users and assigned fieldworkers will be informed, subject to their permission and notification settings.
6. Address the Issue and Communicate
Keeping the customer informed about the progress of their issue resolution is critical. Regular updates about the actions being taken, estimated resolution time, and any other relevant details should be communicated to the customer.
7. Monitor and Update Issue Status
Maintaining an accurate and current issue status is vital. As significant developments occur in the resolution process, the status should be updated accordingly.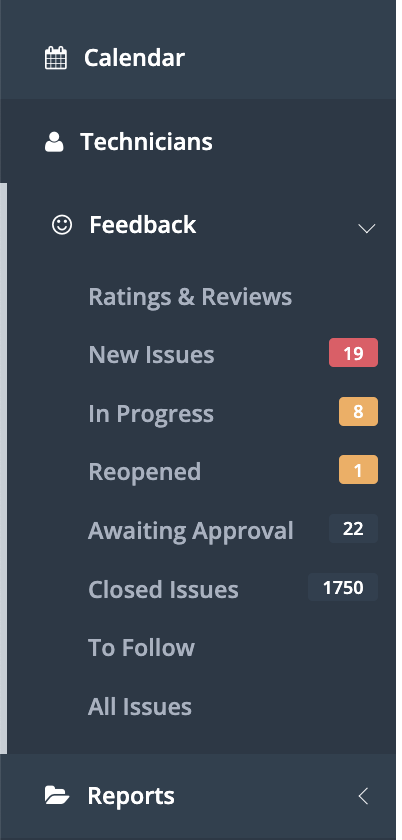 OctopusPro allows for easy issue tracking with the following statuses:
New: Newly submitted issues & complaints that haven't yet been addressed. These should be reviewed and assigned to the appropriate team.
In Progress: Issues currently being addressed. Keep track of the status and ensure progress towards resolution.
Reopened: Previously resolved issues that have been reopened due to further complications. These should be reassessed and appropriate action should be taken.
Awaiting Approval: Resolved issues that require management approval. These should be reviewed and approved or returned for further action.
Closed: Resolved, approved, and closed issues. These serve as a record for future reference.
8. Record and Analyze
Keeping a record of all actions taken and their outcomes is beneficial for future reference and analysis. This can help identify patterns and trends, leading to service improvements in the future.
Each of these steps is integral to providing the highest level of customer service and ensuring issues are resolved effectively and efficiently. By adhering to this process, you can assure customers that their concerns are taken seriously and managed professionally.
9. Manage Deferred Issues by Setting Follow-up Dates
OctopusPro's refined "To Follow" feature allows your team to adeptly manage and monitor issues that necessitate future attention. This enhanced function enables you to log issues that can't be resolved immediately, providing you with peace of mind that no issue will be forgotten or disregarded.
Here's how the new features augment the handling of deferred issues:
Clear Responsibility Assignment: OctopusPro enables admins to assign booking ownership to specific team members. This assigns clear responsibility and accountability, ensuring that each issue is actively managed until resolution.
Automated Reminders and Notifications: OctopusPro's advanced notification system simplifies your follow-up process. As the "To Follow" date for an issue approaches, the system automatically updates the "To Follow" count under the Feedback section in the left-hand menu. This ensures all upcoming follow-ups are visually highlighted and readily accessible for your team. Additionally, OctopusPro sends automatic reminder notifications to the designated team member tasked with resolving the deferred issue. This double-layered notification system ensures timely attention and proactive action on all issues, thereby promoting swift resolution and enhanced customer satisfaction.
Labelling and Categorization: OctopusPro offers the capability to label, tag and categorize deferred issues, allowing you to group them by type, urgency, or any other relevant category. This facilitates quicker identification and streamlined resolution of similar issues.
Time Frame Assignment: With the new update, admins can assign a tentative time frame or due date for resolving each deferred issue. This provides a clear and actionable timeline for all team members involved, fostering effective planning and execution.
Real-Time Progress Updates: OctopusPro's enhanced "To Follow" feature now includes real-time progress updates on each deferred issue. This enables better tracking, transparent communication, and ultimately, higher customer satisfaction.
With these enhancements, OctopusPro's "To Follow" feature provides a more dynamic and intuitive system for managing deferred issues. It ensures that all issues are promptly addressed, thereby increasing customer satisfaction and maintaining your company's reputation for excellence.
Overview with "All Issues"
The "All Issues" page provides a comprehensive view of all reported issues, regardless of status. This is a valuable tool for analysis, reporting, and monitoring trends and patterns. It also serves as a complete record of all issues and complaints.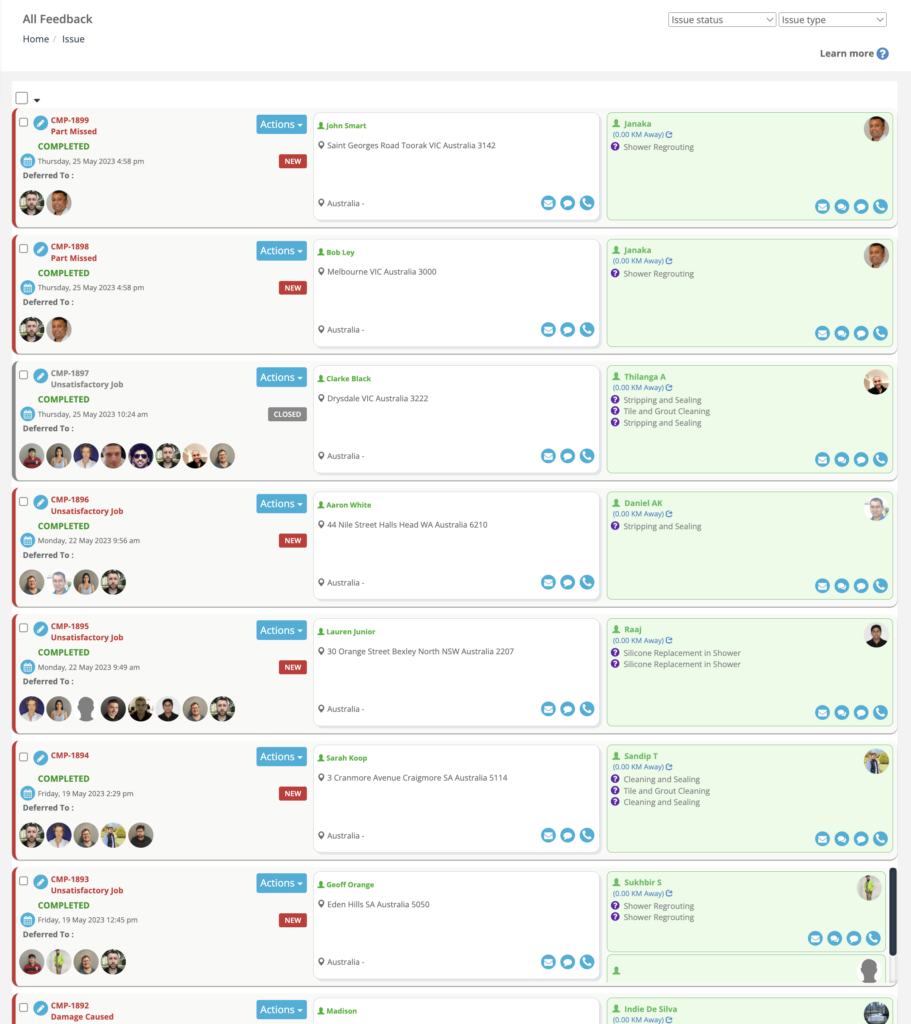 Efficient issue and complaint management is key to maintaining high levels of customer satisfaction and operational efficiency. OctopusPro's comprehensive system ensures that every issue is tracked, managed, and resolved in a timely manner. By understanding and utilizing the features highlighted in this guide, you can elevate your business's issue resolution process.
To stay updated, please subscribe to our YouTube channel.