Add a new inquiry source
This page list of contents:
The inquiry sources field is for admin use only and does not show to your customers in your inquiry form on your website. This field can be used to help you keep track of how your customers contacted your company, e.g. 'Website. This will help categorize manual inquiries.
Add a new inquiry source 
Firstly, you need to go to Settings>>Communications>>Inquiry Form.
Then, you need to go to the source tab.
To enable your admin user to see your inquiries source you need to activate the following button by clicking on it:
Scrolling down the same page you will see that there are some of the inquiry sources by default, if one of these Sources does not suit you, clicking on the <x> box on the side of the unwanted source will delete it.
For adding a new inquiry source, click on the plus sign where it says Create new.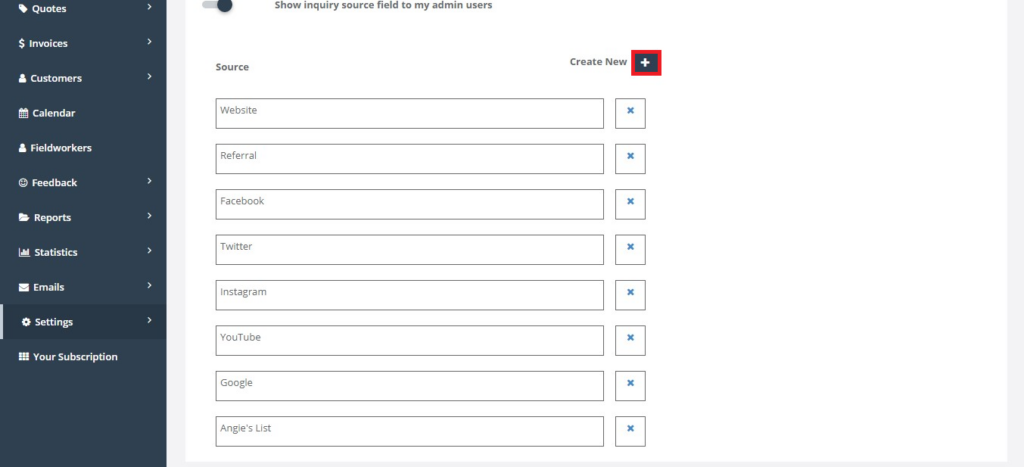 An empty field will appear on the page that you can type in your new source.
Then you click on the save button and your new source will be saved.
You can see your inquiry source when creating a new inquiry to choose from as:
Also, you will be able to see it on the view inquiry page when the source has been selected.
For more information make sure that you visit OctopusPro user guide and do not forget to subscribe to our YouTube channel.