OctopusPro Customer Portal
What exactly is the customer portal?
The Customer Portal is a web page where your customers can view your schedule in real-time, get accurate quotes, book your services and pay directly. You can link the mobile-friendly Customer Portal to your website, social media networks and directory pages, like Facebook and Yelp, or use the portal as a website on its own.
The page is fully customizable: choose colors, add your logo and your own imagery. Allow social login and storing credit card details for returning customers.
Which types of businesses is OctopusPro suitable for?
Whether you run a business providing services at your clients locations, such as gardening, cleaning, handyman services or any other trade and professional service; or you provide services at your business location as well as at your client's home or business address, such as a clinic, massage business or car wash; or you run a chauffeur or truck driving business with a moving location that needs to be tracked, or you provide coaching and consulting services at your office, at your client's address, or online through voice or video calls, you can benefit from the OctopusPro customer portal.
OctopusPro is used in various industries including babysitting, gardening, cleaning, coaching, training, tutoring, beauty care, massage, healthcare, automotive, mechanics, waste management and handyman services.
Your OctopusPro customer portal enables customers to generate quotes, book your services, cancel and reschedule bookings, make payments, track bookings, sign for work, communicate with your office and fieldworkers, and rate their jobs once complete.
Your mobile friendly customer portal can be easily customized and even integrated directly with your current business website.
OctopusPro makes it possible to receive inquiries and leads directly from your website, easily convert leads to quotes and bookings, invoice and take payments, track and pay fieldworkers, send notifications and messages to customers and fieldworkers, manage communications and job updates, manage feedback, and much more.
Examples of the customer portal
Let's begin by taking a look at an OctopusPro customer portal used by the mobile massage company, Zenin.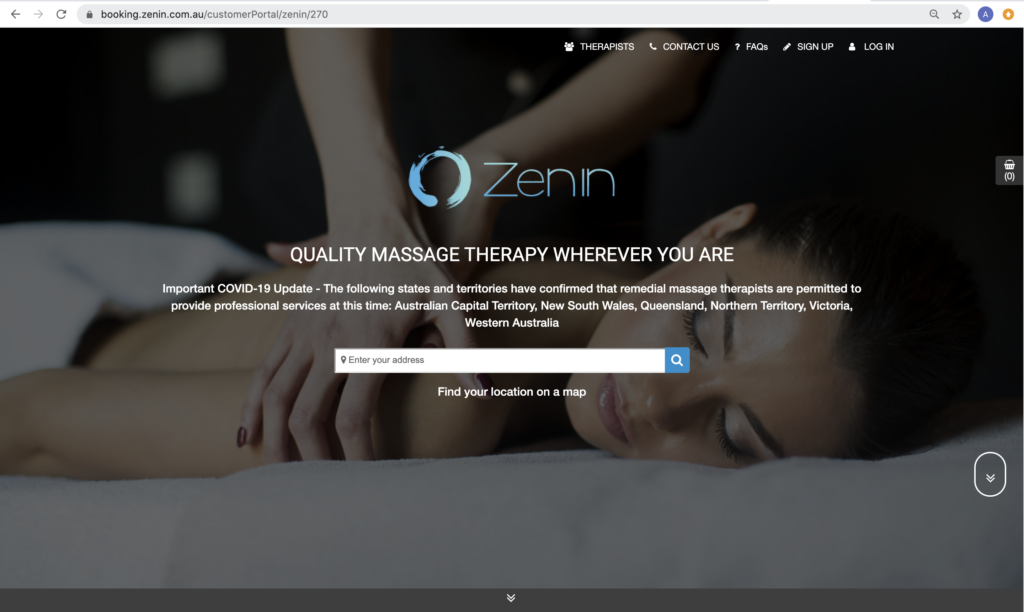 By integrating their website https://www.zenin.com.au with OctopusPro, Zenin customers can book and pay for services directly. Their customers are also able to send inquiries through the website if they aren't ready to book just yet, which appear in the OctopusPro inquiries tab for the Zenin office staff to follow up on.
The OctopusPro customer portal also makes it possible for customers to sign up for an account, and login to their own Zenin accounts, where they can self manage their bookings, payments and profile.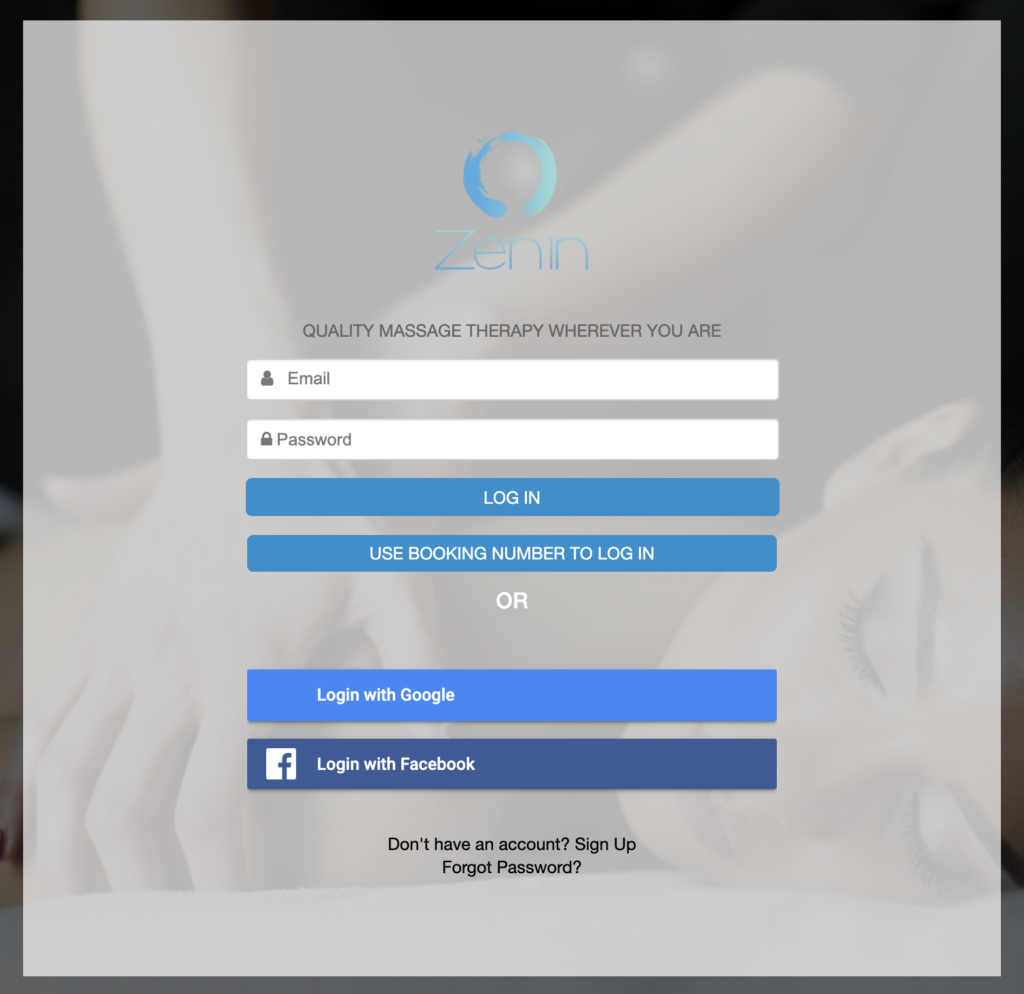 You can add links in your website that point to different pages in your customer portal directly, for example, you can display or hide your fieldworkers list, your fieldworker profiles, your terms & conditions, privacy policy and "about us" pages. You can also display your "contact us" page and include an inquiry form to funnel leads directly into your OctopusPro account.

Helpful FAQs can be displayed to customers to improve operations. FAQs can be edited in your communication settings, under Frequently Asked Questions.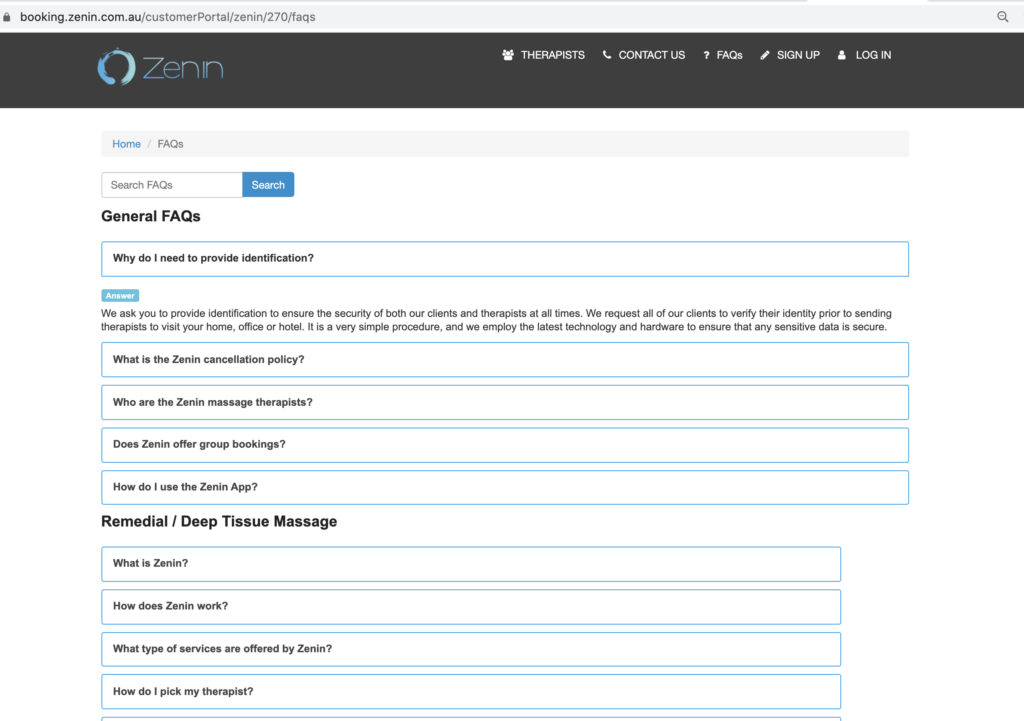 Looking at the URL of linked pages, you will notice that some link to the Zenin website, www.zenin.com.au, while others link to the subdomain booking.zenin.com.au, which is the OctopusPro customer portal white-labeled to use a Zenin URL. You can edit your URL under the Customer Portal General Settings.
You can also change your domain DNS records to point directly at your OctopusPro customer portal which can then even function as your primary website.
Potential new fieldworkers can also apply to Zenin directly through their customer portal. The "new recruit" banner can be easily activated and customized in your customer portal settings.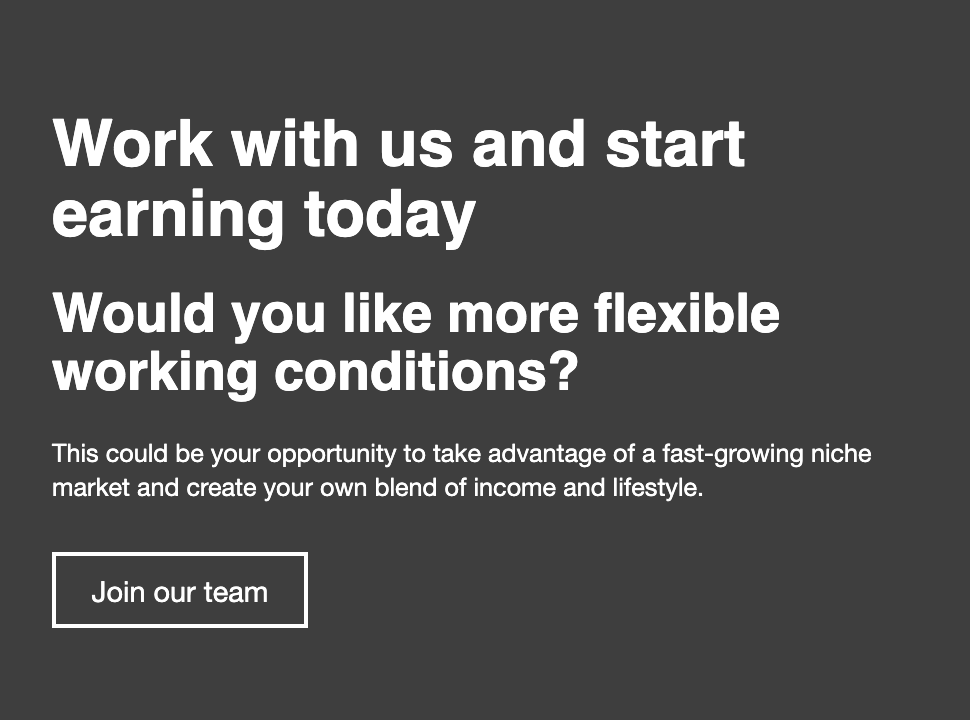 New recruits can create an account and profile, ready to be verified, screened and activated.
The OctopusPro customer portal can also display a list of your active fieldworkers. Customers can then view fieldworker locations using the integrated map feature to locate and book therapists in their area. You can decide whether to display fieldworker profiles, locations, names, contact information, address and other details.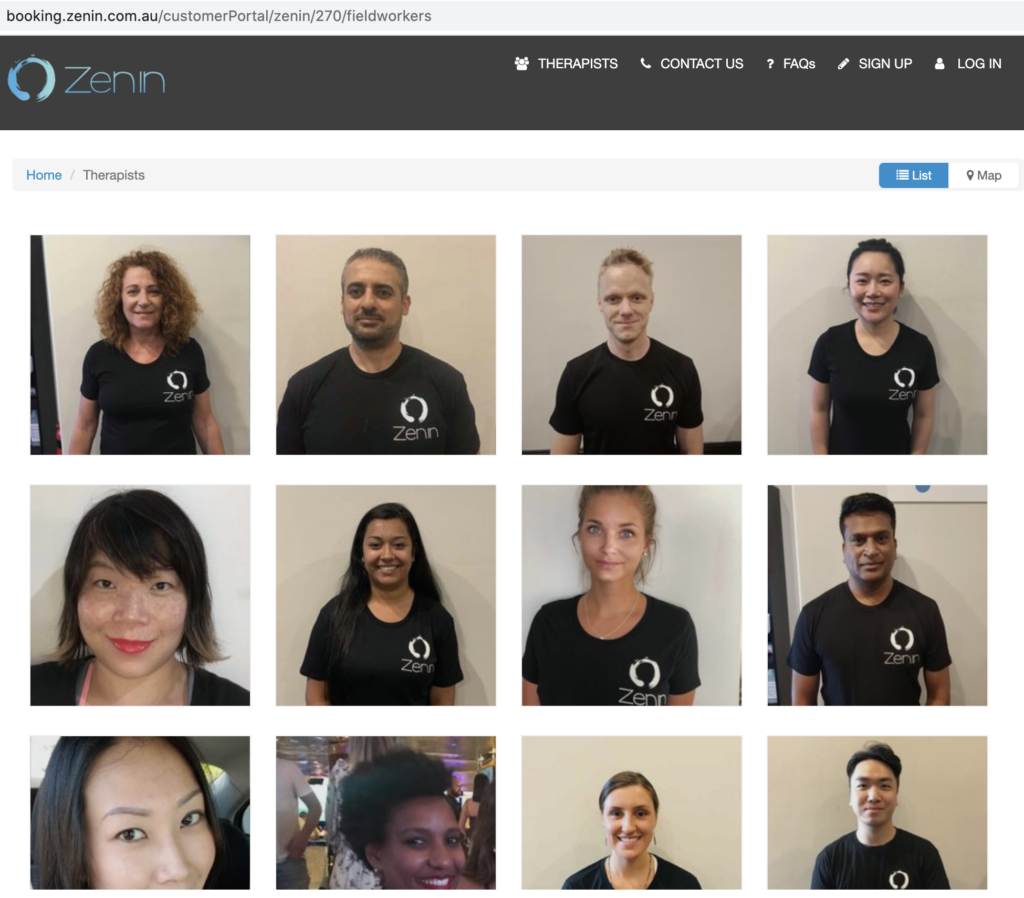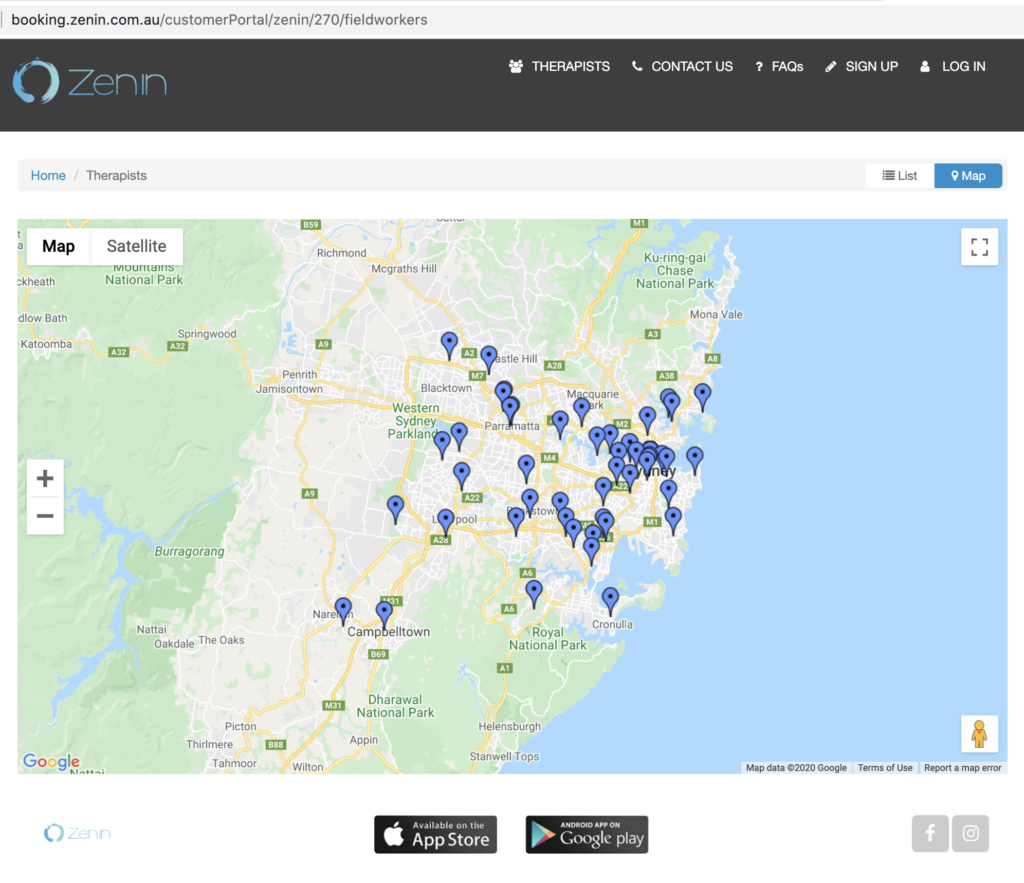 You can also allow customers to contact fieldworkers directly through their fieldworker profile. Your fieldworkers will receive an app notification and be able to respond instantly. All customer communication can be managed and monitored within your account.
You can also allow customers to request a specific fieldworker; either directly through a fieldworkers profile, or they can choose from a list of available fieldworkers during the booking process.
A common feature of most business websites is a contact us form. By selecting the contact us link, we are taken to Zenin's contact us inquiry form.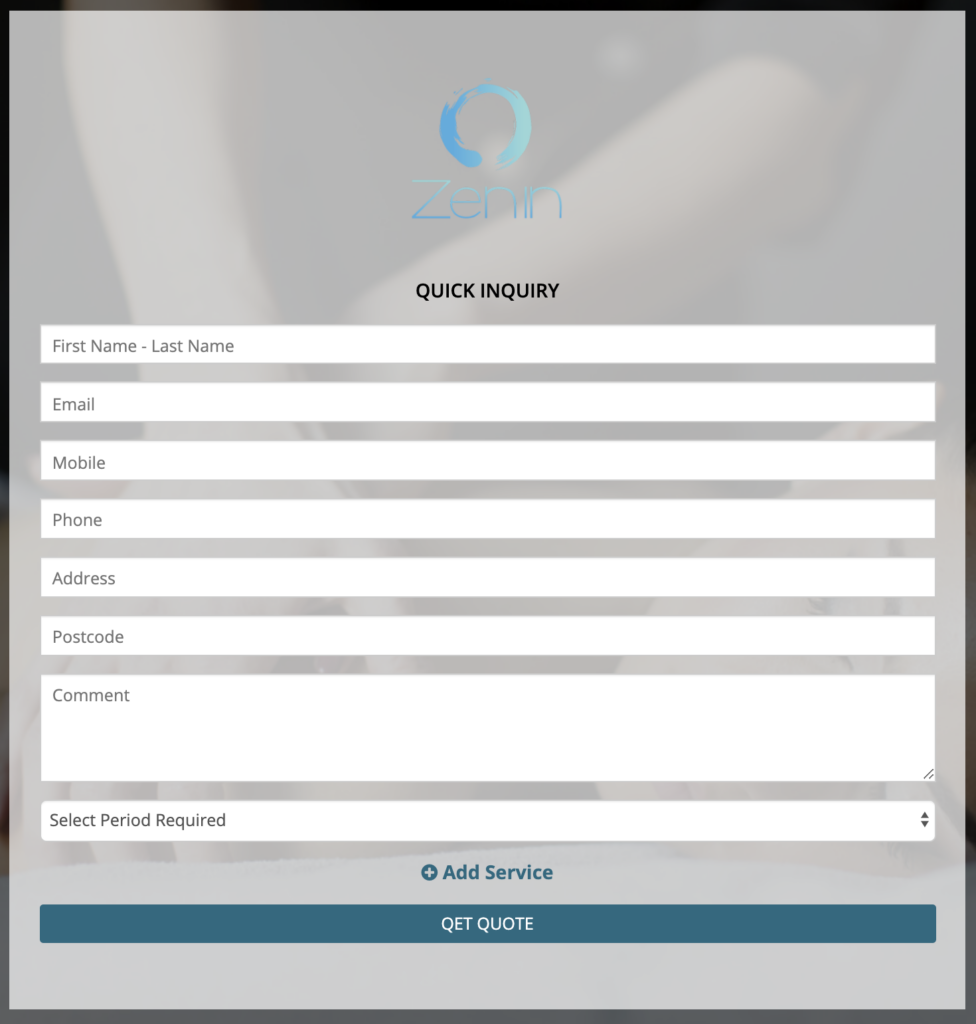 The inquiry form can be displayed on your customer portal and also used as a Contact Us page.
Let's go through and complete the fields. Once we select Send, a new inquiry notification will be sent, and  also appear under the inquiries list in OctopusPro, where customer labels can be used to manage your leads.
You can also embed the inquiry, or contact us form on any page of your website using the inquiry widget feature available under your communication settings.
Once an inquiry is received, your customer will receive an automatic email confirmation, the inquiry can then be easily converted to a quote or booking from the inquiry list or from the inquiry view page.
Let's go back to the Zenin customer portal. As you can see, you can use your portal homepage to display marketing videos, top service categories, top services, and a promotional banner for potential new fieldworkers.
Zenin provides a range of massage services, with the massage types categorized under Couples Massage, Corporate Massage, Booking a Massage, Gift Vouchers, and Re-booking a Therapist.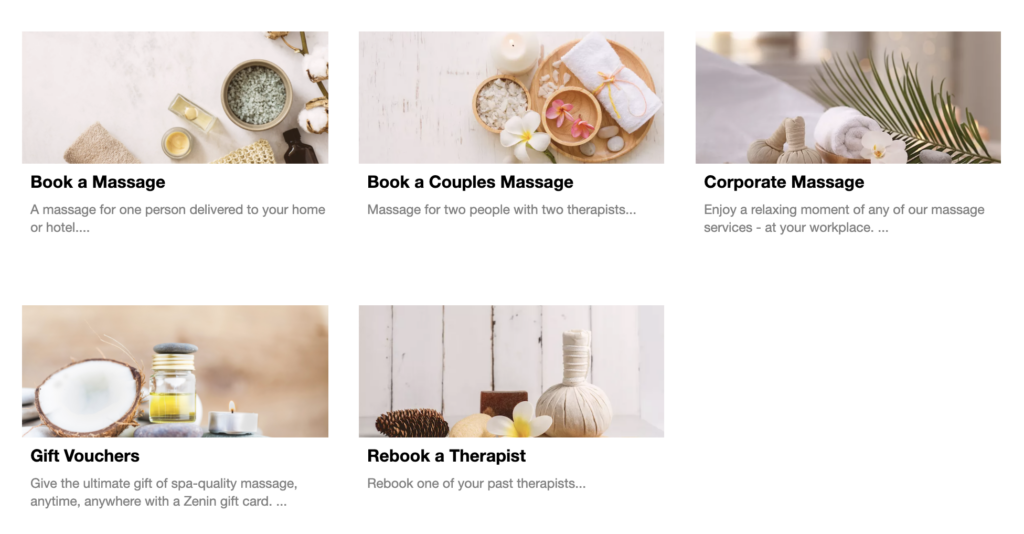 By categorizing services, customers can find and book the service they need faster instead of having to scroll through a long list.
You can add rich images to entice sales and spruce up your services list. It's easy to upload images and make your services look great.
Below the categories list, a list of Zenin's most popular services is shown.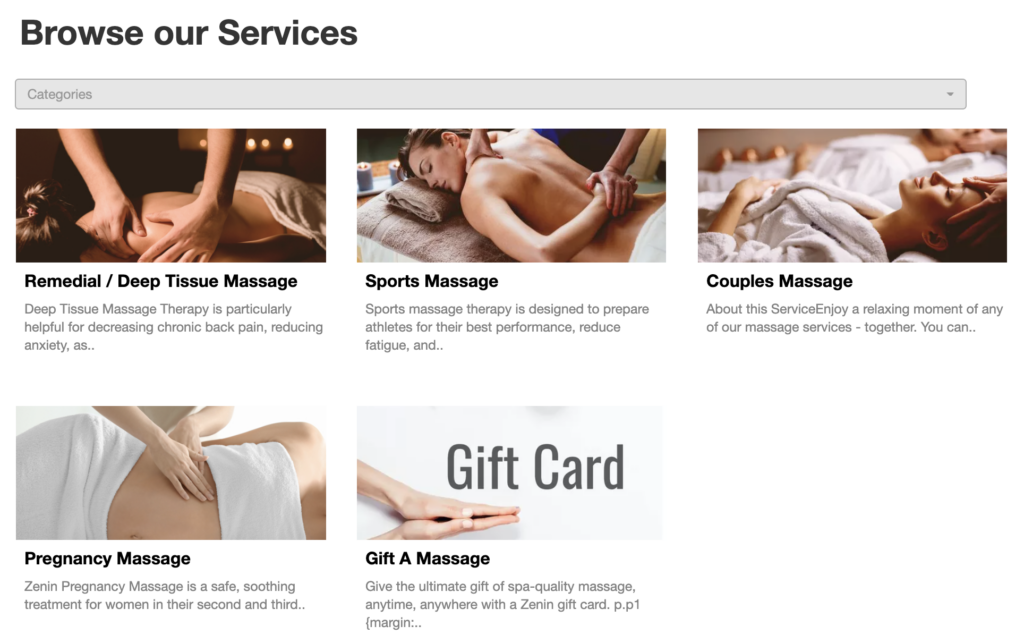 Once a category is selected, the services within that category are displayed; your customers can then begin the booking process by selecting the service they need.
If your business provides mobile field services, your customers can perform an address search to view the services available in their area prior to starting the booking process.
For locations that are difficult to locate using a physical street address, you can use the drop pin location feature which uses the longitude and latitudes of the location rather than a street address.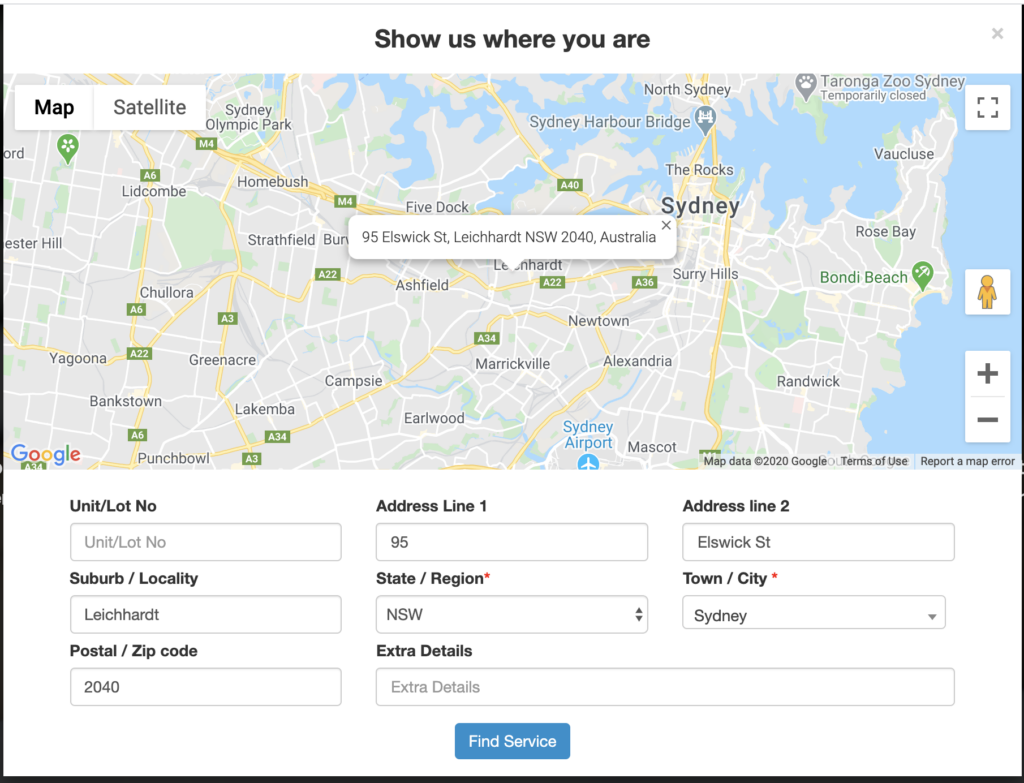 If your business provides services that require multiple addresses, like a pickup and destination or drop off address, your customers can enter these addresses when making the booking.
This feature is useful for Shuttle Services, Delivery Businesses, Removalists, Skip bin services, and more, OctopusPro's powerful Booking Management easily handles service bookings that require multiple addresses.
If your business provides services at one or more fixed locations, your customers can choose the location most suitable to them.
If you provide virtual, or online services, your customers can choose their region or time zone before starting the booking process. You can see a great example of this at success.octopuspro.com
Now let's quickly run through the simple booking process together.
For this example we'll book a Zenin couples massage.
On the services page, you will notice service images and videos, as well as relevant FAQs. You can also show a service pricing breakdown.
To book a service, first find the service you want, then select Book Service.
A popup window will then guide you through the custom fields for your selected service.
Notice that the pricing is revised as our selection changes. These prices are calculated based on the services settings within your OctopusPro account.
You will also see that certain custom fields appear and disappear depending on our selection. These are updated through the custom fields dependency feature, and allow you to collect relevant customer information in the most user friendly way, and only request information from your customers when needed.
Now at this stage our quote is complete, and we are given the option to either email the quote to ourselves or go ahead with the booking.
Let's email the quote and see how it looks.
The automated email uses a pre-written OctopusPro template, and can be edited within your OctopusPro email template settings.
The quote is attached to the email as a PDF, also completely customisable.
To continue with the booking, select Book Now. Customers will still have the option to add more services if needed.
You will then be shown calendar availability, where bookings are scheduled based on real time availability of the Zenin therapists.
OctopusPro will search through the working hours and calendar availability of fieldworkers matching the selected services and display available booking times.  Your fieldworkers can login to the app and manage their availability and working hours at any time.
Customers can also select from a list of preferred fieldworkers available for the selected date and time. This feature can be enabled or disabled depending on your needs.
The time estimated for the booking is calculated based on your service and custom fields settings and can be easily changed under your services settings.
Press next to be directed to the customer info popup where we enter our details for the booking.
If the customer is a member, this will be automatically pre-filled.
Once you've entered your details, press continue to place a booking, you will then see the booking confirmation screen.
You will receive an email confirmation for your booking, and you can also choose to receive a booking confirmation as an SMS.
Booking reminders will also be sent closer to the scheduled booking time.
Once the booking is created, the Zenin admin receives a new booking notification, and the booking will appear under Tentative bookings in the OctopusPro bookings tab, as well as on the OctopusPro calendar. The booking will remain Tentative until confirmed and assigned to a fieldworker.
In this example, because Zenin uses the automated job assignment feature, the therapists with matching services, location and availability will receive a new booking request notification which they can accept or decline.
The job is automatically assigned to the most suitable fieldworker based on specific preferences including rating, distance, date joined, number of jobs completed, and customer satisfaction rate.
Automatic job assignment can be easily enabled or disabled under your general settings. When disabled, bookings must be manually assigned. If you are an owner operator, your bookings will be assigned to your only fieldworker account, the general fieldworker account.
Customers can choose to sign up for a Zenin account using the OctopusPro customer portal and self manage their bookings, payments and profile. Creating an account is secure, and makes placing future bookings fast and easy. Customers can login using their phone or tablet to access their jobs and transactions at anytime.
Let's create an account for our booking and look at the benefits associated with having a customer account, as well as look at the member area appearance.
Customers can reschedule or cancel bookings, communicate with the office and therapist, leave feedback and reviews, and pay invoices. Customers can also view a complete booking history and manage recurring bookings.
Custom fields can be added to your customer profiles to record any information that is not included in the standard customer profile. For example, you can create a custom field to record your customer's date of birth, gender, hobbies, interests, height, or any other helpful information specific to your industry. You can set the fields to display pre-entered values to select from.
These new fields will display in your customer profile and can be edited by your team and by your customers when logged in to their accounts. Private information can be hidden using the visibility flag. Customer reports using this information can be generated for your sales or marketing teams.
If your business provides services for dependents, such as vehicles, children or pets rather than to the customers themselves, the customer properties feature can be used to create profiles for those your customers make bookings for.
Let's look at this example from Pet Playtime, where they have created a dog profile. We can see the fields created are the Dog's Name, Photo, Gender, Date of Birth, Breed (purebred/mixed), Primary Breed, Secondary Breed, Size and Weight. Now each time a customer is making a booking or signing up, they will be prompted to include a profile or select an existing profile. So it's clear who or what the job is for. This enables you to break down all bookings, in this case by dog, and view the booking or service history for each dog. This becomes increasingly useful with customers which (for example) have multiple pets and are required to maintain a services and billing history.
If you have created a customer property, while adding a new booking a new field will appear listing all pre-entered properties related to the customer for the person making the booking to select from.
Customer properties appear in customer profiles, booking forms and the customer portal. Your customers can add new properties to their accounts themselves and make bookings for these properties.
This feature is really helpful in many industries including Automotive, Childcare, Pet Care, Care Givers, Appliance Repairs or any business where customers have sub customers, properties or assets you carry out work for.
For more information about customer properties please check our user guide.
You can also remove potential friction points from the booking process by enabling customers to repeat past orders with a single click. All they need to do is open  their booking history and select re-book.
Now let's talk about customer feedback and ratings.
Let's say you have a booking with Zenin; once your booking is complete and paid, you receive an automated Zenin email inviting you to rate your service. The rating you provide can be shared with the fieldworker, and affects the fieldworker's overall star rating, which you can share with your customers or keep for internal use.
You can also set up customer satisfaction forms and checklists for your customers to complete, such as this survey used by Zenin.
Feedback surveys let your customers inform you of a good or bad experience. You can use this critical information to improve services as well as build customer loyalty, and be notified of Feedback directly so you can read and follow up instantly.
Word of mouth and social media sharing is important. OctopusPro allows you to provide incentives for sharing on social media, such as Facebook and Twitter.
You can use Facebook as a marketing tool for your business by adding Facebook online booking to your marketing mix allowing customers to book directly from your Facebook page.
OctopusPro provides simple and effective ways to keep in touch with your customers and to keep them coming back.
You can send targeted automated emails to your customers to improve retention and loyalty; for example you can send an automatic email to customers that haven't booked for a period of time containing a special offer, or send a thank your note asking about their experience, or send a rewards coupon to customers who have spent over a certain amount. You can also send quote follow up emails at pre specified or scheduled dates.
See examples and read more about the Customer Portal here
Go to the Customer Portal tab under Communication Settings, and add your logo, greeting message, background imagery, and choose your color scheme. You can also edit the URL for the page to include your business name.